The Elder Scrolls Online Necron Chapter Released Date and New Content
Welcome to this detailed guide, where we'll be diving into the exciting new content of Elder Scrolls Online Necrom chapter. Please note that the content showcased here is subject to change, and some aspects might still be buggy due to the PTS (Public Test Server) environment. While we won't cover the new Arcanist class today, we'll provide a comprehensive overview of the rest of the content, including world events, bosses, furnishings, and more. Feel free to use the timestamps provided to navigate to your preferred sections in this guide.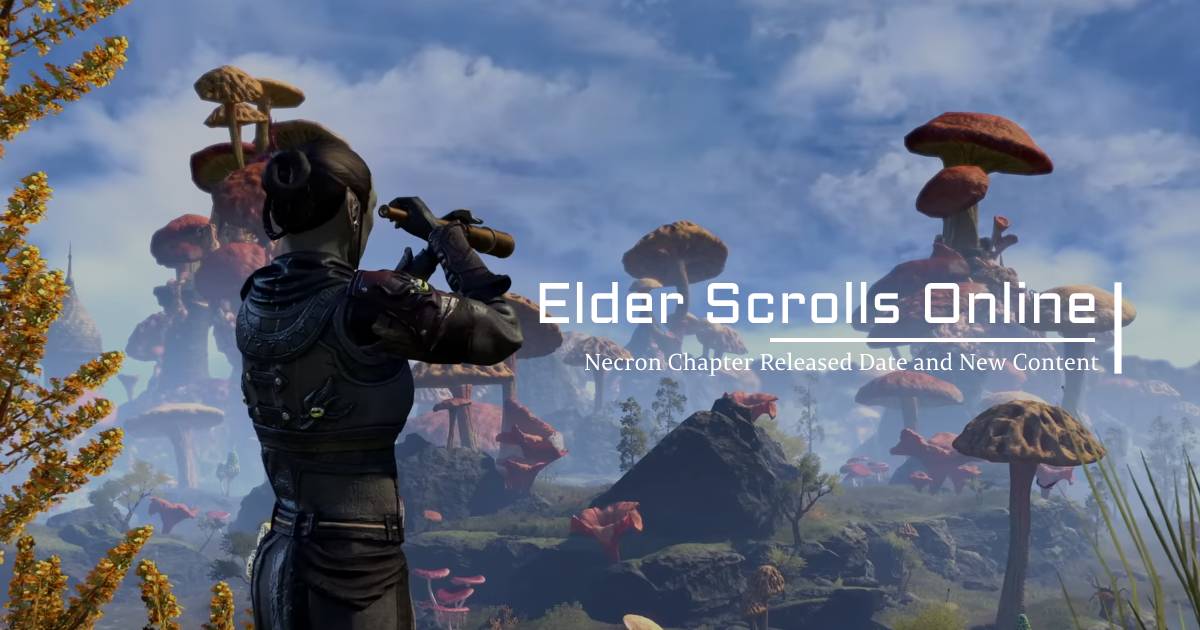 ↖ Pre-Purchase Information
If you're eager to dive into the Necron Chapter, you can pre-purchase it now. The starting price for the chapter is $39.99 USD. For players who still need to acquire the base game, there's an option to purchase the entire collection for $59.99 USD, which also includes all previous chapters from High Isle to Morrowind.
↖ Release Dates
The Necron Chapter is set to be released in stages:
June 5th: PC release
June 20th: PlayStation and Xbox console release
Players have the option to participate in Necron's Public Test Server (PTS) or wait for the full launch. Regardless of your choice, there's a wealth of new features and systems to anticipate.
↖ The Storyline
The Necron Chapter unveils a gripping storyline centered around the Telvanni Peninsula and Apocrypha. Players will encounter Hermes Mora, the Daedric Prince of Fate, who harbors immense knowledge and secrets that could endanger Nirn and Tamriel if exposed. A conspiratorial threat further complicates the situation.
Your journey begins as Larimil, the Prince of Fate's mortal agent. The Talvani Peninsula, characterized by familiar yet alien biomes, including lava, ash, rocky spires, giant mushrooms, and otherworldly creatures, provides the backdrop for your adventure. The city of Necrom, built upon a grim history, adds depth to the story.
Zenimax expertly grounds Hermes Mora in the world by focusing on the Telvanni, one of the Great Five Houses of Morrowind. These powerful magic wielders share parallels with the Daedric Prince in terms of their immersion in Tamriel's lore.
Traveling to Apocrypha grants players an experience of cosmic horror, with unique biomes reflecting Hermes Mora's mind and realm. The Elder Scrolls Online delves into new dimensions with eerie feelings of isolation and chaotic, confusing environments.
↖ New Characters
Apart from the engaging zones and Hermaeus Mora, players will interact with various characters:
Larimil, the Prince of Fate's agent
Melon the Mouthless, a once-prominent Telvanni Magister
Watchlink Scrut, a devoted servant of the Daedric Prince
Fan-favorites like Naru, Veron, Asher, and Satha Sill will also return, though their roles remain shrouded in mystery.
↖ Necron's Unique Identity
Many players initially thought that Necron was similar to Vvardenfell due to their shared location in the Morrowind region. However, Necron establishes its own distinct presence with differences in lighting, colors, and environment. The zone features a vibrant landscape of greenery, offering a contrast to the ash, smoke, and lava commonly associated with Vvardenfell. The lighting and color palettes in Necron create a visually appealing and unique atmosphere, perfect for screenshot enthusiasts.
↖ Apocrypha's Intriguing Biomes
Apocrypha, a part of Necron, features two distinct biomes: the Endless Library and the Chroma Incognito. The Endless Library biome introduces creatures and oddities familiar to Dragonborn DLC players, along with new monsters. The Chroma Incognito biome is eerie and beautiful, evoking feelings of a dream or nightmare. Its stark contrast to other areas adds to its allure.
↖ World Bosses
Necron's world bosses are notably challenging compared to those in other DLC zones. These encounters demand both significant damage output and mechanic awareness. The focus on mechanics encourages players to engage in the fights more actively. However, some players might find the increased difficulty a bit overwhelming, particularly if they're not accustomed to dealing with mechanics.
↖ Bastionemic World Event
The Bastionemic world event is a unique instance accessible only to your group members. To enter, you need to collect Daedric Eicher from Herald seekers. Completing this event provides an opportunity to engage in various encounters, each offering different levels of difficulty and rewards. The event can be completed efficiently with just the main encounter, but additional optional encounters offer more rewards. The potential for valuable Furnishing plans from chests adds to the replayability.
↖ Rewards to Look Forward To
Necron introduces appealing rewards, such as the Barrel Glow NYX Ox Steed Mount, earned through the Savior of Necron achievement. This marks a departure from store-bought mounts, catering to the community's desire for more earnable collectibles. The Shrimp Tender style and Valenwood-themed collectible also contribute to the rewards. Furnishings from Necron, particularly Dunmer-themed ones, are well-designed and contribute to the chapter's atmosphere.
↖ Furnishing Plans and Value
The new Furnishing plans offer various Dunmer-themed options that could be valuable for decorators and collectors. While the difficulty of some content might only resonate with some, the challenge presents the opportunity for unique drops. However, the current value of these rewards might only partially justify the time investment required, which is an aspect worth considering.
↖ Necrom Reveal and Roadmap
Now, We will covering the exciting reveal of The Elder Scrolls Online's upcoming chapter, Necron, as presented in the Xbox & Bethesda Dev Direct in 2023.
| Section | Summary |
| --- | --- |
| Introduction | Teaser for ESO's upcoming chapter, Necron, setting the tone for new content. |
| Overview | Necron, launching in June, brings significant updates, features, and content. |
| New Playable Class | Introduction of The Arcanist class, wielding forbidden magic with unique abilities. |
| Setting and Storyline | Eastern Morrowind setting centered around a returning Daedric prince and a mix of familiar and new characters. |
| ESO Chapter Structure | ESO chapters, like Necron, provide standalone yearly content expansions. |
| Current Gameplay Experiences | Enjoy immersive ESO experiences even before Necron's release, catering to Elder Scrolls fans. |
| Immersion and Exploration | Recapture Elder Scrolls moments, such as encountering dragons, within ESO's world. |
| Varied Gameplay Styles | ESO offers diverse play styles – main quests, lore, crafting, combat, co-op, and more. |
| Inclusive Community | Join ESO's friendly community with no subscription, solo or group content options. |
| Platform Availability | Play on PC, Mac, consoles, including Xbox Series X |
| Limited-Time Offer | Temporarily explore past chapters, including iconic regions like Skyrim and Morrowind. |
| Developer Passion | ZeniMax Online Studios' commitment to expanding Elder Scrolls lore, with more to be revealed in the 2023 ESO Global reveal. |
Conclusion:
The new content in the Necrom chapter presents exciting challenges, unique environments, and a variety of rewards. The changes in difficulty, as well as the introduction of earnable mounts and distinct Furnishings, enhance the player experience. The new world events and boss encounters contribute to dynamic group gameplay and add a layer of excitement to Overland content. As always, player feedback is crucial for refining and enhancing the game's content.
Remember that this guide is based on current information and could change by the time the content reaches the live servers. Exploring the new content firsthand and sharing your feedback with the developers will contribute to the ongoing improvement of Elder Scrolls Online. Enjoy your adventures in the world of Necrom!
Most Popular Posts
Popular Category Lists