New World April Q&A: What significant changes are coming?
New World, the popular MMORPG, is on the cusp of significant changes and updates. In an illuminating April Q&A session with the developers, players gained insights into the game's future. This article delves into the highlights, revealing what awaits avid adventurers. From solo dungeons to party UI improvements, PvP track revamps, and the introduction of mounts, the horizon is brimming with excitement. Stay tuned for a comprehensive exploration of the imminent enhancements that will elevate your New World experience.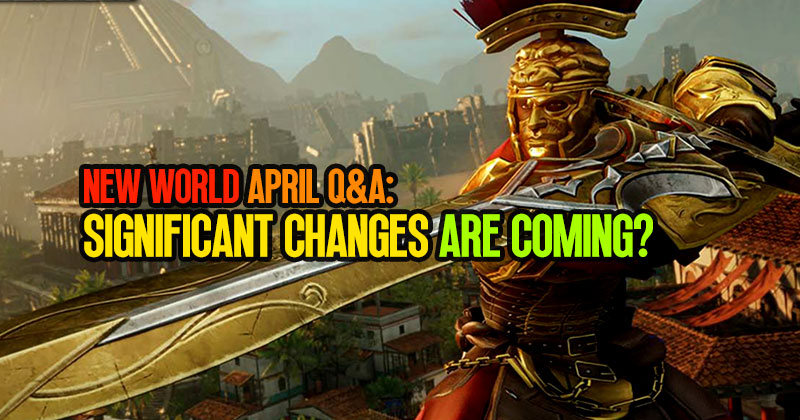 ↖ Solo Dungeons
Many players have been eager to know if solo dungeons would be introduced to New World. While the developers have not laid out specific plans for solo dungeons, they have assured the community that they are committed to enhancing solo content over the next six to nine months. This includes the addition of a new soul trial in the future main story and more content akin to the challenging 1v1 boss trial introduced in season one.
↖ Party UI & Performance Improvements
Addressing concerns about the party UI, the developers acknowledged existing issues and pledged to update nameplates and party visibility, particularly in cities, to improve overall game performance. They are actively working on optimization and are fully aware of the performance-related challenges associated with ice gauntlets in wars and opr, actively working on resolving these issues.
↖ PvP Track Rework
One of the major changes in the pipeline involves a revamp of the PvP reward track, spanning levels 1 to 20. The aim is to better prepare players for end-game PvP, with a focus on providing more umbral shards as rewards. However, there is still discussion on how to handle players who have already completed the first 20 levels of the PvP track, with the possibility of a reset or adjustments under consideration.
↖ Sandworm Difficulty
The Sandworm Elite Trial is set to become accessible to all players, offering a single challenging version. Described by the developers as a formidable test of skill, it promises a level of difficulty unlike any other content in the game. Players who conquer the Sandworm will be rewarded with valuable New World items as the gear score continues to rise in future updates.
↖ Mounts
Mounts have been a topic of interest among players, with some questioning their role in the game alongside fast-travel shrines. The developers clarified that mounts and fast-travel shrines complement each other as distinct methods of traversing the New World. They are currently evaluating the necessity of all fast travel points, but for the time being, they have designed them with mounts in mind. Mounts are expected to be an engaging gameplay element and a dedicated trade skill, requiring players to invest time and effort to master.
↖ Bringing Back Old Twitch Drops
The developers confirmed that they would unvault some of the old Twitch drops. They did not have anything to share yet, except that they were thinking of making a new version of the Indigo Flame ice with a different colour. This would allow players to have the option of having Burning Ice as skin, while the original Indigo Flame ice effect would keep its rarity and collector status.
↖ Ward/Bane Changes
Another question that has been on players' minds is whether Ward and Bane sets will be removed or transformed into a single type. The developers stated that they are aware of the feedback regarding Ward and Bane sets and are looking at various options. However, they have yet to make concrete plans. They did mention that the current system creates a prepping problem, as players have to deal with many different types of Ward and Bane sets. Removing them entirely could significantly change the game's progression curve, but the developers understand the frustration of levelling multiple sets for casual or time-constrained players.
↖ Season Pass PvE Only Option
Some players have requested an option to choose only PvE quests for the Season Pass and Stamp Card. The developers stated that they think it is optional but understand the completionist issue. They are considering alternative solutions to address this issue.
↖ Enemy Spell VFX Changes
The developers also teased upcoming changes to the intensity of enemy spell visual effects in wars and opr. This change will make enemy spells visible but less visually cluttered.
↖ Balance Patch Soon?
The teaser for the upcoming Balance of Power video also hints at a potential balance patch. The Balance of Power video is typically released before a balance patch, so players can expect the patch to follow soon after. The developers aim to release balance patches around a month after the initial patch.
Conclusion:
New World's developers are committed to continuous improvement, making the game more enjoyable for players. While specifics regarding solo dungeons and Ward/Bane changes are still pending, the future holds exciting content updates, performance enhancements, and intriguing new features like mounts and revamped PvP rewards. The developers are also actively seeking solutions to the Season Pass completionist issue and are working on improving the overall gaming experience. Additionally, players can look forward to enemy spell visual effects changes and a potential balance patch in the near future. Stay tuned for further updates and enhancements to New World!
Most Popular Posts
Popular Category Lists