ESO Necrom Chapter Preview: New World Events, Bosses, Furnishings, and More!
ESO NECROM chapter is on the horizon, promising an exhilarating infusion of fresh content for avid players. From lush new zones, formidable world bosses, and an array of earnable rewards to remarkable furnishings, this preview guide delves into the enticing offerings of this highly anticipated chapter. So, let's embark on this journey through the verdant landscapes of Necrom, the enigmatic biomes of Apocrypha, and the exhilarating challenges of world bosses.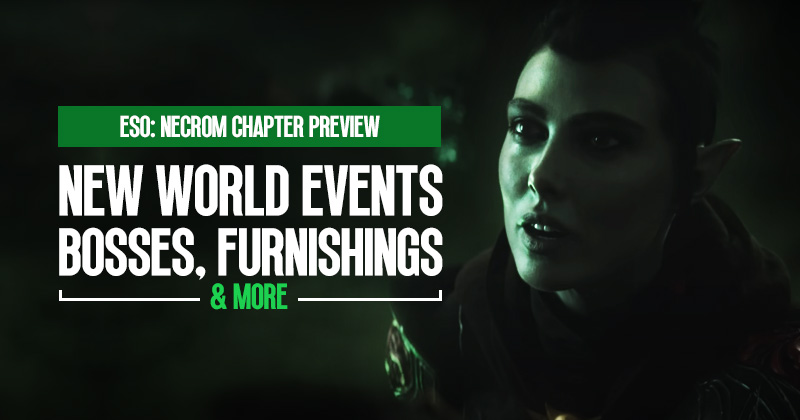 ↖ New Zones
Necrom: The new zone, Necrom, offers players a unique and visually striking experience distinct from Vvardenfell. The landscape is lush and vibrant, with warm lighting creating a colorful atmosphere.
Apocrypha: Another new zone, Apocrypha, stands out for its larger size and two distinct biomes that feature creatures and oddities from the Dragonborn DLC.
↖ World Bosses
The world bosses in Necrom and Apocrypha are not for the faint of heart. These encounters pose a significant challenge and require players to be vigilant about mechanics to defeat them. If you're used to tackling world bosses solo, be prepared to seek assistance from fellow adventurers to conquer these formidable foes. However, the rewards they offer make the effort worthwhile.
↖ New World Event - Bastion Nymic
Bastion Nymic World Event: This event offers a unique and engaging experience that sets it apart from other events in ESO. To gain access to the instanced event, players must collect 5 Daedric Eicher, which drop from Herald Seekers. Once inside, players can choose to confront all the bosses and secret encounters or focus on completing the main objective.
The final encounter involves defeating a boss called the Herald and collecting loot from a glowing treasure chest. While challenging, the event can be completed with a group of 2 or 5 players.
↖ New Earnable Rewards
One of the most exciting aspects of the NECROM chapter is the range of new rewards that players can earn by completing various tasks within the zone:
| | |
| --- | --- |
| Nix Ox Steed Mount | This highly coveted collectible mount can be obtained by completing the Savior of Necrom achievement, which involves finishing various tasks within the zone, including the main quest line and defeating all world bosses. It's the first time players can acquire a mount by completing overland content, making it a prized reward. |
| Shrimp Tender Style | Players can collect pieces of this unique style by completing individual achievements that make up the Grand Savior of Necrom achievement. While the style may appear unusual, the hat is particularly appealing. |
| Valenwood-Themed Collectible | Collect 25 fragments from one public dungeon and 25 from the other (random for a Necrom-themed chapter) to obtain this cute Valenwood-themed collectible. |
| Dwarven Sphere | Completing achievements related to the Bastion Nymic world events will reward players with this neat Dwarven Sphere. |
| Fate Squire Costume | Complete the Chronicle of Fate quest in Necrom to obtain this costume, while the Cast Off Destiny's quest rewards players with a playful mask. |
↖ New Furnishings
The new furnishings in NECROM are nothing short of impressive. Players are in for a treat with these new additions. Notably, the Dunmer-themed furnishings, especially the Telvanni-themed ones, stand out as a significant improvement over existing furnishings. Guild halls located in a Telvanni mushroom will find these furnishings particularly appealing.
To obtain furnishing plans for these new items, be sure to loot as many containers as possible while in Necrom and Apocrypha. Look for items like backpacks, wardrobes, desks, dressers, urns, cabinets, and other lootable furnishings to acquire these valuable plans.
↖ Final Thoughts
In conclusion, the NECROM chapter introduces highly anticipated content to the ESO universe. The new encounters offer enjoyable and challenging experiences, making the completion of overland content more satisfying. Additionally, the tradable rewards associated with tougher content tend to fetch higher prices, adding an exciting dimension to the game's economy.
The new zones are visually distinct, and the developers have clearly listened to player feedback by providing earnable rewards for completing overland content. This approach is a step in the right direction, enhancing the overall player experience in ESO. Prepare yourself for an exciting adventure as you explore NECROM and take on its formidable challenges.
Most Popular Posts
Popular Category Lists