New World Springtime Bloom Event: Best Farm Locations, Required Items, How to Participate
The Springtime Bloom Event is an exciting seasonal event in the world of New World, where players embark on a quest to collect ethereal wispy blooms by planting wispy spritz in seed pods and strategically detonating them to fend off three relentless chasing blobs. This event offers players valuable reputation gains and coveted New World tokens that can be exchanged for a variety of enticing items. In this guide, we will take you through the optimal farming locations, the essential items you'll need, and the step-by-step process of participating in this captivating event.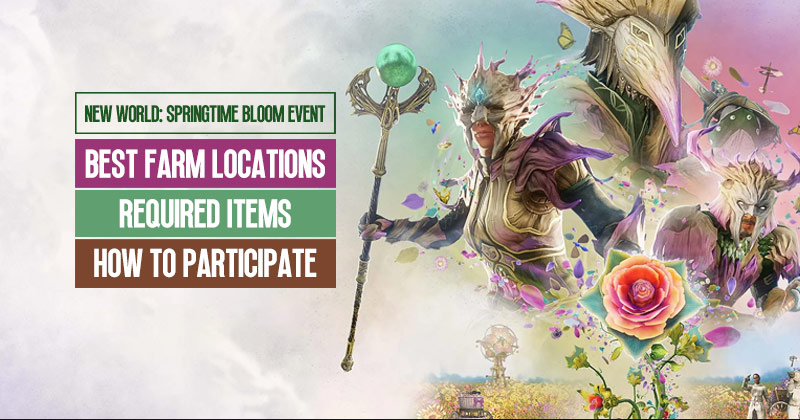 ↖ The Best Farming Location
To maximize your yield of wispy blooms during the Springtime Bloom Event, head to the picturesque town of Everfall, specifically the enchanting region of Brightwood. Brightwood boasts two prime spots where wispy blooms spawn, offering players the perfect opportunity to cycle between them effortlessly.
These locations are perched upon elevated rocks, easily accessible to adventurers, and provide a secluded sanctuary away from the hustle and bustle of competitors. This strategic positioning ensures that you can farm the blooms with minimal interference, allowing you to make the most of your participation in the event.
↖ Getting the Required Items
Before you can dive into the excitement of the Springtime Bloom Event, you'll need to ensure you have the necessary items in your possession:
1. Wispy Spritz:
Obtainable from the wispy spritz station.
Alternatively, you can acquire them for free from the central event location.
2. Spring-tied Wafer:
Highly recommended as it doubles the number of wispy blooms you receive from each successful explosion.
Acquire the Spring-tied Wafer by:

Completing the event-related quest.
Purchasing it from the marketplace if available.
Having an ample supply of Wispy Spritz and Spring-tied Wafers will significantly enhance your efficiency in collecting wispy blooms during the event.
↖ Participating in the Event
Now that you have the necessary items, it's time to dive into the Springtime Bloom Event. Here's a step-by-step breakdown of how to participate:
Locate Seed Pods: Wander around the event area to locate seed pods where you can plant your Wispy Spritz.
Plant Wispy Spritz: Interact with the seed pods to plant your Wispy Spritz. Be swift, as the chasing blobs are relentless and will close in quickly.
Detonate Wispy Spritz: After planting the spritz, make use of your strategic skills to detonate them in a manner that will effectively eliminate the three chasing blobs. Timing is crucial, as the blobs move swiftly and unpredictably.
Claim Your Rewards: Successfully hitting the chasing blobs with the explosion will earn you credit for the event. Don't forget to pick up any valuable wispy wasp goo that drops from the defeated blobs, as this will contribute to your overall reputation gains.
↖ Final Thoughts
In summary, the Springtime Bloom Event in New World offers players an engaging and rewarding experience. To make the most of this event, head to Brightwood in Everfall, where you can farm wispy blooms efficiently at secluded spots. Ensure you have an adequate supply of Wispy Spritz and consider acquiring the Spring-tied Wafer for enhanced rewards.
Participating in the event involves planting Wispy Spritz in seed pods, strategically detonating them to eliminate chasing blobs, and collecting valuable wispy wasp goo. By actively participating in this event, players can earn valuable reputation and New World tokens that can be used to obtain various items. Embrace the beauty of spring and immerse yourself in the enchanting world of New World's Springtime Bloom Event!
Most Popular Posts
Popular Category Lists