Guild Wars 2 Thief: How can new players play this unpopular class well?
Guild Wars 2 boasts a diverse selection of classes for players to explore, and one of the most intriguing but often overlooked options is the Thief. This class is known for its complexity and potential for rewarding gameplay experiences. However, many new players tend to shy away from the Thief due to its reputation as a challenging and overwhelming class to master. In this guide, we will delve into the possibilities and strategies for new players to excel as a Thief in Guild Wars 2. We will cover various aspects of gameplay, including open world maps, structured PvP, and PvE.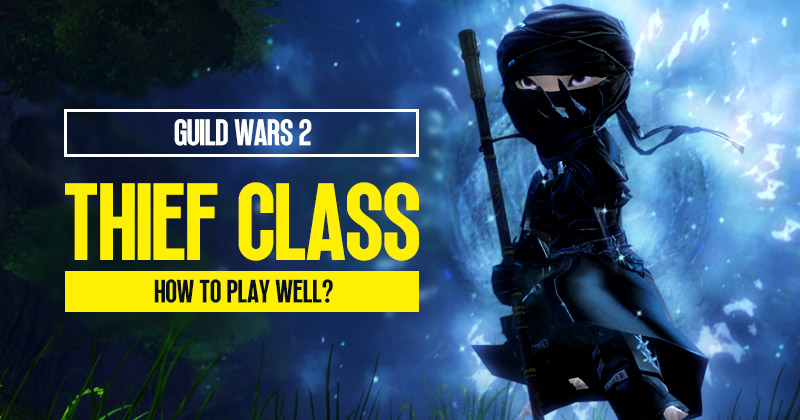 ↖ Open World Gameplay
Playing a Thief in the open world of Guild Wars 2 demands a keen sense of awareness and active engagement. The Thief class is all about being slippery and calculating your moves, rewarding players who use skills and abilities with precision and strike at the right moments.
↖ Build Considerations
Consider a condition build using a short bow and double daggers. This build complements the Assassin, Thief, or Rogue playstyle that many new players may find appealing.
The short bow allows you to engage enemies from a distance, making it easier to escape and deal damage. After softening up foes from afar, you can transition into melee range to finish them off.
Be cautious, as mistakes can be unforgivingly punished. To succeed, new players must learn the appropriate movements and timing of attacks.
↖ Structured PvP
In structured PvP, the Thief can truly shine as a roamer, harnessing its unparalleled mobility to cover distances and target weakened enemies. While a power build may offer simplicity, dispatching foes can still prove challenging. Remember that the Thief class operates on a high-risk, high-reward principle, and the PvP meta evolves rapidly.
↖ Tips for PvP Success
Embrace your role as a roamer, utilizing your agility and speed to control the battlefield.
Consider a power build for its straightforward approach in PvP encounters.
Learn the ropes of efficient positioning and timing, as these are essential for success in the fast-paced PvP environment.
Be flexible and adapt to the evolving meta, experimenting with different strategies to remain effective.
↖ PvE End Game
In PvE end-game content, the Thief can be a formidable choice, particularly when utilizing condition-based builds. However, it's crucial to acknowledge the Thief's primary weakness: a lack of sustain. Success in PvE heavily depends on the support and healing available within your group.
↖ Effective PvE Strategies
Opt for a build that complements your preferred playstyle, such as a condition build with Vipers for stacking poison damage over time.
Master a rotation that includes auto attacks and Death Blossoms, ensuring that you maintain consistent damage output.
Make efficient use of dodging and skills off cooldown to maximize your survivability.
Communicate with your team to ensure you receive necessary support when dealing with challenging encounters.
Conclusion:
The Thief class in Guild Wars 2 is a complex yet rewarding choice for new players looking to explore the game's end-game content. While it demands active engagement and precise execution, it offers a thrilling and dynamic gameplay experience. New players should focus on selecting a build that aligns with their preferred playstyle, invest time in learning the appropriate movements and attack timings, and understand the inherent high-risk, high-reward nature of the Thief class. With dedication, practice, and experience, new players can transform the Thief into a formidable force within the Guild Wars 2 universe.
Most Popular Posts
Popular Category Lists