ESO Whitestrake's Mayhem Event: How to Make Gold with AP?
If you're a regular player of the Elder Scrolls Online, you know that gold is an essential ESO currency. It's necessary for purchasing items, mounts, and even housing. However, another crucial currency in ESO is Alliance Points or AP, which can be earned through PvP activities. In the upcoming Whitestrake's Midyear Mayhem event, you can make gold with AP, which can be an excellent opportunity to increase your wealth.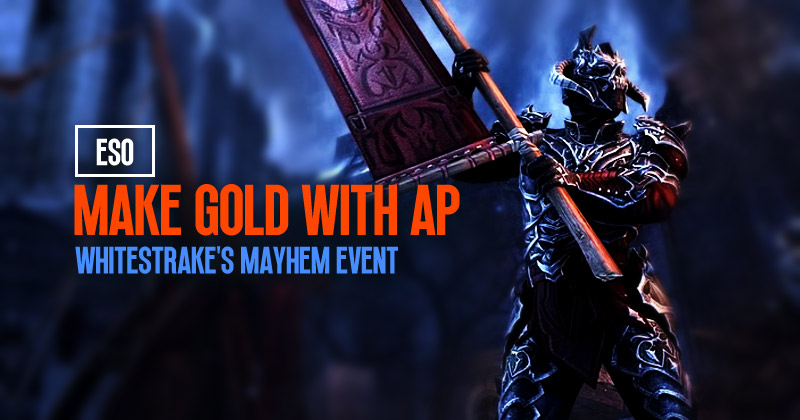 ↖ Understanding the ESO Economy
Before we get into the details of converting AP to gold, it's important to understand how the ESO economy works. ESO's in-game market is a player-driven economy. Prices for items and sets are determined by the supply and demand of the players. Therefore, the value of a set or item can fluctuate drastically depending on how many players are buying or selling that particular item.
↖ Sets to Invest In
Now, let's discuss some sets that you can invest in during the Whitestrake's Midyear Mayhem event. Below are some of the most popular PvP sets that you can buy using AP:
Blackrose Prison Weapons

Bright-Throat's Boast

Bone Pirate's Tatters

Fury

Seventh Legion Brute

Spriggan's Thorns

Vicious Serpent
The prices for these sets will vary depending on the demand and supply during the event. Remember, it's crucial to invest in sets that have a high resale value.
↖ Converting AP to Gold
So how can you convert AP to gold during the Whitestrakes Midyear Mayhem event? The easiest way is to purchase sets using AP during the event and then resell them later for gold. This is where the Regional Equipment Vendor comes in. These vendors are located in every starter area and sell gear sets for each regional zone. The gear sets cost 5,000 AP each, and you can earn one of the three overland sets for that region by using the vendor. You can then sell these sets to other players for gold, making a profit in the process.
↖ Final Thoughts
The Whitestrake's Midyear Mayhem event is an excellent opportunity to convert your AP into gold. However, it's essential to invest in sets that have high resale value. Remember to keep an eye on the market and adjust your investments accordingly. With this guide, you're now equipped with the knowledge to take advantage of the event and boost your ESO wealth.
Most Popular Posts
Popular Category Lists