New World Patch 1.9.3: Latest Changes in Season Pass
The eagerly awaited New World Patch 1.9.3 has arrived, bringing with it a host of exciting changes that promise to enhance your gaming experience. This guide we'll delve into the latest modifications introduced in this patch, focusing on gear sets, Spring Tokens, quests, and economic adjustments. Additionally, we'll explore the revamped Season Pass, which aims to streamline your journey through the challenges of Aeternum.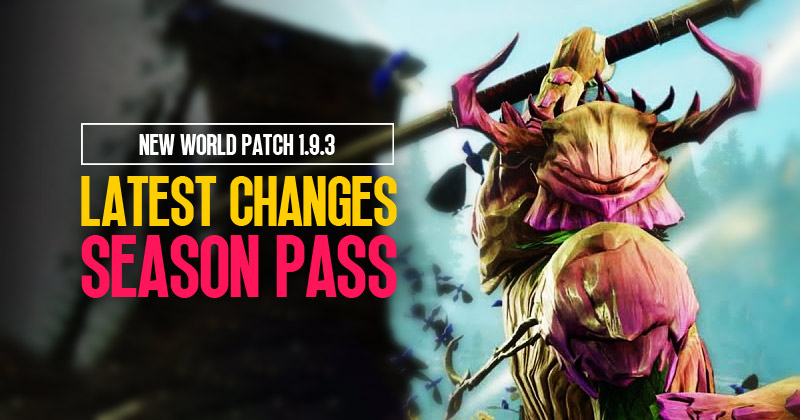 ↖ Changes to Gear Sets
One of the primary focal points of Patch 1.9.3 is the alteration of gear sets, affecting some popular power sets that players have been using. Here's what you need to know:
Beekeeper and Springtime Ruffles Power Sets: Previously offered as full sets, the Beekeeper and Springtime Ruffles power sets have been separated into individual pieces. If you had already purchased these sets, don't fret - you'll keep your complete gear. However, any new acquisitions will require you to buy individual items. This change adds more flexibility to your gear customization options.
Wispy Wasp Warm Gear Set: The Wispy Wasp Warm gear set now features a heart rune charge, introducing a new dynamic to its gameplay. Players who favor this set should take note of this adjustment, as it may influence your strategies and playstyle.
↖ Changes to Spring Tokens
Spring Tokens play a crucial role in the New World economy, and Patch 1.9.3 has made some significant changes:
Springtide Premium Token Recipe: The Springtide Premium Token recipe has undergone updates. Players can now obtain four Springtime Jingle Coin bags per day instead of the previous three. This change means more New World Coins for everyone participating in the event. Moreover, the premium token is now conveniently listed in the crafting menu as a premium item.
↖ Changes to Quests
Quests are an integral part of your adventure in Aeternum, and Patch 1.9.3 introduces some notable quest-related changes:
Parable Guards and Intact Spear Half: Players engaged in the Aspia to Pierce Heaven's questline can now find the Intact Spear Half quest item with the Parable Guards in book 3. This addition aims to improve quest progression for players who may have been stuck.
Removal of Depreciated Raw Notes: Three depreciated raw notes from Alify Pargo have been removed from the game. This adjustment is designed to prevent instances of the game soft locking, ensuring a smoother questing experience.
↖ Changes to Economy
The economic landscape of New World has been adjusted in Patch 1.9.3, affecting how certain resources are obtained and their associated prices:
Blight Calls: Blight Calls, which are crucial resources, will be less obtainable in the game. This change may lead to an increase in their market price. Level 55 open-world elite runs will no longer guarantee a 100% drop rate for Blight Calls, and regular chests will now drop only ten, down from the previous twenty. However, crafting Blight Calls has been made more accessible, with players able to craft six per day and receive higher-quality casts.
↖ Changes to Season Pass
The Season Pass has received a revamp in Patch 1.9.3, aimed at making it more attainable for players to complete its challenges:
PVP Arena Challenges

Flawless victory in the PVP Arena now requires only one win instead of the previous three.
The amount of PVP experience required has been significantly reduced, from 1000 to 100.

Render and Damage Challenges

Players now need to complete only one render instead of the previous three.
The amount of damage required has been halved, making it easier to accomplish.

Salt Requirement

The amount of salt required for Season Pass challenges has been reduced from 5000 to 1000, lightening the burden on players.

Other Challenge Adjustments

The number of Outpost Rush wins required has been decreased from ten to five.
The number of required invasions has been reduced from two to one.
The number of open-world player kills needed has been lowered from 50 to 15.
Several Season Journey Challenges have been recalibrated to offer a more achievable path for players striving to complete them.
Conclusion:
New World Patch 1.9.3 ushers in numerous exciting changes that touch various facets of the game, including gear sets, Spring Tokens, quests, and the in-game economy. The modifications to the Season Pass make it more accessible for players to conquer its challenges and reap the rewards. With these insights, you are well-prepared to navigate the evolving world of Aeternum in style. So, dive into the latest patch, explore the changes, and embark on your next great adventure!
Most Popular Posts
Popular Category Lists