How to Earn Springtide Rewards and Prepare for Expansion | New World?
The latest New World patch has brought some significant changes to the Springtide event. In this guide, we will discuss how to take advantage of these changes to earn more gold and prepare for the upcoming expansion.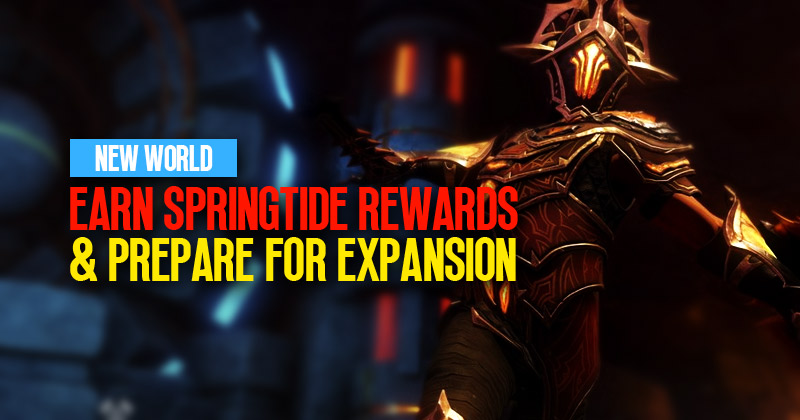 ↖ Changes to the Springtide Event
The biggest change to the Springtide event is the increase in rewards. The amount of rewards that players receive from the event has been massively buffed. For example, the number of Wispy Bloom battles has increased from 7 to 14, which means players will get double the pedals if they are using a Springtide wafer. Additionally, Springtide tokens now require only three Wispy Bloom pedals, down from five. This means players will get more Springtide tokens per flower, which can be used to buy items from the Springtide store.
Furthermore, Wispy Wasps now have a 75% chance to drop Wasp Goo, up from 10%. As there are three Wispy Wasps per flower, players have a good chance to get at least two goo per flower. One goo is worth one Premium Token, which is equivalent to 25 small tokens. This means players will get an additional 50 tokens per flower, plus the nine from the flower itself. In short, players can earn a lot of tokens by farming flowers for just 10 minutes.
Moreover, the Delightful Gift Sack, which is the reward for completing the event locations, now drops 10 Springtide tokens instead of one. The Joyous Gift Piles in every town also drop 10 Springtide tokens. Lastly, Whispy Spritz and Springtide tokens no longer have any weight, which is a convenient bonus for those farming this stuff.
↖ Trading Tip for the Expansion
With the upcoming expansion, players can benefit from stocking up on the green patterns. These patterns require limited resources and are not locked to a specific gear score. They only need one craft mod for the attributes, which makes crafting them very cheap. Players can choose the attribute they want and use some tier 5 resources to craft them.
As the gear score is expected to increase with the expansion, there may be a new tier of resources required to craft gear for that level. However, these green patterns may still be useful for crafting new gear with a higher gear score than the current maximum of 600. Therefore, it is a good idea to stock up on these patterns and keep them for the upcoming expansion.
Conclusion:
The changes to the Springtide event provide an excellent opportunity for players to earn more tokens and prepare for the expansion. Players can benefit from farming flowers for just 10 minutes and earn a significant number of tokens. Additionally, they can stock up on green patterns, which may be useful for crafting higher gear score items in the future. By taking advantage of these changes, players can earn more gold and be better prepared for the expansion of the New World.
Most Popular Posts
Popular Category Lists