New World News and Updates: New Gear Score Reset System Guide
Welcome to the introduction guide on the new gear score system in New World! In this guide, we will be discussing the latest news and updates regarding gear scores in New World. Recently, the game developers announced the introduction of a new gear score system, which has led to a lot of excitement and anticipation among players. We will be discussing the latest news on paid name changes, bugged diaboloft questline, company updates, group finder, trophies, PvP matchmaking, fresh starts, solo leaderboards, SEA servers, fishing overhaul, ward and bane system overhaul, and gear score reset.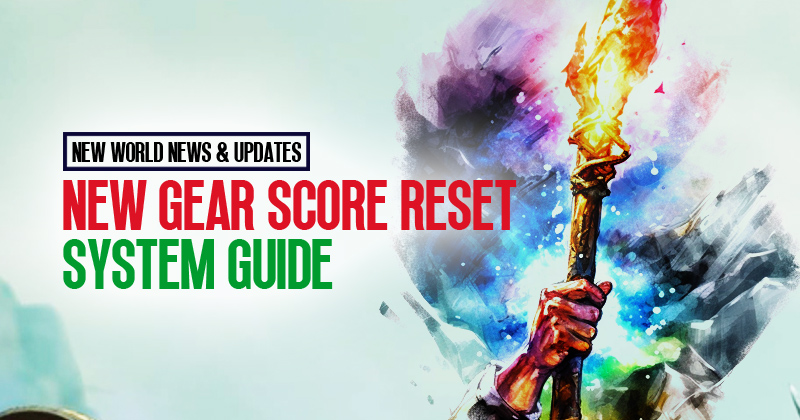 ↖ PvP matchmaking, Fresh Starts, Solo Leaderboards
There are some upcoming features, including PvP matchmaking, solo leaderboards, and fresh starts. However, the player base currently needs to be higher in most regions to implement improved matchmaking, although the developers are investigating ways to improve this in the short and long term.
Pre-made groups have become more prevalent mode, but the developers do not want to discourage group play and are introducing crossworld or regional leaderboards with increased reward tiers to increase the competitive pool. As for fresh start worlds with low populations, the developers will have news soon and may merge certain servers to increase the player population. However, some servers may be scrapped altogether and moved to legacy servers.
↖ Ward/Bane Overhaul, SEA servers & Fishing Overhaul
Higurashi inquired about the possibility of SEA servers, and while it's something that the team wants to provide, they need to ensure that there is enough demand from players before opening a new region. Creating a new data center, even with the help of AWS, requires the recreation of backend services and ensuring seamless communication with the rest of the global technology stack.
Additionally, legal and customer support aspects of territory publishing need to be considered. The team is committed to making it happen if there is enough long-term player interest, so players are encouraged to share their desires for an Asia-located world with their friends who play.
Regarding a fishing overhaul, Nozamas responded that an update to the experience is coming soon with room for expansion in the future. Some of the changes will involve treasure chests, but it's still being determined whether the rewards of treasure chests will be increased.
As for the ward and bane system overhaul, Ben asked when it will happen, as getting all the different world sets to 625 is a tiresome grind due to the low-quality drops and mutations. While there are discussions about perks and loot buckets, they are not specifically related to bane and ward packs at this time. The team is hesitant to make significant changes to this system as it is a major part of progression.
↖ Gear Score Reset
Currently, there is a Gear Score Reset in effect, but it may be impacted by future changes. The question is whether the new maximum Gear Score increase will make our current gear obsolete. The answer is both yes and no. Our current 625 Gear Score will not be upgradeable to the new max Gear Score since new systems that adjust Gear Score will be introduced later. More detailed information will be revealed in the future.
Initially, there needed to be more clarity about whether the current gear could be upgraded or not. However, upon reading it again, our current gear will indeed become obsolete, and there will be no upgrading of our 625 gear to the new max. It is a hard reset.
The new system may involve farming drops at 650 Gear Score and using a new resource to upgrade to 675 or something similar. This new resource may be obtained from the new area or expansion.
While some players may be upset about this, it is standard procedure for expansions to reset Gear Score. It adds to the content, and gear that was farmed years ago should only be viable for a while. However, it is important for better pathways towards best-in-slot gear to be provided so that players can reach their goals without excessive farming or gold expenditure. This may involve drops, crafting, or farming specific resources.
The specifics of this new system are still unclear, but it will be interesting to see what they come up with. In the meantime, there may be some empty storage as players adjust to the Gear Score Reset.
↖ Save Attributes to Gear Set, Fashion sets
The idea of saving attributes and skill trees with respect to gear set loadouts is currently being discussed by Blendy and the development team, but final decisions have yet to be made. Tam 2 suggested the addition of fashion sets, which could function similarly to gear sets for transmog and skin outfits. This is a promising idea that will be brought up with the team. Magnus O'daya also requested a fix for the old hermit's pastime fishing rod, which is still being worked on, including the broken and missing pole issue.
Xvp new life inquired about perks for stats like attack, speed, and movement, but Nozamas stated that there had yet to be any discussions for such perks, as speed is limited by hardware. Mounts are the best option for faster movement, and there should not be unconditional movement speed on New World items to avoid worsening kiting issues. The current balance of movement speed is effective, and it should remain that way.
↖ New Weapon, Engine Changes
Mendoza inquired about any forthcoming updates regarding the release of a new weapon, to which the response was positive. The weapon in question is part of the expansion and is known to be a focus weapon. Delacon was also asked about the difference between the engine used in New World and the open 3D engine and whether New World will eventually operate on open 3D.
Delacon mentioned that they both share the same origins, but the Asoth engine is a modified and branched version specifically tailored to meet the requirements of the New World. Additionally, the New World team maintains its own in-house engineering team to design new tools and technologies for its developers.
↖ Reset Territory Standing, Concocter's Set
Currently, there are no plans to merge into the open 3D engine branch. However, there are plans to allow players to reset their territory standing cards. This is good news for players who heavily invested in gathering speed and housing tax, as the effects of those cards have changed over time. There may also be changes to refining and crafting gear in the future.
As for the Concocter's Set, there needs to be more clarity about its functionality, and a direct bug report has been made. It may be too late to change it to yield, as that could cause issues for those who have been using it instead of the Arcanist Set. Instead, combine both sets into one. In the near future, there will be an in-depth discussion about triggering fortification versus elemental versions, as well as how damage radiation works.
Most Popular Posts
Popular Category Lists