How to easily earn 1.2M Gil through weekly activities in FF14?
In Final Fantasy XIV, finding ways to make Gil without investing extensive time can be crucial during patch lulls or when you have limited playtime. This guide presents a comprehensive checklist of weekly and daily activities that can help you effortlessly accumulate approximately 1.2 million Gil per week. These activities require minimal effort, ensuring a steady income while allowing you to explore other games or take a break from FF14.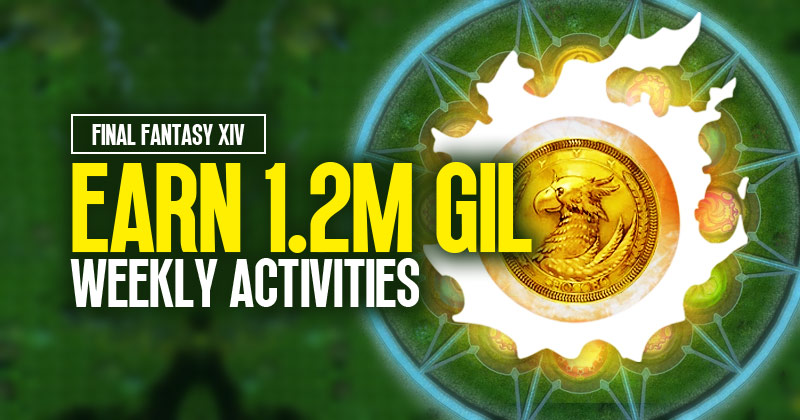 ↖ Weekly Checklist
Sofia Unreal Trial
Time Required: Less than 45 minutes
Participate in Sofia Unreal runs weekly by joining Party Finder groups on reset day. This not only provides a challenging experience but also rewards you with valuable items.
Blue Mage Mass Carnival Weekly Targets
Time Required: About 20 minutes
Complete the three weekly targets for the Blue Mage Mass Carnival. This effort will earn you enough Allied Seals for 110 Ethanite Tickets, saving you around 50,000 Gil or more on teleports.
Custom Deliveries
Time Required: Less than 10 minutes
Engage in easy crafting for FF14 Gil by completing custom deliveries. Craft items that are readily available from nearby NPCs and exchange crafting scripts for valuable items like grip gels and immutable solutions, netting you up to 100,000 Gil in just 10 minutes.
Island Sanctuaries
Time Required: About 30 minutes
Visit the island sanctuary once a week to manage your workshop, animals, and crops. This activity can yield over 200,000 Gil by trading the obtained currency for desirable items.
Gathering
Time Required: Approximately 1 hour per week
Utilize your duty queues or waiting time in the Party Finder to gather materials for crafting. Craft and sell the products, potentially earning around 450,000 Gil per week along with valuable crystals.
Enclave Trade Items
Time Required: Less than 1 minute
Exchange items, like silver coins from retainers, for a total value of 20,000 Gil. This quick trade can yield a return of 40,000 Gil, taking only a minute of your time.
Wondrous Tales
Time Required: Variable
Fill in the remaining stamps through unsynced solo runs of specific trials to complete Wondrous Tales. This activity may reward you with a multi-million Gil item jackpot if you're lucky.
Gold Saucer Activitie
Time Required: A few minutes
Participate in the Gold Saucer's weekly activities, such as the fashion show, to earn easy MGP. Spend a couple of minutes on Fridays to earn 60,000 MGP by quickly posting answers for the Koto Star event.
Other Weeklies
Engage in additional activities, such as the current Savage tier for best-in-slot gear, Alliance Raids for Triple Triad cards, and rank hunts for tomestones and material stockpiling, which may take up more time but offer substantial rewards.
↖ Daily Activities
Gardening

Time Required: A few minutes
Tend to your garden daily, growing valuable crops like Favinary Onions, which can fetch high prices in the market.

Retainers

Time Required: A few minutes
Assign your retainers to quick hunting missions to obtain Petaluda Scales, which can be sold or used for crafting. Send them on field missions using Allegan coins to prepare for the following week's Enclave submissions.

Roulettes
Occasionally engage in Roulettes to earn additional rewards or simply enjoy dungeon runs for fun.
Treasure Maps
Gather and complete daily treasure maps, which can be sold for a minimum of 20,000 Gil per map.
Ad Hoc Activities
Join treasure hunts with groups found in the Party Finder for enjoyment and additional Gil-earning opportunities. Use spare time to work on crafting and gathering gear or pursue other miscellaneous activities.
Conclusion:
By incorporating these easy weekly and daily activities into your FF14 routine, you can ensure a steady income of approximately 1.2 million Gil per week with minimal effort. These activities will keep you engaged during patch lulls, help you progress your character, and provide opportunities for both fun and profit. Remember to adjust your activities based on your interests and priorities, and most importantly, enjoy the game at your own pace.
Most Popular Posts
Popular Category Lists