How to make credits and rare crafting materials in SWTOR 7.2?
Welcome, a series focused on the basics of Star Wars: The Old Republic. In this guide, we will discuss how to earn credits efficiently at level 80. With the right tactics and knowledge of the current player-run market, it is possible to make a hundred million credits in just two hours. Inflation on the Galactic Trade Network (GTN) has led to valuable items worth millions of credits, which can be leveraged to earn a substantial amount of wealth.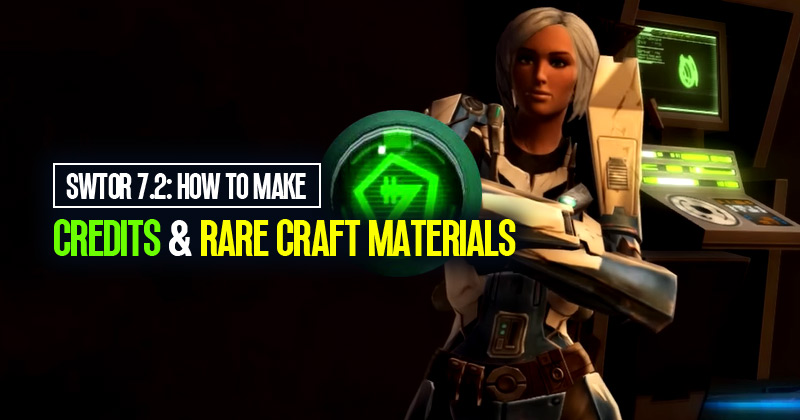 ↖ Step 1: Earn Tech Fragments
Tech fragments are a type of currency that can be obtained through various methods. You can earn tech fragments by participating in conquest, completing daily and weekly quests, and engaging in flashpoints, operations, galactic starfighter, and PvP activities. These fragments can be found in the currency tab of your inventory.
↖ Step 2: Exchange for Rare Crafting Materials
Once you have accumulated enough tech fragments, you can exchange them for rare crafting materials. The most sought-after materials are the OEMs and RPMs, which are used to craft the best augments. These rare materials can be purchased from the Spoils of War vendor in the supply section of the fleet. Keep an eye on the prices of these materials on the GTN and choose the one that is selling for more on your server.
↖ Step 3: Sell Rare Crafting Materials on the GTN
After acquiring the rare crafting materials, you can sell them to other players on the GTN. These materials are highly valued by players who have excess credits and are willing to pay millions for them. Ensure you set a competitive price to maximize your earnings.
↖ Step 4: Enjoy Your Wealth
Once you have sold the rare crafting materials, you can enjoy your newfound wealth. With a hundred million credits at your disposal, you can spend it on whatever you desire.
↖ Additional Methods to Earn Credits
Conquest
Conquest is an easy way to earn swtor credits and valuable crafting materials just by playing the game. Each week, you will have a personal conquest point goal to meet. You can earn conquest points by completing the objectives listed in the conquest panel. If you complete your personal conquest goal of 100,000 points, you will earn 500 tech fragments. Additionally, if you participate in conquest with a guild and reach the guild's conquest goal, you will earn additional tech fragments and flagship encryptions, which can be sold for credits on the GTN.
Operations
Running story mode operations is another efficient way to earn credits. Each boss drops a pile of tech fragments, and completing a story mode operation typically takes less than an hour. By running two operations, you can earn enough tech fragments to buy rare materials and earn 100 million credits in just two hours.
Galactic Starfighter (GSF), PvP, and Flashpoints
Engaging in activities such as GSF, PvP, and Flashpoints can also help you earn credits. In GSF, you can earn 850 tech fragments by running four matches with wins counting double. PvP weekly rewards you with 1500 tech fragments for completing 12 matches with wins counting triple. Flashpoints offer 300 tech fragments for completing the "Searching for Allies" weekly quest, and running random flashpoints via the group finder can yield additional tech fragments.
Heroics
Heroics are repeatable daily quests that can be completed solo. Although they are intended to be done in groups, experienced players can often complete them alone. Each heroic rewards you with 30 tech fragments. By running 134 heroics, you can earn enough tech fragments to buy rare materials and sell them for 100 million credits on the GTN.
Swoop Event
Participating in the limited-time racing event called the Swoop Event can be a lucrative way to earn credits. By completing daily and weekly quests while running the races, you can earn a significant amount of credits. Running the races on multiple characters can further increase your earnings.
Jawa Junk
Jawa Junk is a special type of item currency that can be turned in for crafting materials. Look for the Jawa vendors in the Cartel Bazaar on the Republic and Imperial fleets to spend your Jawa Junk on crafting materials. Sell these materials on the GTN for additional credits.
Gathering Materials
If you have crew skills like slicing, scavenging, archaeology, or bioanalysis, you can gather materials in the world and sell them to other players who need them for crafting. Additionally, you can send your companions on missions to gather materials for you.
Playing the GTN
Playing the GTN, the player-run market, can be a profitable way to make credits. You can buy items at low prices and resell them at higher prices for a quick profit. Watch for valuable items posted at low prices and take advantage of the price difference.
Crafting
Crafting can still be a viable way to earn credits. Augment kits, augments, stims, and low-level crafting items can be profitable. However, you need to do the math and consider the costs of crafting versus selling raw materials to determine the most profitable approach. Find a crafting niche based on supply and demand.
Conclusion:
By combining these strategies and methods, players can effectively generate credits and accumulate substantial wealth in SWTOR 7.2.
Most Popular Posts
Popular Category Lists