New World Fury of the Spriggan Event: Everything You Need To Know
New World Fury of the Spriggan event is about to begin, and it's time for players to gear up, face the Dryads, and save Aeternum from the impending danger. This guide will provide you with all the necessary information to make the most of this event. From empowering your weapons to battling the Spriggan boss, we'll cover it all. Join forces with 20+ adventurers in open world encounters and earn daily event-specific rewards from May 24 to June 13.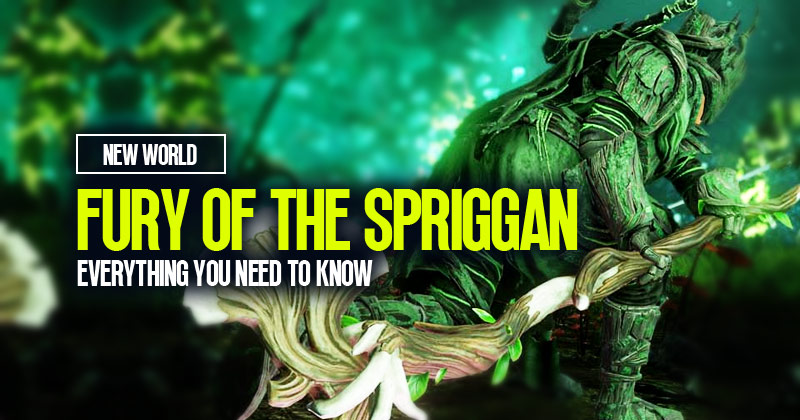 ↖ Event Details
The Fury of the Spriggan event will commence on May 24 and continue until June 13. It requires the participation of courageous players, along with 20 or more adventurers, in open world encounters. Throughout the event, Dryad Shamans will be present in various regions, including Brightwood, Ebonscale Reach, Edengrove, Mourningdale, and Brimstone Sands.
↖ Constructing Flame Braziers
To prepare for the battles against deadly foes, it is essential to construct Flame Braziers. These braziers, when lit with flame cauldrons, empower your weapons and make it easier to defeat the Spriggan boss. The concept is similar to the PvE arena but with its own unique challenges and rewards.
↖ Event Rewards
The rewards for the Fury of the Spriggan event are divided into two categories: Completion Awards and Daily Bonus Rewards.
Completion Awards:
Each victory over the Spriggan boss grants the following rewards:
A 50% chance of receiving a level-appropriate procedural weapon or armour piece, guaranteed to be rare or above.
A 30% chance of rolling on the global named list, which includes all available rare items.
A 20% chance of rolling on the Spriggan arena named list specific to the event.
Various container resources and consumables.
Note: Obsidian Gypsum is rewarded, limited to a maximum of three per day, but it requires coordination with a group of 20+ adventurers.
↖ Daily Bonus Rewards
These rewards are obtained by participating in the event daily, up to a maximum of three times per day. They include:
One event-exclusive Moss-Borne weapon with guaranteed weapon-appropriate attributes, an empty gem slot, an Angry Earth Bane perk, and more.
One event-exclusive armour piece with guaranteed weight-appropriate attributes, an empty gem slot, and an Angry Earth Ward perk.
250 Humble Shards.
Three to five Flame Cauldrons, which may cause a drop in their market price due to increased supply.
A roll with a 33% chance of obtaining one of twelve selected perk resources.
A 25% chance of rolling on one of six exclusive named items.
A chance to obtain a Timeless Shard.
A 2% chance of receiving a Spriggan Flame Brazier housing item, with an increased drop chance after each roll.
Conclusion:
The Fury of the Spriggan event in New World offers exciting challenges and valuable rewards. Whether you're seeking Angry Earth gear or looking to earn unique new world items, this event provides an opportunity to test your skills and reap the benefits. Make sure to gather a group of adventurers, construct Flame Braziers, and face the Spriggan boss before Aeternum succumbs to its Fury.
Most Popular Posts
Popular Category Lists