How to get a lot of Umbral shards easily and quickly in new world?
In today's guide, we'll be discussing how you can passively accumulate a large number of Umbral Shards in New World without having to rely on expeditions or spend a significant amount of time. By following these simple strategies, even as a fresh character with 600 expertise, you can optimize your daily shard counts and exponentially increase your shard collection over time.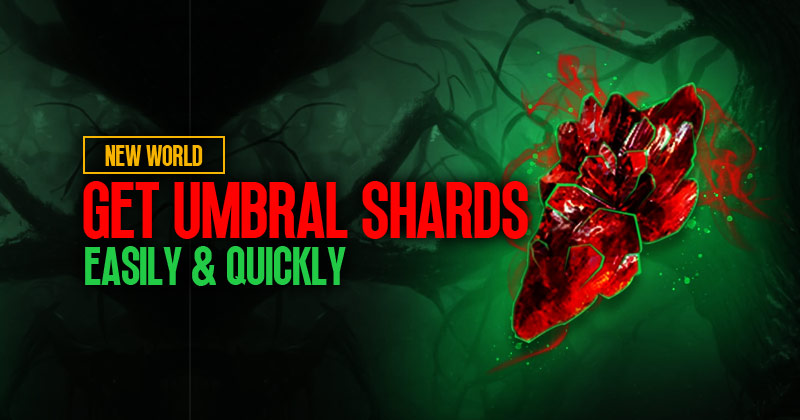 ↖ Passive Shard Growth with Gypsum Orbs
To begin with, the majority of New World shard accumulation will come from Gypsum Orbs. Let's explore which Gypsum Orbs are the most worthwhile to obtain:
Obsidian: These are easily obtainable through chest runs or by farming a boss in Northern Evanscale. Consider picking these up whenever you come across them.
Sapphires: These orbs are acquired from expeditions. You can obtain two of these per day while grinding for expertise bumps or as a mutator runner.
Garnets: These orbs are obtained by participating in arenas. You can also get two of these per day if you engage in arena activities regularly.
Emeralds: This orb is one of the easiest to obtain. It comes from a trade skill aptitude container. Max out your cooking skill and craft 130 hearty meals to receive an Emerald Orb daily.
Citrine: These orbs are obtained from trials. If you don't participate in trials, you can skip these for the sake of time.
Amethyst: Obtained from portals, these orbs are generally not worth pursuing, especially considering the time investment required.
Ruby: If you have some downtime and enjoy OPR (Outpost Rush), you can obtain two Ruby orbs per day by participating in the matches.
Diamond: These orbs are worth obtaining as they offer significant shard rewards. Run around and hit 6 of the event windmills to acquire two Diamond orbs daily.
Topaz: If you're doing your Obsidian, you should also consider acquiring Topaz orbs. You can obtain 10 Topaz orbs per day, adding two extra Gypsum Orbs to your collection.
↖ Optimal Gypsum Orb Collection
Considering the options above, it is feasible to obtain 6 Gypsum Orbs per day without ever touching OPR or expeditions. The maximum number of Gypsum Orbs you can obtain in a day, assuming you have enough time, is 10. This would allow you to craft one orb for every armour piece and weapon, maximizing your shard collection potential.
↖ Unlocking Maximum Shard Potential
Once you reach a gear score of 625, each Gypsum Orb will yield 400 Umbral Shards. Assuming you have 10 gear pieces, you can obtain 4,000 shards per day. It is essential to reach this gear score to maximize your shard gains.
↖ Infused Orbs and Shard Sources
Infused Orbs function similarly to regular Gypsum Orbs. They provide an opportunity to upgrade items using infused casts, which can be crafted twice daily. This is especially helpful if you're trying to increase your expertise from 500 or start your shard farm without buying expeditions.
↖ Putting Strategies into Practice
If you have alt characters, log into each one and collect the 6 Diamond orbs and 5 infused orbs. This minimal effort will provide you with eight orbs per day. Consider using regular orbs for the shard collection or pulling chess pieces and rings, depending on your needs.
↖ Building Up Shard Collection
For characters below 600 expertise, focus on acquiring a shard source—a single item, preferably a three-perk weapon, upgraded to 623. Use one regular orb and one infused orb daily to craft casts specifically for that slot. Upgrade the item gradually to 625, which will yield 800 shards per day. Use the remaining orbs to upgrade other items as you acquire them.
Conclusion:
By following these passive shard growth strategies, you can accumulate thousands of Umbral Shards over time without relying on expeditions or extensive gameplay. With minimal effort and daily shard optimization, your shard collection will steadily increase, allowing you to progress and upgrade your gear efficiently. Good luck on your shared journey, and thank you for watching!
Most Popular Posts
Popular Category Lists