New World PTR patch Update: New Combat Changes | Season 2 Blood of the Sands
Welcome to our guide on the combat changes introduced in the Season 2 Blood of the Sands update for New World. In this review, we will focus on the various combat balance adjustments that have been made in the latest PTR patch. From increased base HP to revamped abilities and weapon tweaks, these changes promise to bring a fresh and exciting experience to players. Let's delve into the details and explore the impact these modifications will have on the game.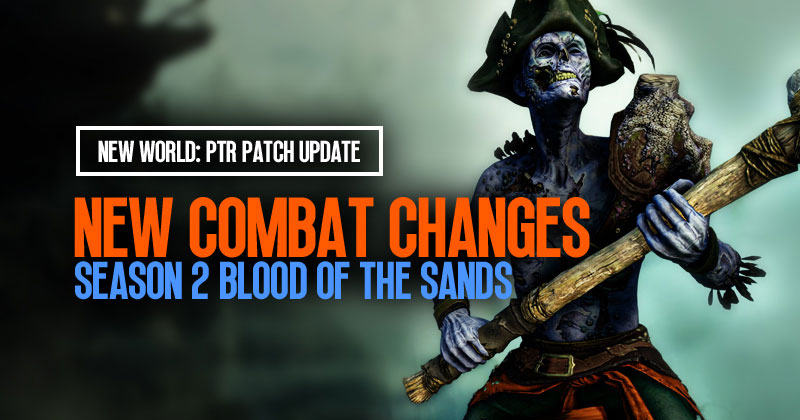 ↖ General Combat Changes
The PTR patch brings a significant increase in base HP for all players, levelling the playing field between those with the Hale and Hardy buff and those without it. Additionally, players can now leave combat one second after killing the final enemy, and the incoming combat timer has been reduced to 10 seconds. These adjustments allow for easier gear swapping during combat and provide a more seamless gameplay experience.
↖ Blocking Adjustments
One of the most substantial changes in the combat system is the revamp of blocking mechanics. When a player's block is broken, they will no longer experience exhaustion-related movement slowdown. This change makes blocking more effective against ranged attacks.
One-handed weapons now reduce 50% of incoming ranged attack damage, with a corresponding reduction in stamina damage. Two-handed weapons reduce 30% of incoming ranged attack damage, while magic weapons reduce 40%. These adjustments have significant implications for PvP combat, and players will need to adapt their strategies to mitigate ranged damage effectively.
↖ Weapon-Specific Changes
Several weapons have undergone notable changes in their abilities and mechanics. Let's take a closer look at some of these adjustments:
Bow: Reign of Arrows, a previously unpopular bow skill in PvP, has received a substantial damage increase, a shorter cooldown, and an increased radius. These changes aim to make the skill more viable and enjoyable for players.
Fire Staff: Incinerate has received a damage increase, while Pillar of Fire has seen a slight reduction. These adjustments aim to provide a better balance for these abilities within the Fire Staff's skill set.
Sword and Shield: Whirling Blade, an underused ability, has received significant buffs, including increased damage, hitbox size, and rend. These changes aim to make the skill more appealing to players.
Rapier: Flurry now deals consistent damage, ensuring a reliable output for players. Invigorated Punishment, which previously worked on basic attacks, has been nerfed.
These are just a few examples of the changes made to weapons and their abilities. Each weapon class has received adjustments aimed at improving balance and player satisfaction.
↖ Quality of Life Changes
In addition to combat adjustments, the PTR patch introduces some quality-of-life improvements. One highly requested feature is the ability to search for new world perks and gems within the inventory. This addition will make managing and organizing items more convenient for players.
Conclusion:
The Season 2 Blood of the Sands PTR patch brings exciting combat changes to New World. From general combat adjustments to weapon-specific revamps, players can expect a fresh experience in their battles. The alterations to blocking mechanics, weapon abilities, and quality-of-life improvements aim to enhance the gameplay experience and provide more strategic options. Dive into the PTR and test out these changes firsthand to see how they impact your playstyle. Get ready for a thrilling new season in New World!
Most Popular Posts
Popular Category Lists