How to unlock Skyscale easily and simply in Guild Wars 2?
Unlocking the Skyscale mount in Guild Wars 2 is a challenging but highly rewarding journey. This guide will walk you through the steps required to obtain this versatile flying companion. From hatching and raising your Skyscale to completing various collections and games, we'll cover it all, ensuring you can soar through Tyria's skies in no time. Let's embark on this thrilling quest together.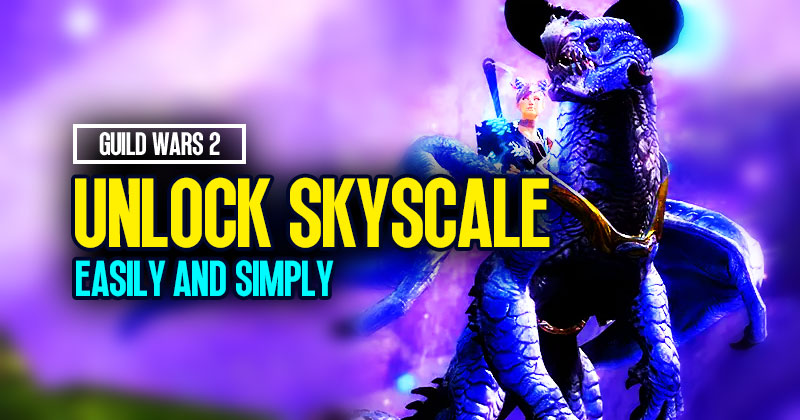 ↖ Prerequisites
Path of Fire Expansion: To embark on the journey to obtain a Skyscale, you must own the Path of Fire expansion.
Living World Season 4: Access to all maps from Living World Season 4 is required. If you haven't completed these story arcs yet, it's a good idea to make progress on them.
22 Charged Quartz Crystals: These are essential for crafting components of the Skyscale.
Season 4 Currencies: Collect 250 of each Season 4 currency, 1500 Volatile Magic, 500 Trade Contracts, and some gold.
↖ Finish Living World Season 4 Episode 6 - War Eternal
Before embarking on your Skyscale journey, ensure that you have completed Living World Season 4 Episode 6, titled "War Eternal." Once you finish this episode, you will receive a mail from Gorrik, who can be found near the Skyscale Eyrie Point of Interest in Dragonfall.
↖ Start the Newborn Skyscales Collection
Upon talking to Gorrik, he will unlock the first two sub-collections of Newborn Skyscales for you: Scales and Medicine. Begin with the Medicine collection. The last two items for this collection can be obtained from the Volatile Magic vendor near a waypoint, using karma and trading contracts. The remaining three items require you to unlock vendors in Dragonfall by completing 10 events in each lane.
↖ Collect Scales, Feathers, and Eggs
Scales, Feathers, and Eggs are scattered throughout Dragonfall. Use maps with numbered locations (available in the description below) or TacO markers to help you find them. Once you've collected the eggs, return them to Gorrik. Be aware that the next collection will be time-gated.
↖ Save Skyscales
The Saving Skyscales collection will unlock with 12 sub-collections. While this might seem overwhelming, most of them are straightforward with clear hints and icons on the map. Gorrik has moved to Sun's Refuge in the Jahai Bluffs, so start your journey there.
Fire, Water, Earth, and Air collections require you to interact with 4 Grand Elder Djinnies in the Hanging Gardens of the Domain of Vabbi. They may not always be present and can take around 30 minutes to respawn.
The Courage collection involves defeating your Doppelganger in the Elon Riverlands. Alternatively, capture Augury Rock by defeating Branded Josso Essher.
Ice and Water Collections require you to access the tombs at the Derelict Delve in the Desert Highlands after completing the Rune-locked Doors achievement.
Another Ice collection requires you to get frozen. This can happen randomly during the Claw of Jormag meta event or by entering Ice Storms in the Bitterfrost Frontier (accessible if you have Living World Season 3 Episode 3).
The Fear collection takes place in Vehtendi Academy in the Domain of Vabbi during the re-education event.
Another Fear collection requires you to attack chickens south of the Fallen Angel Garrison Waypoint in Ebonhawke.
One of the Air collections involves visiting the Hidden Garden jumping puzzle in Mount Maelstrom.
Complete these collections, return to Gorrik, and await the next time-gate.
↖ Raise Skyscales
Now that your Skyscale has hatched, you need to raise it with three sub-collections:
Skyscale Treats: These drop from various mobs with a random chance. Refer to the names in the description for specific locations.
Skyscale Toys: Find Jannat for Hardy Ball in Vehtendi Academy (no icon, look for names), the Bird Whistle vendor in the Iron Marches (after a defense event), and craft the Grow Lamp with the Jeweler (recipe requires Dry Top materials).
Skyscale Care: Requires 12 Pieces of Skyscale Food, which can be crafted in the Mystic Forge or bought from the trading post. Feed your Skyscale close to it using skill 2, but remember that you can only feed it a few pieces at a time before another time-gate.
↖ Locate Your Teenage Skyscale
Your teenage Skyscale has gone missing and can be found in various locations around the world. Refer to tooltips with icons on the map for their locations. You can also use Extra-Pungent Skyscale Treats to bypass jumping puzzles or waiting for boss spawns. Return to Gorrik once you've located your teenage Skyscale.
↖ Play Games with Your Skyscale
You'll need to play two games with your Skyscale, each with three difficulty levels. In the first game, throw and catch a ball, and in the second game, play hide and seek.
↖ Complete the Riding Skyscales Collection
The final collection, "Riding Skyscales," begins at Gorrik in Sun's Refuge. To complete this collection:
Saddle: Spend map currencies from Season 4 maps (250 from each), 1500 Volatile Magic, 500 Trade Contracts, and 35 gold.
Hystorian Elisa: Locate her by checking the wiki for her current position.
Volatile Magic Vendors: Find items from these vendors, usually near the first map waypoints.
↖ Unlock Skyscale Flight
Finally, locate Gorrik near the fort in Jahai Bluffs to unlock the "Skyscale Flight" collection. Travel around the world, summon your Skyscale at 28 Flying Lesson spots, and fly to nearby rifts. Tooltips and icons on the map will guide you to these locations. After completing all these steps, your Skyscale will be unlocked and ready for use in Guild Wars 2. Enjoy the newfound mobility and explore the world like never before!
Most Popular Posts
Popular Category Lists