New World Season 2 PTR: Faction Vendors Massive Changes, Ultimate Trophies and More
The wait is finally over, and the Season 2 Public Test Realm (PTR) is now life with a plethora of exciting new features and changes. In this guide, we'll explore the massive changes to the faction vendors, the introduction of ultimate trophies, and other noteworthy additions. Get ready to embark on an epic journey as we delve into the new content and improvements in New World Season 2!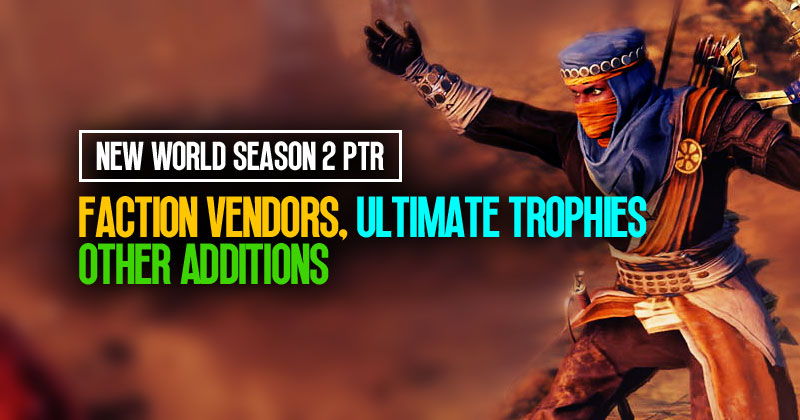 ↖ Improved Loadouts and UI Enhancements
One of the first things you'll notice in the PTR is the improved loadouts for character backstories. These small yet impactful improvements allow for better organization and storage of items. Additionally, the game's user interface (UI) has received some minor but noticeable enhancements, resulting in a cleaner and more visually appealing experience.
↖ Revamped Faction Vendors
The highlight of the Season 2 PTR is the massive changes to the faction vendors. This long-awaited update brings forth a range of new items and features to enhance your gameplay. Let's dive into the exciting additions:
Crates of Experience:

At the bottom of the faction vendor's inventory, you'll find crates that contain experience for various gathering skills. These crates can be purchased using new world faction tokens, allowing you to level up by gathering skills such as fishing through PvP or PvE missions. This incentivizes PvP gameplay while still allowing character progression—a fantastic addition for players seeking alternative methods to develop their skills.
Ultimate Trophies:

Prepare to be amazed by the scroll available for 100,000 tokens. Though seemingly expensive, its functionality makes it well worth the investment. This artifact item enables you to combine three trophies of the same type into a single ultimate trophy. By hanging only one ultimate trophy in your house, you can enjoy the benefits of three trophies simultaneously. This revolutionary feature saves time and offers the convenience of utilizing multiple trophy effects without constantly swapping them out.
Faction Costume Skins:

Another exciting addition comes in the form of faction costume skins. These skins allow you to wear your faction's distinctive attire without sacrificing gear slots or using token-based transmog systems. Now, you can proudly display your allegiance without compromising your character's equipment.
The Shard of Pride:

Although the exact functionality of The Shard of Pride remains a mystery at the time of writing, we eagerly anticipate discovering its purpose through testing. Stay tuned for updates on this intriguing item!
↖ Season 2 Track Rewards:
The PTR also introduces the rewards for Season 2, offering a fresh theme and new cosmetic items. Similar to Season 1, the rewards primarily consist of cosmetic boxes. However, Season 2 introduces the exciting addition of a transmog token, allowing for further customization of your character's appearance. Additionally, you can expect new armour sets, a sandworm egg home decor piece, and a brand-new trophy to adorn your humble abode.
Conclusion:
Excitement is in the air as New World Season 2 PTR brings forth remarkable changes and exciting additions to the game. The revamp of the faction vendors, with the introduction of crates of experience and ultimate trophies, adds depth and convenience to character progression. Moreover, the enhancements to loadouts and UI contribute to an improved overall gaming experience. Stay tuned as we continue testing and uncover more secrets within the PTR. Thank you for watching, adventurers, and see you in the next adventure-filled video!
Most Popular Posts
Popular Category Lists