ESO PVP Event: Whitestrake's Mayhem Returns Guide (June 2023)
Welcome to the ESO PVP Event: Whitestrake's Mayhem Returns Guide for June 2023. Here, we'll delve into the exciting world of PvP activities, double Alliance Points (AP) boosts, bonus XP, and the multitude of rewards this event has to offer. Whether you're a seasoned veteran or a newcomer to ESO's player-versus-player experiences, this guide will equip you with all the essential information and strategies you need to make the most of Whitestrake's Mayhem. From event schedules to farming tactics and valuable tips on rewards, we've got you covered.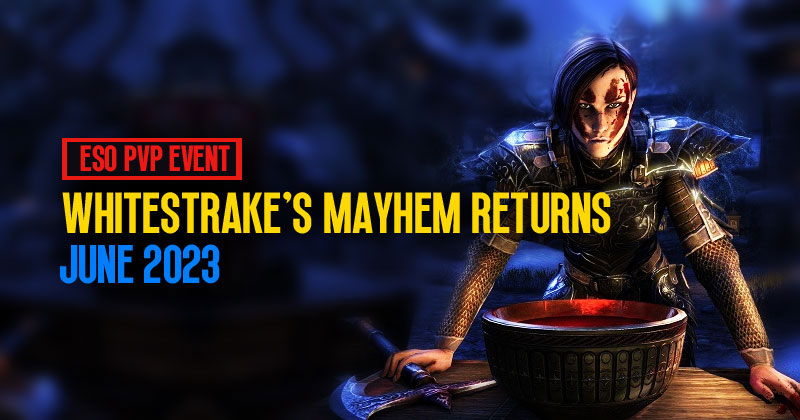 ↖ Event Schedule
While the official start date has not been announced yet, it is expected to begin sometime in June. To ensure there are no conflicts with other events, it is likely to commence in the last week of June. Stay tuned for the official announcement to mark your calendars.
↖ Event Activities and Farming Strategies
Now, let's discuss some of the easiest and most effective ways to make the most of this event.
Imperial City Bosses
The Imperial City, often overlooked, presents an excellent opportunity for farming rare motifs. Each district within the city houses powerful bosses. Defeating these bosses grants you a high chance to acquire valuable motif styles. These motifs can sell for a significant amount of eso gold, ranging from millions on PC to hundreds of thousands on consoles. You can typically earn one motif per day from these bosses, so make sure to hunt them down!
Battlegrounds
Engaging in Battlegrounds is another great way to maximize your event rewards. Apart from earning consistent AP, Battleground matches also provide substantial XP gains, making it an efficient method to level up your character.
Whether you're playing with a level 10-50 character or a CP2, Battlegrounds offer a level playing field where everyone has equal skills and damage output. Take advantage of the daily quests available from Mr. Riven, found in various cities, to earn additional rewards while enjoying the intense PvP action.
AP Train (Quagmire Campaign)
While not confirmed for all consoles, the AP train is a simple yet effective farming method, primarily observed in the Quagmire campaign. This method can yield up to half a million AP per hour. The strategy involves capturing and relinquishing keeps and resources in a specific order.
Although the terms of service implications could be clearer, many players still engage in this method across different consoles and servers. Proceed with caution and research your specific campaign to determine if this strategy is prevalent.
↖ Rewards and Event Tickets
Participating in Whitestrakes Mayhem grants you a variety of rewards. Here's a breakdown of what you can earn:
Rewards of the Worthy Boxes
For every 20,000 AP you earn, you'll receive a Rewards of the Worthy Box. These boxes contain a plethora of valuable items, including Tel Var Stones, repair kits, soul gems, alchemy ingredients, armor-style pages, Akaviri-style items, Cold Fire weapons, wayshrines, and more.
Bags of Glory
You can purchase Bags of Glory using event tickets. These bags provide items from previous years, some of which have high market values. Consider buying Chief style pages, standard motives, and Bretic and Terrier pets to increase your chances of receiving desirable items in the Bags of Glory.
Remember, you can purchase one bag at a time, and as soon as you open it, you can buy another one. Acquiring items you still need to get is guaranteed once you unlock all the previous years' items.
Event Tickets
To obtain event tickets, you have two options: Cyrodiil quests and Battleground quests. Cyrodiil quests, particularly the Scout missions and capturing keeps, offer a more efficient way to earn tickets. Completing all six Imperial City daily quests in less than an hour and turning them in throughout the week is another popular method suggested by players. These tickets can be exchanged for Bags of Glory and other exclusive items.
↖ Golden Vendor
During the event, the Golden Vendor offers PvP sets purchasable with AP. Each weekend, the vendor sells either a golden ring or a golden necklace, allowing you to complete your PvP sets. Rings generally have a higher resale value, as two rings are usually needed compared to a single necklace. Take note of this when considering your purchases.
Conclusion:
The Whitestrakes Mayhem event in ESO is an exciting opportunity for PvP enthusiasts to engage in thrilling battles and reap various rewards. With the event offering double AP, bonus XP, and additional incentives, players have ample motivation to participate in PvP activities. Mark your calendars and prepare yourself for an action-packed PvP experience in ESO.
Most Popular Posts
Popular Category Lists