Guild Wars 2 WvW: How to get Hero Points and Unlock Elite Specializations?
In this guide, we will explore a fast and easy method to unlock any elite specialization in Guild Wars 2. By utilizing World vs. World (WvW) content and obtaining Hero Points, you can unlock your desired elite specialization quickly and efficiently. Whether you're a seasoned player or new to the game, this guide will provide you with the necessary steps to achieve your goals. Let's get started!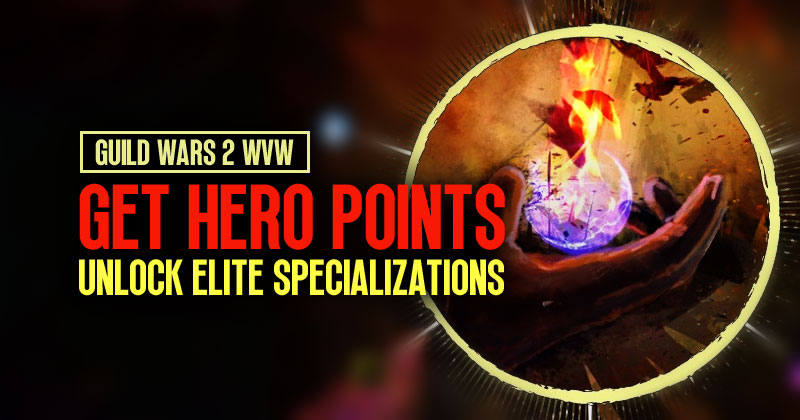 ↖ Step 1: Locating the Heroics Notary Vendor
To begin, head to the World Borderlands, including the Obsidian Sanctum. On your map, look for the scroll icon indicating the presence of the Heroics Notary Vendor. This vendor will be your key to unlocking hero points.
↖ Step 2: Notarized Scrolls
At the Heroics Notary Vendor, you will find a selection of items called Notarized Scrolls. These scrolls are essential for unlocking hero points. Each scroll will unlock a random hero challenge in a specific region. There are two types of scrolls available:
Yellow Scrolls (Expansion Maps): These scrolls will unlock a random hero challenge in any of the Heart of Thorns or Path of Fire maps, providing you with 10 hero points per scroll.
Green Central Area Scroll: This scroll will unlock a single hero challenge in the central region, offering one hero point. The price of this scroll is lower compared to the yellow scrolls.
↖ Step 3: Calculating Hero Points
Before purchasing any scrolls, assess how many hero points you currently have available. This will help you determine the number of yellow scrolls you need to buy. Keep in mind that unlocking any elite specialization from scratch requires a total of 250 hero points.
↖ Step 4: Purchasing and Consuming Scrolls
To unlock your desired elite specialization, buy yellow scrolls from the Heroics Notary Vendor. For example, if you need 240 hero points, purchase 24 Jade Heroics. Each yellow scroll will grant you 10 hero points when consumed. Consume the scrolls by using them from your inventory until you reach the maximum number of hero points required.
↖ Step 5: Maximizing Scroll Usage
While consuming the scrolls, you will unlock random hero challenges in the associated regions. These challenges may belong to different expansions. Keep in mind that there is a maximum limit on the number of scrolls you can purchase for each region. You can find the current limit below in the description.
↖ Step 6: Currency Conversion
If you reach the limit for a specific scroll, further consumption will yield a currency called "Proof of Rolex" instead of unlocking hero challenges. These GW2 currencies can still be beneficial. Navigate to other tabs at the Heroics Notary Vendor to explore different options. For example, you can purchase Maguuma Heroics using Proof of Rolex. Additionally, consider checking other tabs for valuable items you can sell on the trading post.
↖ Step 7: Map Completion Benefits
If you plan on completing maps, consider using the Central Area Scrolls. These scrolls unlock hero challenges in all of the Core Tyria maps, saving you time during your map completion journey. Utilize these scrolls strategically to unlock hero points efficiently.
↖ Step 8: Obtaining Heroics Currency
You can obtain heroics currency, such as Proof of Rolex, by ranking up in WvW. Each time you rank up, you will receive this currency along with a Tome of Knowledge. Additionally, end chests in most reward tracks in WvW also contain these currencies. On average, each reward will grant you 10 currency.
↖ Step 9: Skirmish Reward Track
Participating in the Skirmish Reward Track in WvW can be an excellent way to obtain heroics currency. Double-clicking on the Skirmish Chests you receive will open a window where you can select the rewards you desire. One of the options will be heroics currency. Each chest will provide you with six currencies.
Conclusion:
By following these steps and utilizing WvW content, you can quickly and easily unlock any elite specialization in Guild Wars 2. Whether you choose to purchase yellow scrolls or utilize the Central Area Scrolls, this method will save you time and effort. Additionally, participating in WvW activities, including dailies and ranking up, will provide you with a steady supply of heroics currency. We hope this guide has been helpful, and if you have any questions, please feel free to ask in the comments below. Best of luck on your journey to unlocking elite specializations!
Most Popular Posts
Popular Category Lists