Guild Wars 2: Top 3 Useful Rules for Defeating Opponents in PVP/WvW
Welcome to this guide on how to improve your PvP or WvW skills in Guild Wars 2. In this guide, We will share 3 useful rules that have helped you defeat opponents from every class in both World vs. World (WvW) and PvP. These rules are essential for any player looking to improve their PvP performance. So let's dive in!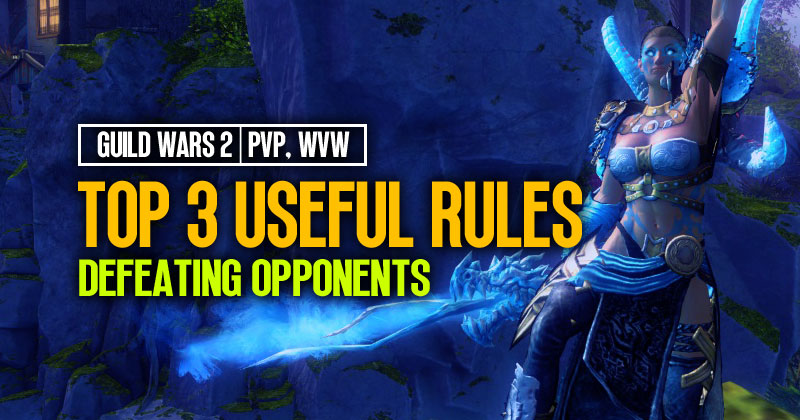 ↖ Rule 1: Have the Right Build
The first and most crucial rule is to have a proper build for your character. When we started playing Guild Wars 2, we made the mistake of using the wrong build, which led to many defeats. To avoid this, take the time to educate yourself about different builds and specs for your class. Experiment with different combinations of skills, traits, and gear until you find a build that suits your playstyle and offers survivability against specific classes.
One build that we highly recommend for both WvW and PvP is the Celestial build. It provides a balanced mix of damage and defense, allowing you to withstand attacks and deal significant damage. However, it's essential to adapt your build based on the game mode and the classes you expect to encounter. Research meta builds, watch videos of experienced players, and analyze your opponents' builds to gain insights into what works best against them.
↖ Rule 2: Know Your Enemy
To defeat your opponents, you need to know their strengths, weaknesses, and playstyles. Understanding the class you are facing is crucial for anticipating their moves and countering their strategies. One effective way to gain this knowledge is by playing as the class you have trouble facing. By doing so, you can experience firsthand their abilities, burst rotations, and tactics.
Take the time to learn the ins and outs of the class you struggle against. Watch videos of skilled players, study meta builds and analyze their gameplay. By familiarizing yourself with their skills and playstyle, you can better predict their next move and react accordingly. This knowledge will give you a significant advantage when engaging in PvP encounters.
↖ Rule 3: Learn from Losses
In PvP or WvW, it's important to understand that losses are a part of the learning process. Even experienced players face defeats, but what sets them apart is their ability to learn from those losses. Instead of getting frustrated, take the time to analyze your gameplay and understand how your opponent outplayed you.
Record your matches whenever possible and review them afterward. Look for patterns in your opponent's behaviour, identify moments where you could have made better decisions, and recognize your weaknesses. By doing so, you can improve your strategies, refine your build, and adapt your playstyle to counter specific classes and tactics.
Conclusion:
By following these 3 important rules, you can significantly improve your performance in both WvW and PvP in Guild Wars 2. Remember to focus on having the right build, educating yourself about your opponents, and learning from losses. PvP is a challenging and strategic aspect of the game, but with dedication and practice, you can defeat any class you encounter. Good luck, and have fun mastering the art of PvP in Guild Wars 2!
Most Popular Posts
Popular Category Lists