ESO Necrom: Top 3 Essential Achievements You Don't Ignore
Welcome to our comprehensive guide for maximizing your gameplay in the Necrom update of The Elder Scrolls Online. In this guide, we will explore 3 essential in-game achievements that are crucial for your success in the Necrom expansion. These achievements offer valuable rewards, enhance your character's progression, and provide opportunities to earn substantial gold. By focusing on these achievements, you'll be well-equipped to conquer the challenges and reap the rewards in the exciting world of Necrom.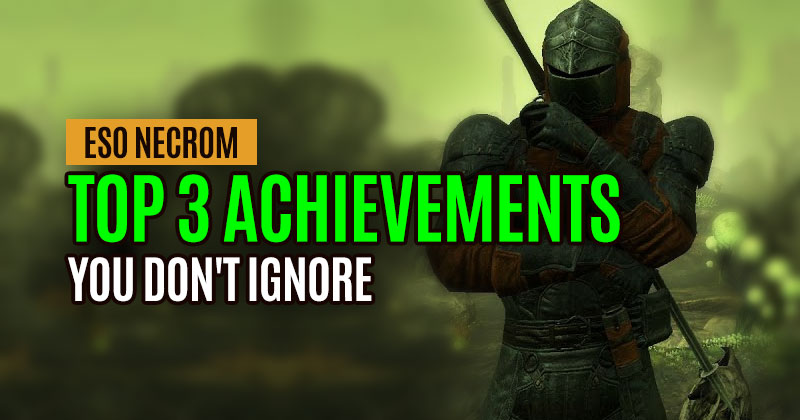 ↖ Achievement 1: Reforging the Dragonguard
The first achievement we'll focus on is Reforging the Dragonguard. By completing this achievement, you unlock the ability to gain access to the Dragonguard Supply Chest. This daily chest contains valuable consumable reagents, crafting motifs, and sellable sets. To obtain this achievement, you need to complete 20 Dragonguard quests, including daily quests.
Keep in mind that you don't have to complete 20 daily quests specifically, as there are six main story missions that count toward this achievement. Once unlocked, you can use multiple characters to complete daily quests and collect the Dragonguard Supply Chest, which will help you acquire valuable resources.
↖ Achievement 2: Veteran Hard Mode Clears
Next, we'll discuss the importance of completing hardmode achievements in dungeons. Hard mode achievements offer a chance to obtain highly valuable helmets and shoulders without having to spend gold upfront. These items can be worth tens of millions of eso gold, making them desirable for many players. By completing the hard mode achievement for a specific dungeon, you increase your chances of acquiring the associated helmet.
Additionally, you have the opportunity to roll for valuable rewards such as mercenary motifs, ornate gear, and the completion of your shoulder sticker book. It's worth noting that hard mode clears are separate from farming on veteran difficulty. Once you have the achievement, you can farm the dungeon repeatedly to increase your chances of obtaining the desired items.
↖ Achievement 3: Savior of Necrom
The final achievement we'll highlight is Becoming the Savior of Necrom. This achievement unlocks a unique mount available only through this achievement. To earn it, you must become the hero by completing various tasks, including engaging in antiquities, becoming the star war protector, acquiring all skyshards, and mastering fishing as an angler. This achievement showcases your dedication and progress in the Necrom update and rewards you with an exclusive mount.
Conclusion:
These 3 essential achievements will greatly enhance your gameplay in the Necrom update of The Elder Scrolls Online. The Reforging the Dragon Guard Achievement provides access to a daily supply chest containing valuable consumables and sellable items. Completing veteran hard mode dungeon achievements gives you a chance to obtain highly valuable helmets and shoulders without spending upfront gold. Finally, achieving Becoming the Savior of Necrom unlocks an exclusive mount as a testament to your progress.
Most Popular Posts
Popular Category Lists