FFXIV Longest Challenges: How many can you complete?
Final Fantasy XIV is known for its engaging gameplay and rewarding progression system. While the game is designed to respect players' time, there are certain achievements and titles that require an enormous amount of dedication and commitment. In this guide, we'll explore the top 8 longest grinds in Final Fantasy XIV, highlighting the time-consuming tasks and the estimated hours required to obtain them. If you're looking for a challenge and want to showcase your perseverance, these achievements are for you!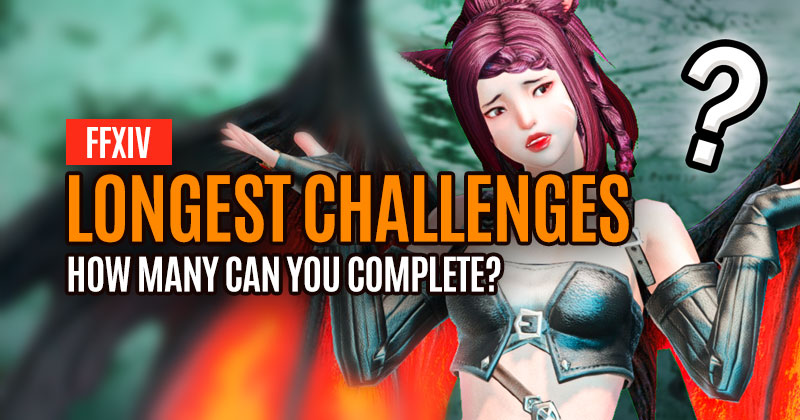 ↖ The Vanguard
Request: Winning 300 Games of Frontline PvP
The Vanguard title is awarded to those who emerge victorious in 300 games of Frontline PvP. As matches take around 20 minutes to complete and there are three teams competing against each other, it would take approximately 300 hours of gameplay to achieve this title.
↖ Leader of the Pack
Request: Participating in 5,000 Matches of Crystalline Conflict
To obtain the Leader of the Pack title, players must participate in a staggering 5,000 matches of Crystalline Conflict, a 5v5 PvP game mode. With matches lasting around five minutes and varying in length, it would require approximately 420 hours of dedicated PvP playtime.
↖ Pteranodon Mount
Request: Earning 500 Skyward Score Points on All Crafting and Gathering Classes
The Pteranodon mount can be acquired by accumulating 500 Skyward Score Points on every crafting and gathering class in the Ishgardian Restoration. Crafting grants varying points, ranging from 3 to 25 for normal crafts and 175 to 820 for expert crafts. Estimating around 6,000 to 10,000 points per hour for gathering classes, this grind would take approximately 450 hours.
↖ Fortunate
Request: Completing 10,000 FATEs
The Fortunate title is earned by completing a whopping 10,000 FATEs, which are dynamic world quests. Assuming an average completion time of 3 minutes per FATE, players would need to invest approximately 500 hours into completing FATEs across the game world.
↖ Astrope Mount
Request: Completing 1,500 Mentor Roulettes
The Astrope mount is a reward for completing 1,500 Mentor Roulettes. Unlocking the Mentor Roulette itself requires extensive gameplay, but once accessible, players can assist in various instances. The time spent on this grind can range from 700 to 900 hours, depending on the individual's progress and instance completion times.
↖ Ultimate Thrillseeker
Request: Slaying 10,000 S Rank Hunt Mobs
The Ultimate Thrillseeker title is obtained by slaying 10,000 S Rank Hunt Mobs, powerful world bosses that spawn randomly. Given an average of 7 kills per hour and a conservative estimate of 85 hours per S Rank Hunt Mob, achieving this title would take approximately 750 hours.
↖ Luckiest of Lords, Ladies
Reqyest: Clearing the Final Room of the Hidden Canals of Uznair 20 times
Obtaining the Luckiest of Lords, the Ladies title involves clearing the final room of the Hidden Canals of Uznair 20 times. Accessing these treasure dungeons requires special maps, which drop rarely. Based on luck and the frequency of obtaining the necessary maps, players can expect to spend around 3,000 hours completing this grind.
↖ Accursed
Request: Collecting 20,000 Pieces of the Cursed Horde
The Accursed title, introduced in version 6.25, requires players to collect 20,000 pieces of the Cursed Horde. These hidden rewards are obtained by participating in deep dungeons using the pro mantor of intuition. Each set of 10 floors takes approximately 30 to 45 minutes, resulting in an estimated time investment of over 3,500 hours.
Conclusion:
Embarking on these long and arduous grinds in Final Fantasy XIV requires unwavering dedication and a love for challenging achievements. These eight accomplishments can collectively take over 10,000 hours to complete, demonstrating the immense commitment required. Whether you aim to collect rare titles or mounts or simply enjoy the journey, be prepared to invest a significant amount of time. Good luck, and enjoy the adventure!
Most Popular Posts
Popular Category Lists