Guild Wars 2 Shadebot and Upgrades: Free Gold and Materials
Are you looking for a simple and effective method to earn free gold and materials in Guild Wars 2? Look no further! In this guide, we will introduce you to the Shadebot and its upgrades, specifically the Scavenger Protocol, Magic Trophies, and Might Trophies. These upgrades can significantly enhance your gameplay experience and make various activities in Guild Wars 2 more rewarding. Please note that this method requires the "End of Dragons" expansion.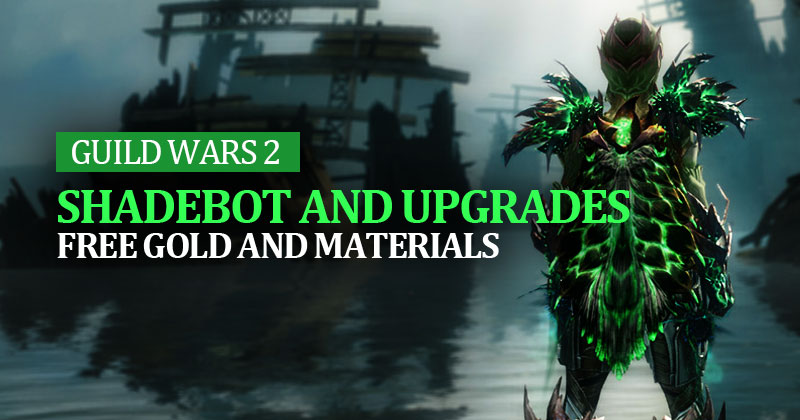 ↖ Getting Started
To begin, you will need three key items: a Jadebot, which is given to you early on in the "End of Dragons" story. A Shadebot Core to make the Jadebot function and the upgrades themselves (Scavenger Protocol, Magic Trophies, and Might Trophies). The Jadebot is account-wide, meaning all your characters can benefit from it once unlocked.
↖ Acquiring Upgrades
You can obtain the Shadebot Core and upgrades either through crafting or by purchasing them from the trading post. At the time of creating this guide, the prices for crafting these items are similar to those on the trading post. If you have the necessary materials, it is recommended to craft them, especially if you plan to equip multiple characters.
↖ Optimizing the Upgrades
To maximize your rewards, distribute the Magic Trophies and Might Trophies evenly among your characters. For example, if you actively play six different characters, consider equipping three Magic Trophies on three of your characters and allocate the Might Trophies to the remaining characters. This strategy ensures a well-rounded acquisition of materials.
↖ How It Works?
Once the Scavenger Protocol upgrades are applied, killing enemies grants you a chance to receive bags containing valuable materials. This feature has a cooldown period of approximately one minute, allowing you to obtain numerous bags throughout your gameplay sessions. Whether you engage in the world versus world battles, raids, fractals, strike missions, or boss farming, you will periodically receive these free bags of materials. However, it is important to note that this method does not work in PvP environments.
↖ Maximizing Profits
The Shadebot Cores and upgrades are always tradable, enabling you to transfer them between characters or even sell them on the trading post. This versatility allows you to optimize your investment and make Guild Wars 2 activities even more profitable. The initial cost of 7 gold is never lost, making it a wise investment for players of all types, from casual to hardcore.
Conclusion:
The Shadebot and its Scavenger Protocol, Magic Trophies, and Might Trophies provide one of the best investments you can make in Guild Wars 2. By enhancing your gameplay experience and offering free bags of materials, this method ensures that your activities become more rewarding. Remember, the more you play, the quicker the investment pays off. However, even if you play Guild Wars 2 infrequently, the value of this method is always preserved.
Most Popular Posts
Popular Category Lists