New World Season 2 Trading Tips and Strategies: How to Maximizing Profits in the Ever-Changing Market
The New World Season 2 patch is approaching, and this is the perfect time to prepare and make some new world gold. Since the initial rush after the patch release is over, and fewer players are actively playing, prices have stabilized. In this guide, we will provide trading tips and recommendations on which items to buy now to take advantage of the market and potentially make a profit.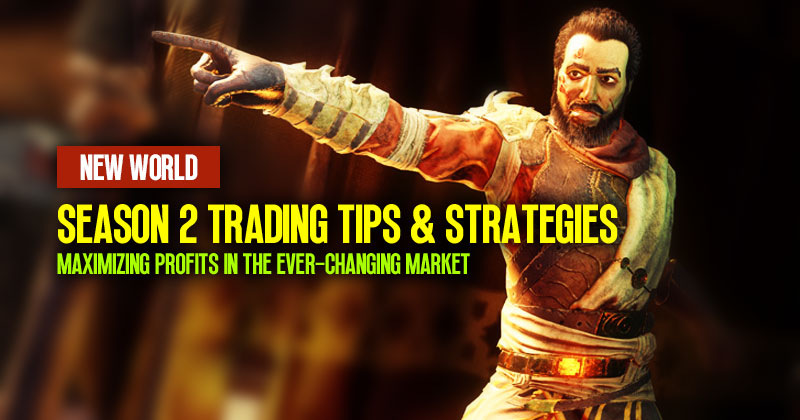 ↖ Ability Perk Mods
We'll start with ability perk mods, which have seen changes in the game. These changes have made certain perk mods more valuable. Here are some recommendations:
Spear: The spear's Cyclone ability received a significant buff and is now useful in both PvP and PvE. The Leeching Cyclone perk mod, which provides free heals, is highly recommended for anyone using Cyclone.
Great Axe: With the recent buffs to other Great Axe abilities, the Whirlwind ability may see increased usage. If you run Whirlwind in your build, consider investing in the Fortifying Whirlwind perk mod to enhance the ability's strength.
Musket: The Musket's Powershot and Powder Burn abilities no longer require a dedicated reload. This change may lead to more players using the Musket, potentially increasing the value of the Refreshing Powershot and Crippling Powder Burn perk mods.
Ice Gauntlet: The Ice Gauntlet's Wind Chill ability received significant buffs and is considered one of the best stamina breakers in the game. If it remains unfixed, the Slowing Tether perk mod may be valuable for PvP players.
Sword and Shield: Reverse Step and Reign of Arrows abilities received improvements. While the value increase for the perk mods of these abilities may be relatively small, they can still be worth considering, depending on the popularity of these abilities in PvP and PvE.
Fire Staff: Empowering Incinerate ability may see some usage in PvE builds to maximize DPS. However, the value increase for the related perk mod may be insignificant.
↖ Spear Materials
Crafting spears will likely be in high demand due to the spear changes and the upcoming raid boss, the sandworm. Stock up on resources related to spears, such as timeless spear shots, rough leather, beaded straps, and glittering ebony. These materials are likely to increase in price as players need them for crafting.
↖ Trophies
Glittering everything, which is currently cheap, is expected to increase in value as new patterns and crafts are introduced. Pay attention to two bars that might see a price change. Additionally, major wildlife combat trophies are currently inexpensive on certain servers. Acquire the necessary resources for these trophies or consider flipping them for a profit.
↖ Sandworm-Related
Prepare for the upcoming sandworm encounter by investing in a Vial of Wolf Essence for Beast Ward. These essences are not readily available from farming spots and can only be obtained from specific chests. Expect the price to rise due to high demand. Consider investing in refreshing craft mods as well. While they can be obtained from the sandworm quest line, their popularity may make them valuable.
↖ Transmog
Transmog, which allows players to dye their armour pieces, is coming before the expansion. With this feature, the prices of dyes, especially appealing ones, are likely to increase across the board. Take advantage of the current lower prices and consider purchasing dyes for future resale opportunities.
↖ Bonus Tip - Frozen Armor Shots
If you want to prepare early for the upcoming ice-themed dungeon, consider acquiring frozen armour shots. While their value may pay off in the long run, it's important to gauge the prices on your server and make informed decisions.
↖ Additional Resources
To determine if prices on your server are reasonable or if you're getting a good deal, visit nwmarketprices.com. This website tracks prices across various servers, allowing you to make informed trading decisions.
Conclusion:
By following these tips and taking advantage of the current market conditions in New World, you can save and potentially make gold. Plan ahead, invest in high-demand materials, and keep an eye on prices to maximize your profits.
Most Popular Posts
Popular Category Lists