FFXIV Gathering Patch 6.4 Latest Changes: How to boost your gil with proven strategies?
Welcome to the FFXIV Gathering Update (6.4) guide, where we'll cover the latest changes to gathering and provide strategies to earn a substantial amount of FFXIV Gil. Before diving into the details, it's important to note that this guide assumes you have already reached level 90 and have a basic understanding of gathering mechanics. Suppose you're looking for a comprehensive guide on reaching level 90, folklore, tomes, collectibles, rotations, ethereal reduction, and tools for tracking time nodes. Now, let's explore the strategies to maximize your Gil earnings.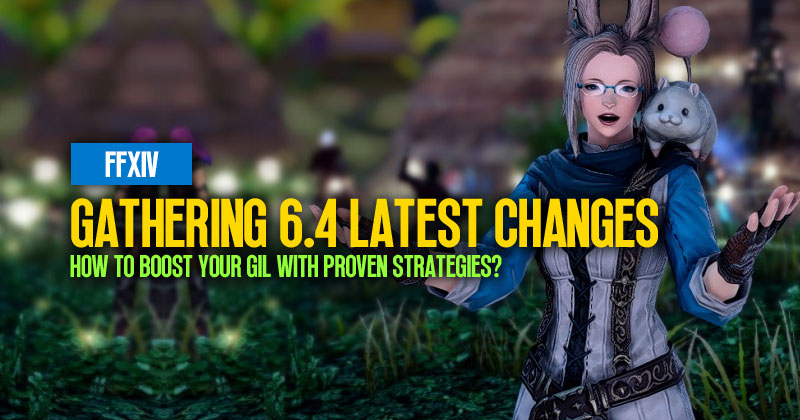 ↖ Gearing Up
To increase your gathering efficiency and tackle the latest valuable items, it is recommended to acquire item level 620 purple script gear from any script exchange vendor. Make sure to slot perception material 10 (guile material) into every available slot to reach 3850 perceptions. While this setup guarantees melds, it may not provide the necessary stats to gather the latest prime materials, which we'll discuss further.
↖ Primes and Sublimes
The concept of prime and sublime collectibles was introduced in patch 6.2. In patch 6.4, new items were added to these categories: prime haritaki for botany and prime chlorohist for mining. These items can be ethereally reduced into the latest gliothers, which are used in a crafting master recipe for an island sanctuary landmark.
Gathering with collectability of 1000 gives you a chance to obtain sublime variations that can also be reduced into gliothers. While sublime variations can be sold for a decent price, their sales could be faster. Due to the RNG involved in gathering and reduction, it is not recommended as a reliable method for gil earnings. However, you may still consider selling them on rare occasions when they fetch a good price and provide valuable crystals.
↖ Legendary Nodes
Some items from legendary nodes introduced in patches 6.2 and 6.3 have seen a decline in value. However, field mustard, soft silver ore, and magnemite are still holding up well, averaging at least 1200 gil per item across EU servers. These items can be gathered in large quantities from a single node, providing a significant profit. Additionally, exploring previous expansions may reveal hidden gems such as dark matter clusters, raw ronaldite, prickly pineapple seeds, and dark steel ore. Tools like the FF14 Teamcrafts Profit Helper can assist in identifying current valuable items on your server.
↖ Ephemeral Nodes
Ephemeral nodes, which appear at regular intervals, offer valuable materials. Earthbreak ethersand is particularly noteworthy as it is used in the latest gear, crafts, food, and potions. Gathering from these nodes can yield a substantial amount of Gil. For a detailed understanding of ethereal reduction, please refer to the "Hitting Level 90" guide.
Keep in mind that ethereal nodes are limited to once every hour, but you can spend 12 minutes harvesting them. Achieving collectability of 1000 ensures you receive at least one earthbreak per item, and in a single 12-minute session, you can gather over 40 of them, resulting in over 80,000 gil. However, note that ethereal nodes are locked to a timer, limiting your gathering frequency.
↖ Non-Timer Node Items
Between time nodes, you can gather non-timer node items that sell reasonably well. Lime, basil, and giant hive chips, used in the current pot and food recipes, are performing strongly at 300 gil each. While these items don't generate massive profits individually, they can accumulate to a significant amount. It's crucial to avoid flooding the market board with these items and instead aims for consistent sales.
↖ Scrips
Scrip items, available from collectible vendors, can provide a decent return for your time investment. Gathering material nines, in particular, offer a good sell rate and consistency. Keep an eye on the value and sales frequency of orchestrian roles as well, as material nines are often a reliable choice. Note that other scrip items may sell slowly and may not be as efficient as other gil-earning methods.
↖ Spirit Bonding
To further boost your gathering income, consider utilizing spirit bonding. Use spirit bond potions and squadron manuals to reliably spirit bond all your gear by 25% within the 30-minute timeframe. This additional step can contribute to your overall Gil earnings.
↖ My 30-Minute Gathering Approach
In this section, we'll discuss the step-by-step approach to maximize your Gil earnings within a 30-minute timeframe. The following steps outline the process:
Create a list of time nodes using FF14 Teamcraft or similar tools to track their timers.
Compile a list of current items discussed in the video, including field mustard, soft silver ore, magnemite, and ethereal nodes like earth break ethersand.
Add additional time node items from previous expansions that still hold decent value, such as dark steel clusters, dark steel ore, Morinville tree block, raw onyx, and raw rondonite.
Arrange the items in the list to ensure their timers align within the 30-minute window.
Prioritize an item in an area with the most lucrative treasure map to further increase your Gil earnings.
Gather the items according to their timers and track your results.
↖ Example Run - Results
In a sample run, 83 items were gathered, contributing to 602,000 gil earnings. Material sales accounted for four and a half percent of the total gil earned, while the treasure map contributed 8%. Additionally, crystals obtained from ethereal reduced items accounted for four and a half percent. Keep in mind that these results were specific to the author's server, Raiden, and sales were achieved within 24 hours. If items do not sell within this timeframe, alternative items can be substituted in the next gathering session to ensure daily profitability. The recalculation using average sale prices across the EU resulted in 559,000 gil, still a considerable amount.
Conclusion:
When considering individual items, earthbreak ethersand stands out in terms of sales amount and frequency. New legendary items generally replace previous patch items, but the new prime and sublime items may be less profitable due to slow sales. Old reliable items like dark matter clusters, dark steel ore, lime, basil, and palm syrup continue to perform well. Remember that there is no need to adhere to a 30-minute window strictly, but it can provide a benchmark for efficiency. By planning and gathering a diverse range of materials in a short time, you can maximize your Gil earnings.
Most Popular Posts
Popular Category Lists