NBA 2K24 News: Release Date, Cover Athlete, Gameplay Improvements, and New Features
As the anticipation for NBA 2K24 builds up, gamers and basketball enthusiasts are eagerly awaiting the release of the latest installment in the popular video game franchise. This guide article aims to provide insights into the potential release date and cover athlete predictions and expectations for gameplay improvements. While some of the predictions might be speculative, they add to the excitement of what the future holds for NBA 2K24.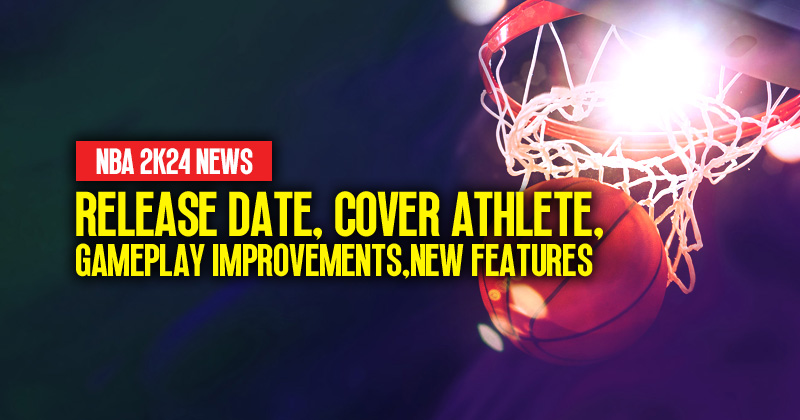 ↖ Release Date Prediction
Traditionally, NBA 2K games have been released in the first full week of September, usually on a Friday. Considering this pattern, it is reasonable to expect NBA 2K24 to hit the shelves on September 8th, with pre-order customers getting early access. However, it's important to keep in mind that release dates can sometimes be subject to change.
↖ Cover Athlete Prediction
The announcement of the cover athlete for NBA 2K24 usually takes place in the first week of July during the NBA Finals. Last year, due to the impact of COVID-19, the announcement happened on July 7th. Look for a similar timeframe this year, with the cover athlete announcement expected in the first week of July.
Predictions for the cover athlete include Kobe Bryant, who wore jersey number 24, making him a fitting choice for NBA 2K24's Legend Edition. While he was the cover athlete for NBA 2K21 Mamba Forever Edition, his legacy and impact on the sport make him a strong contender for the cover again. If Kobe Bryant is chosen, NBA 2K24 will likely feature a Kobe challenge mode, allowing players to relive some of his greatest moments.
There is also the possibility of a shared cover featuring a veteran player and a rising star, similar to NBA 2K21's cover with Damian Lillard and Zion Williamson. Potential candidates for this shared cover could be Victor Wimpinyama and Jason Tatum. Other considerations include LeBron James, who recently broke the scoring record, and Jimmy Butler, who has proven himself as a standout player.
↖ New Trailers and Announcements
The first gameplay trailer for NBA 2K24 is typically released on the last Friday of July. Last year, it was on July 29th. If there are any delays, expect it to be released in early August, possibly on August 4th. Additional trailers focusing on specific game modes, such as MyNBA, MyTeam, and MyCareer, may follow in the subsequent weeks leading up to the release.
↖ Gameplay Expectations
With each new release, NBA 2K aims to improve gameplay mechanics and address player feedback. For NBA 2K24, players can expect the following improvements:
Dribble Controls: Anticipate changes and enhancements to dribble controls, allowing for more dynamic and precise ball handling.
Shooting Improvements: Improvements in shot timing, especially when closely defended, could enhance the shooting experience.
Defensive Enhancements: Expect improvements in pink defence, ball steals, and defensive reactions to blocks and deflections.
Boost Visual Representation: The addition of a visual representation for boosts and gym rats to display precise values could be a welcome addition.
Environment Changes: NBA 2K24 might introduce a new city design, with an outdoor skate park-style layout for quicker traversal.
Event Center and Rec Center Changes: Players might see a revamped event center with exciting visuals and a new location for the rec center, taking action outdoors.
Affiliation Competition: The return of rival days and affiliation competitions could encourage players to engage more in the spirit of competition.
Incentives and Rewards: Expect new incentives for beating streaks and rewarding streakers with 2x rep or increased VC earnings.
↖ New City and Event Center
NBA 2K24 will likely introduce a new city design. Considering the concrete jungle setting in recent games, it might be refreshing to explore a different environment. A beachfront or skate park-themed city, providing more speed-friendly traversal, could be an exciting change. Additionally, players can expect a revamped event center with a more appealing and dynamic interior design, as well as improvements to the rec center. Taking the rec center outside and introducing a day and night cycle would be a welcomed addition, along with a focus on providing a visually engaging and enjoyable experience.
↖ Endorsement Level and Player Voting System
To incentivize positive team play, NBA 2K24 could introduce an endorsement system where players can endorse teammates who perform well. These endorsements would contribute to an endorsement level, which would affect matchmaking in the rec center. Players with higher endorsement levels would be matched with other high-level players, creating a more competitive and rewarding experience. A recommended player voting system could also be implemented to provide feedback and recognition for outstanding performances.
Conclusion:
While the exact details of NBA 2K24 remain shrouded in mystery, the predictions and expectations outlined in this guide article offer an exciting glimpse into what the future might hold for the beloved basketball video game franchise. Whether it's a new city design, improved gameplay mechanics, or a tribute to basketball legends, NBA 2K24 promises to bring another immersive and thrilling experience for fans and gamers alike. Mark your calendars and get ready to embrace the next chapter in virtual basketball entertainment!
Most Popular Posts
Popular Category Lists