New World Sandworm Raid Challenge: Gear Up and Master the Mechanics for Victory
The Sandworm Raid has recently been buffed, making it a challenging and exciting encounter in New World. In this guide, we will discuss our best attempt so far and provide information about the gear and loadout we used. Please note that the mechanics of the fight have changed significantly since the PTR version, requiring more coordination and attention.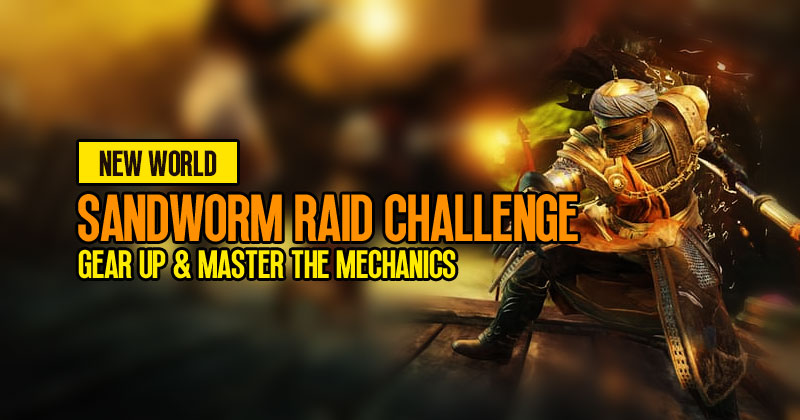 ↖ Gear and Loadout
Weapon Loadout:
Sword and Shield: We recommend using a sword and shield combination for a support-oriented build. This allows you to apply debuffs while still dealing some DPS. Opt for an Artisans Round Shield with Keen, Vicious, and Enchanted attributes for maximum damage output.
Spear (optional): Consider having a spear with Beast Bane and Trenchant Rend for situations where you need extra DPS or a buff that benefits the entire raid.
Armor Loadout:
Light Gear: Since using a round shield is forced in this fight, prioritize light gear for its benefits. However, ensure you have at least 100 Constitution for survivability.
Perks: Aim for perks that increase your damage output, such as Keen, Vicious, Refreshing, and Contagious Reverse Stab. Consider using Brawler's Memento for more consistent weaken uptime.
Jewelry and Accessories:
Amulet: Use an amulet with Strike Protection and Health attributes. Contagious Reverse Stab is also a useful perk for extra damage.
Rings: Ligate's Ring and Leeching Slash Damage can provide additional damage and awareness.
Earring: Look for an earring with Refreshing Toast and Beloved for better ability uptime. Consider Refreshing Invasion Cost as well.
Consumables:
Health Potions: Carry health potions to restore your health during the fight.
Region Potions: Use region potions to recover health over time.
Acid Tincture: Essential for cleansing acid debuffs during certain mechanics.
Beast Ward Potions: These can be used sparingly for risky situations, as they override other buffs.
↖ Fight Mechanics and Tips
Acid Lick: The acid lick is now a significant threat, so ensure the tank maintains aggro to prevent damage to the rest of the group.
Empowerment Sword: It's crucial to pick up the empowerment sword during the fight, as it grants buffs such as increased damage, Rend, and acid resistance. Always prioritize obtaining this buff.
Head Swipe: The sandworm performs a head swipe attack that can be dangerous. Stack strike protection to minimize the damage received.
Acid Pools: When the sandworm emerges, there will be acid pools that cause burning damage. Stand close to the wall initially to minimize the pool's impact and give more space to maneuver later.
Scorpions and Rocks: Kill the scorpions during the fight, and be prepared for the rock mechanics in later phases.
Conclusion:
The Sandworm Raid has become a challenging and engaging encounter, requiring coordination and careful execution. This guide provides an overview of our best attempt so far and offers New World gear and loadout recommendations. Adapt your strategy based on your group's composition and playstyle, and don't forget to communicate and coordinate effectively. Good luck in your Sandworm Raid endeavors!
Most Popular Posts
Popular Category Lists