EA SPORTS FC (FIFA 24): What to Expect and Exciting Features?
The highly anticipated release of EA SPORTS FC 24, also known as FIFA 24, is just around the corner, with rumors suggesting an official announcement later this week. In this guide, we will focus exclusively on the career mode of FIFA 24, discussing how it should be and highlighting the most requested features by the community. We'll also explore some expectations and dreams for the future of career mode. So let's dive into the details and define what would make a dream career mode.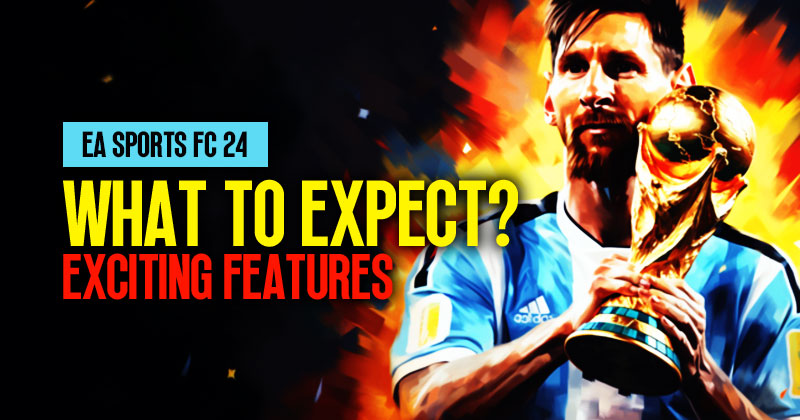 ↖ Improvements and Features
Enhanced Club Management:

FIFA's current club management system is relatively simple, lacking in-depth details. To improve this, the game should allow players to utilize their team's budget to hire additional staff members such as physiotherapists, physical trainers, assistant coaches, and more. Each staff member would provide specific benefits to the team, such as reducing player injuries or improving recovery time.
Strategic Decision-Making:
In addition to player transfers, FIFA 24's career mode should provide opportunities for players to make important decisions that affect their team's performance. For example, modifying ticket prices to attract more fans or investing in stadium expansion. These decisions could impact the team's budget, morale, and overall success.
Sponsorship and Financial Management:
Introducing a realistic sponsorship system where players can choose sponsors with specific goals would add depth to the game. Sponsors could offer financial rewards based on certain achievements or criteria, such as reaching a specific league position or having a certain number of fans. This feature would allow players to generate income for the team and invest in various aspects, such as stadium infrastructure or youth development.
Youth Development and Realistic Academies:
FIFA 24 is expected to introduce real youth teams and youth division competitions in career mode. The game should also provide more engaging options to develop and manage youth players, such as hiring permanent scouts, improving training facilities, and allowing for more realistic interactions with the youth academy.
Captivating Cutscenes and Presentations:
FIFA 24 should revamp player presentations with immersive cutscenes, such as players arriving at a packed stadium or giving interviews during award ceremonies. These visual elements enhance the overall experience and make it more realistic and engaging.
Coaches and Personality:
Coaches should play a more prominent role in career mode. Their salaries could have a direct impact on their abilities, allowing them to change their appearance, such as hairstyles or tattoos. Moreover, coaches' decisions and interactions could affect their relationships with the board, players, fans, and media. Implementing a system that tracks their reputation and ranking among other coaches would add a competitive element to career mode.
Negotiation Enhancements:
FIFA 24 should expand the negotiation options, allowing players to offer multiple players in exchange for one during transfers. Additionally, the game should introduce a variable budget system that allows for strategic financial planning throughout the season, giving players more control over their club's finances.
Realistic Player Dissatisfaction:
To create a more dynamic and realistic experience, player dissatisfaction should have a stronger impact. This could include players requesting transfers, expressing their frustrations, and engaging in discussions with the coach or board. Managing player morale and relationships would become crucial to maintaining a successful team.
↖ Honorable Mentions
While not feasible due to image rights and licensing constraints, it would be interesting to have customizable sponsorships on uniforms for created teams. Additionally, implementing a trophy room to showcase the club's achievements would add a nice touch to career mode.
↖ Other New Features
Realistic Gameplay: Despite initial feedback stating the game feels like "Arcadia," EA Sports FC aims to deliver a realistic gaming experience.
Online Career Mode: A long-rumoured feature, FIFA 24 introduces an online career mode where players can connect across multiple devices and interact in their virtual football careers.
Golden Traits: FIFA 24 introduces Golden Traits, special abilities or characteristics for players, although details are yet to be revealed.
Free-to-Play Model: Following the trend of other games like UFL and Girls, EA Sports FC is rumored to transition to a free-to-play model in the near future.
Increased FC Points Cost: FIFA Points, or FC Points in this case, are expected to increase in price by 10%, potentially making in-game purchases more expensive.
Pack Opening Animation: A new pack opening animation reminiscent of earlier FIFA versions is set to bring nostalgic vibes to players.
Player Mastery: The PC version of FIFA 24 introduces Player Mastery, allowing players to upgrade their own players within the Ultimate Team mode. It is still being determined whether this means upgrading young players or enhancing existing players.
Upgraded High Promotion Animations: Hyper Motion Volume Metric technology will enhance the promotion animations, particularly for La Liga branding.
Battle Pass System: EA Sports is testing a potential Battle Pass system, which may offer additional customization options or player rewards for a premium price.
Kit Creator: FIFA 24 introduces a Kit Creator feature, allowing players to design their own custom kits for their teams.
Enhanced Cinematics: The game will feature more cinematic moments, including players being carried off on stretchers, adding a realistic touch to the gameplay experience.
Strafe Dribbling Upgrade: Strafe Dribbling receives an upgrade, providing players with improved control and replicating moves like those performed by players like Andrés Iniesta.
Effort Touch: A new feature called "Effort Touch" allows players to control the distance the ball travels, providing more control over passing and shooting.
Pro Clubs Cross-Play: Pro Clubs, a popular game mode, will eventually support cross-platform play, although it may only be available after launch.
David Beckham and Zinedine Zidane as Ambassadors: Football legends David Beckham and Zinedine Zidane serve as ambassadors for EA Sports FC, emphasizing the focus on youth development.
Pro Clubs and Volta Shared Player Vector: Players will be able to use the same created character in both Pro Clubs and Volta modes, eliminating the need to create separate characters for each mode.
Dynamic Packs: Ultimate Team mode is rumored to introduce Dynamic Packs, which increase the chances of getting better players with each pack opened.
New La Liga Broadcast Design: FIFA 24 incorporates the new La Liga broadcast design, featuring authentic packs from real-life La Liga matches.
Mixed Gender Ultimate Team: Men and women will be able to play together in the same Ultimate Team and Intro Clubs mode.
Improved Animations: EA Sports recorded 11v11 games with 360-degree cameras and AI algorithms to generate 50 times more animations than FIFA 23, enhancing the realism of player movements.
NFT Integration: Rumors suggest the inclusion of NFTs (Non-Fungible Tokens) in FIFA 24 due to a deal between EA Sports and Nike.
Boot Editor: A boot editor feature is being developed for player career mode and Pro Clubs, allowing players to customize their footwear.
Romanian and Botola Pro Leagues: The Romanian league returns to the game as EA Sports renews its partnership, and the Moroccan Botola Pro League is rumored to make its debut.
Serie A Authentic Faces: FIFA 24 includes full-face scans of Serie A players, ensuring accurate player representations.
Camp Nou Returns: After several years of absence, the Camp Nou stadium of Barcelona is back, much to the excitement of Barcelona fans.
Celtic Park: Celtic Park is rumored to make a return to FIFA 24, featuring an exact replica of the real-life stadium.
Stadium Creator: A new stadium creator feature allows players to design and build their own stadiums from scratch, offering extensive customization options.
Upgraded Menu: The traditional menu interface receives an upgrade, replacing the older version with a new concept menu design.
Co-op Moments: Co-op gameplay, similar to Ultimate Team, allows players to team up with friends and participate in co-op matches.
New Icons: FIFA 24 introduces new icons, including players like Bobby Charlton, Sergio Agüero, Arjen Robben, and more.
Running Style Variations: Players can choose from different running styles, each with its unique attributes and animations, adding variety to the gameplay.
No Position Modifier: The game removes position modifiers, allowing players the freedom to play anyone in any position without restrictions.
VR Game Mode Possibility: With the release of PlayStation VR 2, FIFA 24 may introduce a VR game mode, enhancing the immersive experience.
Half-Time Speeches: Career mode may include the ability for players to deliver motivational speeches during half-time cutscenes, adding depth to the mode.
September Release: FIFA 24 is expected to release at the end of September, with a revamped Early Access structure similar to older FIFA titles.
Last Old-Gen FIFA: FIFA 24 marks the final release for the old-gen consoles, as EA Sports shifts its focus to the next generation of gaming.
X-Factor Traits: Similar to NBA games, FIFA 24 introduces X-Factor Traits, special abilities that impact player performance. Further details are yet to be revealed.
New Hero Cards: The game introduces 12 new Hero Cards featuring players like Carlos Tevez, Steve McMahon, and Dimitar Berbatov.
FC Ultimate Team Renaming: The popular mode "FIFA Ultimate Team" is rebranded as "FC Ultimate Team" or "Ultimate Team FC."
Inclusion of Euros: The UEFA European Championship, held in Germany, will be featured in FIFA 24, providing an immersive experience for fans.
Competitive Pro Clubs League: FIFA 24 introduces a competitive league for Pro Clubs, giving players a chance to compete against others and climb the ranks.
Precision Passing Mechanics: Speculation suggests the addition of precision passing mechanics, enabling players to make accurate and precise passes.
Precision Crossing: Another new feature, precision crossing, allows players to deliver precise crosses into the box.
Fabrizio Romano Inclusion: There is a possibility that renowned journalist Fabrizio Romano will make an appearance, potentially presenting the "Here We Go" screen.
Icons for Women: FIFA 24 introduces icons for women players and women-specific packs, promoting gender inclusivity and adding more variety to player selections.
Apple Vision Pro Support: The game supports the new Apple Vision Pro headset, allowing players to experience FIFA 24 in augmented reality.
Boot Editor for Player Career and Pro Clubs: The boot editor feature extends to both player career mode and Pro Clubs, offering customization options for footwear.
Partnership with Romanian and Botola Pro Leagues: EA Sports renews its partnership with the Romanian league and includes the Moroccan Botola Pro League in FIFA 24.
Improved Italian League and Authentic Stadiums: The Italian Serie A features authentic player faces, while iconic stadiums like Camp Nou and Celtic Park make their return, providing a more immersive experience for players.
Note: These Features are based on the information provided and rumors circulating at the time. Some features may be subject to change or may not be included in the final release of the game.
↖ Release Date
EA Sports FC 24 is set to be released on September 29th, 2023. The game will be available in both standard and Ultimate editions. Owners of the ultimate edition will enjoy seven days of early access, starting from September 22nd, 2023, allowing them to start playing the game before others.
↖ Closed Beta
While the exact date for the closed beta has not been announced yet, it is expected to be around four or five weeks before the game's release. The closed beta is an opportunity for players to test the game before its official launch. To increase your chances of receiving an invitation to the closed beta, make sure you have enabled email notifications from EA. You can change this setting to ensure you receive updates and invitations.
↖ Pricing
The pricing for EA Sports FC 24 has seen a slight increase compared to the previous year. The standard edition of the game will be priced at 70 euros on PC and 60 pounds. The ultimate edition, which offers additional features and bonuses, will be priced at 90 pounds. If you have an EA Play subscription, you will receive a discount of at least 10 pounds on the game's price.
↖ Cover Star
Erling Haaland, the star player of Manchester City, will be featured on the cover of EA Sports FC 24. The cover showcases the standard edition of the game with Haaland in action during a Champions League match. Additionally, the ultimate edition cover will feature Haaland along with 30 other female and male icons of professional football.
Conclusion:
FIFA 24's career mode has the potential to be a truly immersive and engaging experience for players. By implementing the suggested improvements and features discussed in this guide, EA Sports can create a dream career mode that captures the essence of managing a football club. While some ideas may be more challenging to implement, incorporating even a few of these features would significantly enhance the overall gameplay and provide an unparalleled career mode experience.
Most Popular Posts
Popular Category Lists