ESO Materials Selling or Crafting: How to make an informed choice?
When it comes to trading and making gold in Elder Scrolls Online, one of the most frequently asked questions is whether it is better to sell materials directly or use them to craft items for sale. While there is no definitive answer, as it depends on various factors, this guide aims to provide insights into the decision-making process. By considering the pros and cons of selling materials and crafting items, newer traders can make informed choices about how to utilize their spare materials effectively.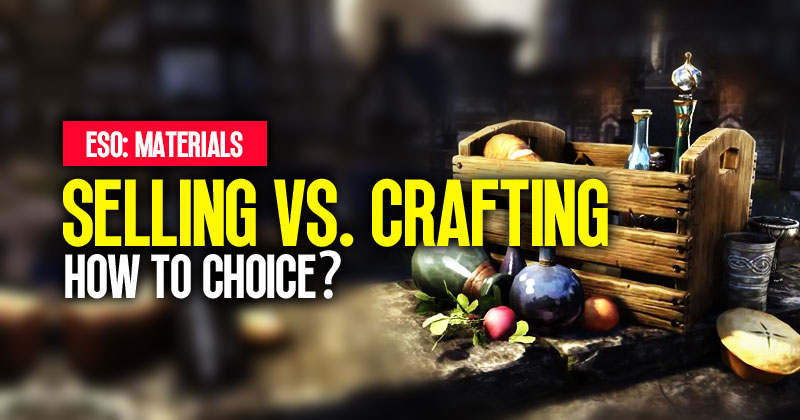 ↖ Pros and Cons of Selling Materials
Materials in ESO are in high demand as they are essential for crafting various items such as gear, weapons, armor, and potions. Selling materials has several advantages and disadvantage:
Quick Selling: Materials are often in high demand, making them sell relatively quickly compared to crafted items. This is beneficial if you need immediate eso gold or have limited Guild Store slots.
Stackability: Materials can be stacked, allowing you to list a larger quantity in a single Guild store slot. This is useful when Guild Store slots are limited, especially for players who are part of a single trading guild.
Accessibility: Selling materials does not require extensive crafting knowledge or investment. It provides an accessible way for new players to earn gold.
Lower Sale Value: Materials usually sell for less than the crafted items made from them. Crafted items, especially popular sets, can be sold for a higher price, often exceeding the crafting cost.
↖ Pros and Cons of Crafting Items
Crafted items, especially popular sets such as gear, weapons, and jewelry, can often be sold for more than the sum of their parts. Key points to consider when selling crafted items include:
Lucrative Sales: Crafted items, particularly popular sets, can be sold for more than the sum of their crafting costs. This can be highly profitable for experienced traders.
Niche Market: Crafted items cater to a more specific market compared to materials, which are generally in higher demand. Finding opportunities to sell uniquely crafted items can yield significant profits.
Longer Selling Time: Crafted items may take longer to sell due to their niche market. Buyers typically have specific needs, such as research purposes or completing a particular set.
Limited Guild Store Slots: Crafting items like gear and furnishings occupy more Guild Store slots since they cannot be stacked like materials. This consideration becomes crucial if you have limited slots available.
Conclusion:
Deciding whether to sell ESO materials or craft items with them requires considering various factors. Selling materials offers quick sales, stackability, and accessibility, making it suitable for beginners and those looking for immediate gold. On the other hand, crafting items can be more lucrative but requires investment, takes longer to sell, and relies on a niche market. Ultimately, the decision rests on personal preferences and circumstances. Consider the insights provided here to make an informed choice that aligns with your trading goals in ESO.
Most Popular Posts
Popular Category Lists