What exciting features will we see coming from the EA SPORTS FC 24 official trailer?
The highly anticipated EA FC24, the latest installment of the FIFA series, has released its official trailer, leaving fans ecstatic about the upcoming football simulator. While the trailer offers a glimpse into the game's graphics and features, it's important to note that it may not represent the final gameplay. In this article, we'll explore the trailer and discuss the exciting aspects showcased.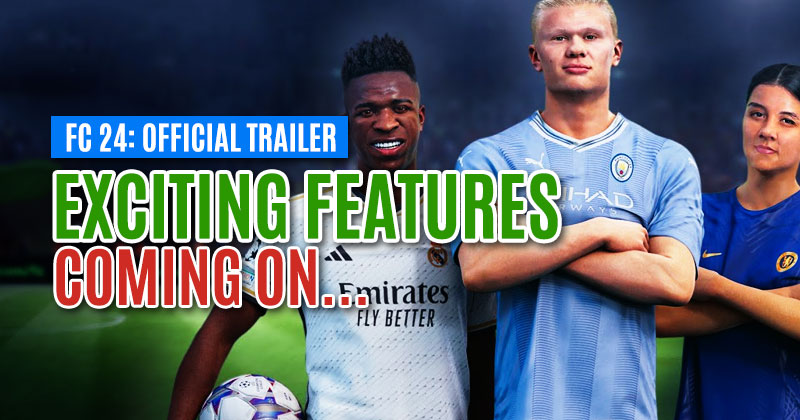 ↖ Improved Graphics and Realism
From the moment the trailer begins, it becomes evident that EA FC24 aims to deliver enhanced graphics and realistic gameplay. The players' movements, body expressions, and even the physics of their clothing exhibit remarkable attention to detail. The developers have strived to create a more immersive experience that captures the essence of the sport.
↖ Diverse Gameplay
One notable highlight of the trailer is the inclusion of women's football. EA FC24 promises to introduce mixed-gender matches in Ultimate Team mode, offering players the opportunity to build their dream team with both male and female athletes. This addition marks a significant step forward for inclusivity in virtual football.
↖ Revamped Career Mode
While not explicitly confirmed in the trailer, previous discussions suggest that EA FC24 will feature a revamped Career Mode with additional options for women's football. Fans eagerly anticipate exploring the improved career experience and taking their favourite teams to new heights.
↖ HyperMotion Technology
The trailer mentions HyperMotion technology, which promises to revolutionize player animations within the game. By utilizing a vast number of motion-capture data points, EA FC24 aims to deliver smoother and more realistic movements, further enhancing the overall gameplay experience. This advancement could elevate player immersion to unprecedented levels.
↖ Stunning Crowd Visuals
EA FC24 also showcases impressive crowd visuals, making the in-game atmosphere more realistic than ever before. The trailer features diverse and lively crowds, with dynamic elements such as flags and falling snowflakes, adding to the immersive nature of the matches. The improved visuals in the stands contribute to the overall authenticity of the game.
↖ Anticipated Changes
While the trailer offers a tantalizing glimpse of what's to come, it's important to note that it primarily serves as a promotional tool. The actual gameplay and unrevealed features remain a mystery until the complete gameplay reveal is scheduled for July. Fans are eagerly awaiting further updates to gain a comprehensive understanding of the changes and improvements in EA FC24.
Conclusion:
The First official trailer has undoubtedly left fans excited and anticipating the FC24 release . With improved graphics, realistic player movements, the inclusion of women's football, and promising technology like HyperMotion, EA FC24 seems poised to deliver an immersive and enjoyable virtual football experience. Stay tuned for the upcoming gameplay reveal in July to learn more about the game's exciting features and changes.
Most Popular Posts
Popular Category Lists