EA SPORTS FC 24: Trailer, Release Date, Expectations and Leaked Information
Get ready for an electrifying ride through the world of gaming with EA Sports FC 24, where the virtual pitch is about to witness a revolution like never before. This guide is your ultimate companion to navigating the realm of leaked information, exciting features, and unforgettable moments that EA Sports FC 24 promises to bring. Dive deep into the heart of what makes this game a groundbreaking addition to the gaming world, igniting your football passion and fueling your competitive spirit.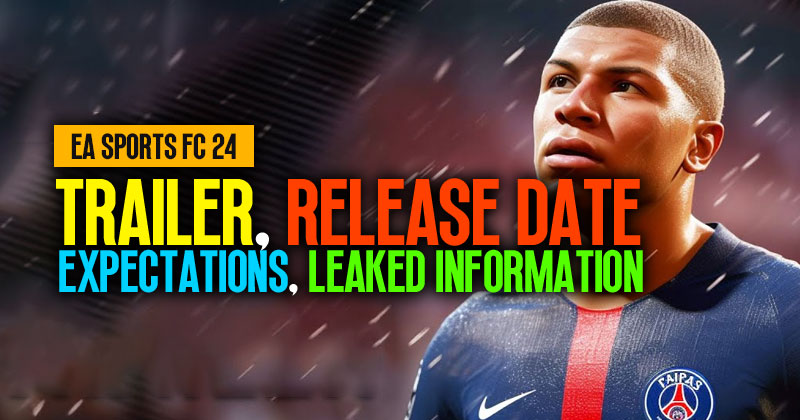 ↖ EA FC 24 Trailer and Information Release
The much-awaited moment is finally upon us! Set your alarms for tomorrow at 12:30 Eastern Time (5:30 UK time), as EA is all set to release the adrenaline-pumping EA FC 24 trailer. But hold on, there's more in store! In addition to the trailer, EA traditionally treats us to a treasure trove of information including pitch notes and announcements. These gems give us a sneak peek into what the game has in store. Keep those eyes peeled for player reveals, intriguing hints, and insightful pitch notes, especially related to the beloved Ultimate Team mode.
↖ Release Date and Early Access
Circle September 29th on your calendars because that's the day EA FC 24 hits the virtual stadiums. But here's a golden nugget for you: pre-ordering the game grants you early access! Opt for the Ultimate Edition, and you'll be privy to an extended early access period, allowing you to dive into the game a full seven days ahead, starting from September 22nd. If you're serious about outplaying the competition, this head start will undoubtedly provide you with a significant edge in constructing your dream Ultimate Team.
↖ Pre-order Bonuses
Pre-ordering EA FC 24 isn't just about getting ahead; it's about enjoying exclusive bonuses. Recall last year's pre-order perks including a limited FIFA World Cup FUT Heros item for those who pre-ordered before August 22nd. And let's not forget the Ultimate Edition, a treasure trove of rewards including 4,600 FIFA Points, a Ones to Watch player item, a Team of the Week player item, and loan items spotlighting stars like the formidable Mbappé. These bonuses elevate your pre-order experience and inject excitement into building your squad.
↖ Additions and Changes
One of the most groundbreaking inclusions in EA FC 24 is the Women's Ultimate Team feature. This trailblazing addition has stirred conversations across the gaming community. The integration of women's players introduces a realm of fresh possibilities and widens the spectrum of available talent.
It's essential to recognize that ratings and comparisons between male and female players stem from different eras and competitions, rendering direct comparisons intricate. Yet, the inclusion of women's players marks a significant stride towards content diversity and inclusivity within the Ultimate Team.
↖ Expectations and Wishlist
While the full spectrum of EA FC 24 remains veiled, fans have voiced their desires for enhancements. A prominent request involves the introduction of 2v2 and 3v3 Champs modes, enriching both the social and competitive facets of the game. Envision teaming up with friends for riveting matches within Ultimate Team! The community also aspires for gameplay refinements, from tackling defensive play styles to ramping up the overall game pace, thereby crafting a more dynamic and engaging gameplay experience.
Conclusion:
The countdown to EA Sports FC 24 has officially commenced, and the fervor is tangible. With the trailer dropping tomorrow, followed by the unveiling of pitch notes, we're primed to unlock deeper insights into the new modes, features, and player incorporations that EA FC 24 holds. Make sure to stay tuned, catch the live streams, and remain in sync with the latest information. Gear up for yet another exhilarating FIFA journey as the game rolls out on September 29th! Your adventure awaits!
Most Popular Posts
Popular Category Lists