Madden 24 Beta Guide: Exploring the New Mega Cool Feature
Madden 24 beta is here, and EA has introduced an exciting new feature that football fans will love. While the beta is still limited, this article aims to provide an overview of the noteworthy addition and offer insights into its functionality. In this guide, we'll delve into the details of the feature, explain how it affects both offense and defense, and discuss some of the feedback received during the beta testing phase.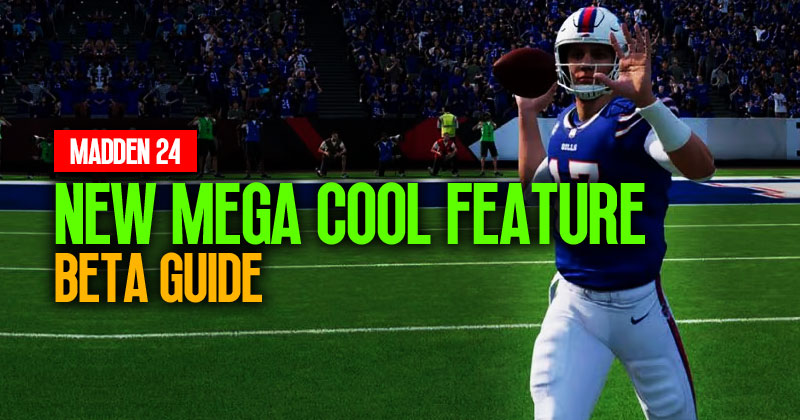 ↖ Overview of the New Feature
EA has introduced a fascinating new feature in Madden 24 that allows players to see the AI logic in action during practice mode. By enabling a specific setting in practice mode, players can view the play art and witness the dynamic assignment changes and coverage adjustments made by players in real time. This feature is available for both offense and defense, providing valuable insights into how the AI responds to different routes and releases.
↖ Understanding the Feature
To illustrate the functionality of this feature, let's focus on a specific example. Imagine calling a cover three-play in practice mode. As the play unfolds, you can observe the AI players making adjustments based on the offensive routes. For instance, if a receiver breaks outward, a linebacker in the middle zone might shift his focus from the strong side to the weak side. This visual representation of AI logic provides a unique insight into the game's mechanics.
↖ Benefits for Players
The addition of this feature is particularly beneficial for players who enjoy creating their own offensive and defensive strategies. It allows them to observe how AI players adapt their assignments and coverage based on route combinations and releases. This knowledge can be utilized to exploit defensive weaknesses or devise innovative offensive plays. By understanding the AI's decision-making process, players can enhance their overall gameplay experience.
↖ Getting on the Madden 24 Beta
If you missed out on the initial beta release, there's a chance to join in now that the beta is back online. While it's uncertain whether more beta codes will be given out, you can increase your chances of getting one by subscribing and following the official channels and social media accounts related to Madden 24. Stay tuned for any updates and giveaways from EA.
↖ Available Game Modes
During this period, you'll have the opportunity to explore the following game modes: Play Now, Head to Head, Play a Friend, and Mini Games. Although franchise mode, Superstar mode, and Super Showdown won't be available, you can still utilize practice mode to hone your skills.
↖ Addressing Input Lag
One of the primary concerns during the initial beta release was the presence of input lag, particularly in online gameplay. EA has acknowledged this issue and released a fix aimed at addressing input lag. To help them further improve the game, it is crucial to provide feedback through the designated feedback forum. EA's decision to bring back the beta indicates their commitment to resolving this problem before the game's official release.
↖ Potential Impact on the Full Game
While the beta provides valuable insights into the game's performance, it's important to note that there may still be some lingering issues. Some players have reported experiencing input lag even after the fix was implemented. This ongoing concern has prompted EA to bring back the beta for further testing and fine-tuning. The resolution of input lag is crucial for ensuring a positive online gaming experience. If this issue persists in the full game, it could significantly impact the overall enjoyment of Madden 24, regardless of its other improvements and features.
↖ Changes and Updates
During your time on the beta, you may notice various changes and updates made by the developers. These include gameplay adjustments, new settings, and other enhancements. However, it's advisable to refrain from discussing these changes explicitly, as they may not be intended for public discourse. EA typically releases an updated blog post after the beta period, highlighting the changes and improvements made based on player feedback. Expect more details on gameplay, franchise mode, Superstar mode, and additional features in the coming weeks.
↖ Beta Feedback and Areas for Improvement
While the new feature has garnered positive feedback from the beta testing community, there are some areas that require further refinement. Here are a few noteworthy points:
Helmet Color Changes: Some users reported instances where helmets randomly changed colours during gameplay. This is likely a bug that should be resolved before the game's official launch.
Zone Coverage: The adaptive coverage introduced in the beta received mixed reviews. While it showed improvement, there were still instances of excessive aggressive catching and user swerving, which can negatively impact the gameplay experience. EA should continue fine-tuning zone coverage to ensure a balanced and realistic playing field.
Pass Velocities: The return of pass velocities, which affect the speed and accuracy of throws, has been met with mixed reactions. Some players believe it adds depth to the game, while others argue that it becomes a requirement for effective passing. EA should consider balancing this aspect to offer players more flexibility in their passing game.
Run Defense and Adjustments: Initial feedback suggests that run defense and adjustments still need improvement. Players needed help with defenders getting hooked or failing to pursue accurately. Additionally, adjustments during online play were deemed finicky, requiring further refinement for smoother gameplay.
Under Pressure Mechanics: The "Under Pressure" mechanics, resulting in increased throwing inaccuracy when a defender is in close proximity, have drawn criticism. Many players find this mechanic frustrating and believe it introduces unnecessary randomness to the game. EA should consider reevaluating or refining this feature to improve overall gameplay enjoyment.
↖ Upcoming Madden 24 News
In the following week, EA will be hosting the official ratings reveal. This event typically spans from Monday to Friday, with different positions and player ratings announced each day. Additionally, they may unveil the Superstar and X-Factor players during this period. Keep an eye out for content related to player reactions to their ratings, often shared by NFL teams and players.
Around three weeks from now, EA will present an in-depth reveal of Superstar mode. Similar to the recent franchise mode reveal, expect detailed videos and images showcasing the features and improvements in this game mode. The first week of August will also bring information about Madden Ultimate Team (MUT) and its upcoming additions.
↖ Early Access and Further Updates
With Early Access scheduled for August 15th, you can anticipate the release of early gameplay footage around that time. Subscribing to relevant channels will ensure you get all the latest updates. Additionally, in the weeks leading up to the game's release, EA will provide further information on changes made based on player feedback during the beta. These updates typically cover gameplay adjustments, menu improvements, additions to various game modes, and more.
Conclusion:
The addition of the new feature in Madden 24's beta is a significant step forward, allowing players to gain valuable insights into the AI's decision-making process during practice mode. While some areas still require refinement based on beta feedback, EA's inclusion of this feature is a commendable move. Players can now analyze and adapt to the AI's coverage adjustments, enhancing their strategic gameplay. With further updates and improvements, Madden 24 can provide an engaging and immersive football experience for fans.
Most Popular Posts
Popular Category Lists