Madden 24 Pre-Order Guide: New Bonuses, 85 Overall Jefferson and Sauce Gardner
Are you ready to dive into the world of Madden 24? Pre-ordering the game comes with fantastic perks, including an 85 Overall player item featuring Justin Jefferson and Sauce Gardner. This comprehensive guide will walk you through everything you need to know to make the most of your Madden 24 pre-order experience. Get ready to enhance your Ultimate Team, explore exciting bonuses, and prepare for an amazing football journey.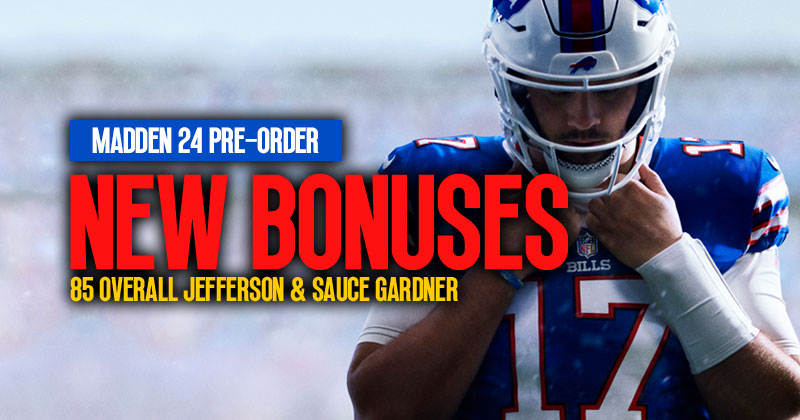 ↖ Pre-Ordering Madden 24 Deluxe Edition
The Madden 24 Deluxe Edition is packed with rewards for those who pre-order before the cutoff date of July 22nd. By pre-ordering, you secure an 85 Overall player item, allowing you to choose between the impressive talents of Justin Jefferson and Sauce Gardner. These player items are valuable additions that can significantly boost your team's performance. Here's what the Deluxe Edition pre-order has to offer: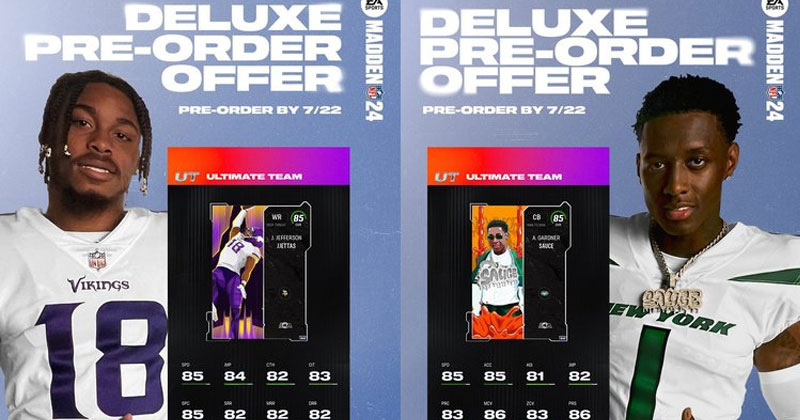 Early Access to A.K.A. J. Jefferson and A. Gardner: By opting for the Deluxe Pre-Order, you gain exclusive early access to the remarkable skills of A.K.A. J. Jefferson and A. Gardner. Being among the first to experience their prowess provides a unique advantage in matches. Both players possess exceptional abilities that can turn the tide of a game in your favour.
Exclusive In-Game Bonuses: The Deluxe Pre-Order includes an array of exclusive in-game bonuses designed to give you an edge on the field. These bonuses encompass bonus currency, special player packs, and access to exclusive challenges that yield valuable rewards. Embrace these advantages and witness your Madden Ultimate Team rise to new heights.
Enhanced Gameplay Features: The Deluxe Pre-Order introduces enhanced gameplay features that elevate the Madden experience to unprecedented levels. These improvements are carefully designed to enhance realism, fluidity, and strategic depth. Immerse yourself in the world of Madden like never before and witness the evolution of virtual football.
↖ Josh Allen Pre-Order Bonus Speculation
While not officially confirmed, the 85 Overall pre-order bonus for Jefferson and Gardner could set the standard for Josh Allen's pre-order bonus. Though the specific Overall rating for Allen's pre-order card remains uncertain, speculation suggests it could be an impressive 87 or 88 Overall. This potential addition is particularly exciting for fans of Josh Allen and can significantly bolster your team's performance.
↖ Choosing Between Jefferson and Gardner
Deciding between Justin Jefferson and Sauce Gardner can be a challenging task. As we anticipate the release of Madden 24 and further information about their stats, it's essential to consider your team's requirements and potential future content. Both players offer unique advantages, with Gardner excelling in height as a cornerback and Jefferson showcasing his talents as a skilled wide receiver.
↖ How to Pre-Order the Deluxe Edition?
Securing your Deluxe Pre-Order for A.K.A. J. Jefferson and A. Gardner in Madden Ultimate Team 24 is a straightforward process. Follow these steps to ensure you don't miss out on this golden opportunity:
Visit the official Madden Ultimate Team 24 website.
Locate the Deluxe Edition section and click on the Pre-Order button.
Fill in your personal information and payment details.
Complete the transaction and await confirmation.
Once you've successfully pre-ordered the Deluxe Edition, you'll gain immediate access to the benefits and exclusive content it offers.
After successfully pre-ordering the Deluxe Edition, you'll gain immediate access to its benefits and exclusive content.
↖ Other Pre-Order Bonuses
Beyond the Deluxe Edition pre-order bonuses, various retailers offer additional incentives. GameStop, for example, provides a theme team kickoff pack in Madden Ultimate Team, allowing you to choose the one-player item. While the specifics of this pack aren't disclosed, it presents an appealing offer for many players.
↖ Hall of Fame Mutt Player Item
Another intriguing pre-order bonus is the Hall of Fame Mutt player item. While E.A. hasn't officially announced it, several retailers include it in their listings. This suggests the availability of a Hall of Fame promo at the beginning of Madden 24. Engage in speculation about which player might be featured and the potential Overall rating they could possess.
↖ Benefits of Pre-Ordering
Pre-ordering Madden 24 before the game's release date offers numerous benefits. By securing your pre-order, you guarantee exclusive bonuses, including the coveted 85 Overall player item and any additional bonuses from specific retailers. Pre-ordering ensures you'll experience the excitement of commencing your Madden 24 journey from day one.
↖ Obtaining Coins for Your Ultimate Team
To strengthen your team and create the "God Squad" you've always wanted, you can acquire additional coins through various means. One option is to visit loltank.com, where you can open packs and win MUT 24 Coins. By using the code "Tanks," you can enjoy a 15% discount on your purchase. Remember to withdraw the coins to your account for immediate use.
Conclusion:
With Madden 24 on the horizon, pre-ordering the game is a smart move. Capitalize on the exciting bonuses, including the 85 Overall player item featuring Justin Jefferson and Sauce Gardner. As you make your choice, pre-order before the deadline and keep an eye out for potential future promotions. Assemble your ultimate team and brace yourself for an unforgettable Madden 24 experience.
Most Popular Posts
Popular Category Lists