EA FC Pre-Order: How to Choose The Most Suitable Version For You?
EA Sports FC 24 is giving players the opportunity to pre-order the game with two enticing editions to choose from: the Standard Edition and the Ultimate Edition. To help you make the best decision for your gaming experience, we have prepared a comprehensive guide comparing the features and benefits of each edition. In this guide, we will provide you with all the information you need to choose the most suitable version of the game for you.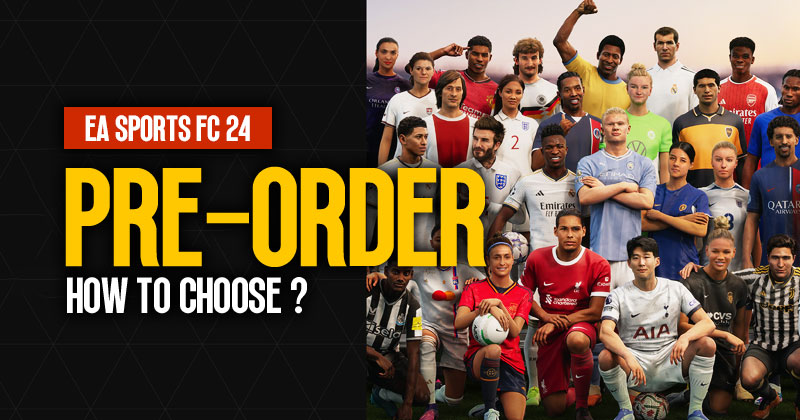 ↖ Standard Edition
Release Date: The Standard Edition of EA Sports FC 24 will be released on September 29th.
Price: In the United Kingdom, the Standard Edition is priced at £69.99 (prices may vary in different regions).
Suitable for: The Standard Edition is recommended for most players who are not heavily focused on Ultimate Team and are looking for the most affordable option.
Pre-order Benefits: If you pre-order before August 22nd, you will receive a Heroes UEFA Champions League item in November. However, note that this item may have a limited impact on your gameplay experience.
Price Reduction: You can save £10 off the Standard Edition price by using EA Play, which may cost an additional £3. Another way to save money is by purchasing gift cards from websites like CD Keys and redeeming them on your console.
↖ Ultimate Edition
Release Date: The Ultimate Edition of EA Sports FC 24 will be available one week earlier, on September 22nd.
Price: The original price of the Ultimate Edition is £99.99.
Suitable for: The Ultimate Edition is ideal for dedicated Ultimate Team players who want early access to the game and additional in-game content.
Pre-order Benefits: Along with seven days of early access, the Ultimate Edition includes various bonuses such as 4,600 FC points (formerly FIFA points), access to the Nike Ultimate Team campaign, a loan item, and a kit. The most valuable benefit is early access, which allows you to start earning coins and building your Ultimate Team ahead of others.
Price Reduction: Similar to the Standard Edition, you can save £10 by using EA Play. Additionally, keep an eye out for special offers within FIFA 23, which may allow you to save even more on the Ultimate Edition.
↖ Advantages of the Ultimate Edition
The FIFA 24 Ultimate Edition offers several advantages over the standard edition. These include:
Cross-generational console access: Play on both PS4 and PS5.
Star Player on Cover: Receive the cover star as a playable character.
Male Ambassador Loan: Get a loan player from a selection of game-changing stars.
Inclusion of Women in Ultimate Team: Play with female footballers in Ultimate Team.
Club Game Style Slot: Utilize a new feature in the Pro Club mode.
Player Career Personality Points: Enhance your player's attributes and skill set.
5-Star Coach in Career Mode: Benefit from top-tier coaching abilities.
Enhanced Cross-Play: Play with friends on different consoles in specific modes.
UEFA Champions League Hero Card: Pre-order bonus featuring iconic players.
↖ Considerations and Savings
Price Differences: Standard Edition costs €80, while Ultimate Edition costs €110 (€99 if pre-ordered before a specific date).
Retail Store Discounts: Consider waiting for discounts in physical retail stores, as they often offer lower prices after the game's release.
FIFA 23 Discounts: Check for potential discounts on FIFA 23 to save further.
Third-Party Websites: Utilize trusted platforms like NEBA to purchase discounted PSN cards and save money on pre-orders.
↖ New Features: Ultimate Team, FAQ, Pro Clubs, Volta Football, Improvements
EA Sports FC 24 brings several exciting new features to Ultimate Team, Volta, and Pro Clubs.
Ultimate Team:
Ultimate Team Evolutions: For the first time ever, you can improve players in your club through Ultimate Team Evolutions. Complete objectives to boost their individual skills play styles, and overall ratings, and even customize their player items' appearance.
Women's Football: Ultimate Team now includes women's football, uniting both men's and women's football on the same pitch. Build your dream 11 by selecting players from six new leagues and take advantage of new icons and heroes from the women's game.
Play Styles Plus: Ultimate Team introduces Play Styles Plus, which allows you to build your squad based on players' actual playing styles on the pitch. Players' abilities are visibly displayed on their item cards, making it easier to identify their unique traits.
Frequently Asked Questions for Women's Football in Ultimate Team
Integration: Men's and women's footballers are integrated across all aspects of Ultimate Team, including packs, the transfer market, objectives, rewards, SBCs, and drafts.
Squad Chemistry: Chemistry remains the same, allowing players from both men's and women's football to link with each other based on leagues and nationalities.
Ratings: Players' ratings in Ultimate Team are consistent with other modes in the game, ensuring fairness and balance.
Live Service Campaigns: Women's football will also be part of future live service campaigns, providing ongoing updates and content.
Pro Clubs
Cross-Platform Play: In FC 24, cross-play is expanding to all multiplayer online modes. You can team up with friends on different platforms and play against mixed cross-platform teams.
Club Season Format: The introduction of a new Club season format adds more competition and dynamism. Clubs progress through leagues, earning points and aiming for promotion. Each season culminates in a playoff phase with additional end-of-season rewards.
Club Progression: Apart from growing your pro, you can now grow your club together with friends. Gain fans to unlock reputation levels, expand your club's exposure, customize your stadium, and improve your AI squad.
Volta Football
Cross-Platform Play: Enjoy playing Volta with more friends this year, thanks to cross-platform play. Showcase your skills in mini-games, socialize with friends, and experience casual street football in a community-oriented environment.
Play Styles: Develop your pro into your favourite player with unique Play Styles. These signature abilities make your pro stand out on the pitch, providing a new level of customization and control over your player's style.
Additional Quality of Life Improvements
Player Item Designs: Player item cards receive a new design featuring larger pictures, animated backgrounds, and more accessible details like league crests and play styles plus.
Community-Requested Features: EA Sports has incorporated community requests as core features in FC 24. Claim all objectives rewards at once, change player positions without consumables, build squads with improved chemistry for icons, and navigate Ultimate Team more seamlessly with the all-new quick switcher.
Conclusion:
In summary, choosing between the Standard Edition and Ultimate Edition of EA Sports FC 24 depends on your preferences and priorities. If you are primarily interested in Ultimate Team and want early access, the Ultimate Edition offers significant benefits. However, if you are not heavily invested in Ultimate Team and want to save money, the Standard Edition is a suitable choice. Consider the features, pre-order bonuses, and price reductions discussed in this guide before making your decision.
Most Popular Posts
Popular Category Lists