New World Expedition Audio: Crafting Enchanting Sounds in Mesmerizing Dungeons
New World: Forged in Aeternum is an enchanting gaming universe with a vast array of exciting audio experiences, particularly in its thrilling dungeons. In this guide, we delve into the captivating world of Expedition Audio, highlighting the behind-the-scenes insights from the talented sound team at New World Studios. Michael Finley, Kyle Bailey, John Edward McLell, Tony Martinez, and Char offer their thoughts on the creative process and unique challenges they face when crafting audio for the game's mesmerizing dungeons.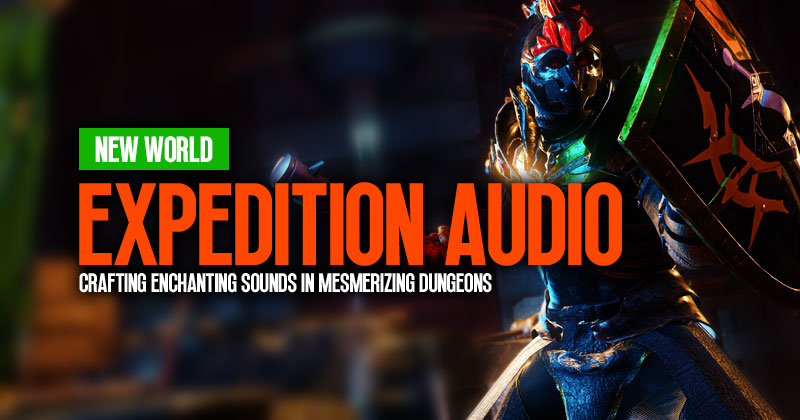 ↖ A Playground for Unique Sounds
The dungeons in New World offer a curated experience, providing the sound team with the perfect playground to explore and experiment with unique sounds. The team shares their passion for sound design and the freedom they have in creating immersive audio experiences within the confined spaces of dungeons. This creative freedom allows them to take risks and try out exciting concepts not feasible in the vast open-world environment.
↖ Bringing Bosses to Life
One of the most thrilling aspects of dungeon audio is bringing bosses to life through sound. The team recalls working on the Mirror Guard dungeon, specifically the imposing boss, Neishatun, a cool serpent demon-corrupted entity. To emphasize his intimidating presence, they used an omnipresent voice that players experience as if it were in their heads, enhancing the emotional impact of the encounter. The team also introduces the concept of "HDR mixing" to dynamically adjust sound levels, creating an engaging and immersive boss battle experience.
↖ Music Direction and Storytelling
Dungeon audio is not just about combat; it is an integral part of storytelling. The team delves into the dungeons' music direction, citing the example of the Isabella's Cathedral in the Barnes and Barnacle dungeon, where they integrated church organ sounds to create a unique atmosphere. They discuss how music is used as a storytelling tool, hinting at what lies ahead and creating a seamless, emotional connection between players and the game world.
↖ Pushing Boundaries with Sound Design
In the StarStone Expedition, the sound team pushed the boundaries by incorporating unique and diverse sounds, including throat singing, radio wave recordings, and laser-based soundscapes. By asking "why" rather than "how" when designing sounds, they achieved a deeper, more meaningful auditory experience for players. They take pride in the level of detail they put into crafting sounds, creating an ASMR-like experience, which adds to the game's overall ambiance.
↖ Making Sounds Authentic
Authenticity is a hallmark of New World's audio design. The team shares their meticulous approach to choosing sounds, ensuring they remain consistent with the game's environment. They utilize AI creatures to create natural ambient sounds, avoiding using sounds that could draw too much attention from players. This dedication to authenticity immerses players in the game world, making it more believable and compelling.
↖ Community Engagement
The article concludes with a call for community engagement, encouraging players to share their thoughts on what sounds they would like to hear in the dungeons. The developers appreciate the players' feedback and use it to enhance and enrich the gaming experience.
Conclusion:
New World: Forged in Aeternum offers an enchanting auditory experience in its dungeons, elevating players to new levels of immersion. The sound team's creativity, passion, and dedication to authenticity create an enthralling and captivating audio landscape that makes the game even more captivating. With continuous community feedback, the world of Expedition Audio will continue to evolve, ensuring players are forever enchanted by the sounds of Aeternum.
Most Popular Posts
Popular Category Lists