NHL 24 News Update and Features Wishlist: What to Expect and What Fans Want
As the anticipation builds for NHL 24, fans are eagerly waiting for news and updates on the latest instalment of the popular ice hockey video game series. In this article, we'll delve into the historical release patterns of NHL games, the changes that occurred due to COVID-19, and when we can expect to hear about NHL 24. Additionally, we'll explore some features that players are hoping to see in NHL 24 across all game modes, including Hockey Ultimate Team, World of Chel, Franchise Mode, and Be A Pro.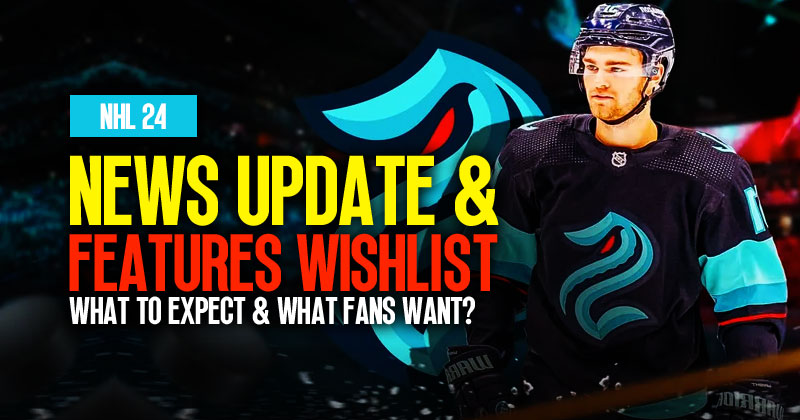 ↖ When to Expect NHL 24 News?
In the past, NHL games revealed a highly anticipated event, usually happening during late June at the NHL Awards. However, with the impact of COVID-19 on the gaming industry, the release dates have shifted. NHL 21's announcement came on July 20th, while NHL 22's reveal took place on August 19th. Although there's a slight improvement in the timing, fans are hoping for an even earlier announcement for NHL 24.
| Feature | Description |
| --- | --- |
| Improved Content in HUT | Provide more meaningful upgrades for deserving players and maintain consistency in releasing exciting cards. |
| Squad Battles Mercy Rule | Implement a mercy rule in Squad Battles to end matches when a certain goal margin is achieved. |
| Revamped Rivals and Winter Rewards | Enhance Rivals mode with improved rewards and potential guaranteed items to increase player engagement. |
| Enhanced Hut Champs Rewards | Introduce special players or packs for top-ranking players in Hut Champs to incentivize competitiveness. |
| Unique Sets and Events | Offer diverse and creative sets and events in NHL games to provide different experiences throughout the year. |
| Introduction of a Battle Royale Mode | Add a Battle Royale-style game mode to NHL 24 for a fresh and exciting gameplay experience. |
Note: The above table summarizes the suggested improvements and features for the Hockey Ultimate Team (HUT) mode in NHL 24 based on the provided information. These ideas aim to enhance player engagement and variety within the game.
↖ World of Chel Wishlist
More Reasons to Play World of Chel Modes: Players want a stronger motivation to engage in World of Chel modes, such as unique rewards, challenges, and better progression systems.
Improved Clubs and Drop-In Modes: Clubs and Drop-In modes need enhancements to make them more appealing, encouraging players to spend more time enjoying these modes.
Meaningful Playoffs and Arena Options: Playoffs should be revamped to offer a more engaging experience, while the ability to use custom arenas during the playoffs should be allowed.
↖ Franchise Mode Wishlist
Immersive Draft and Free Agency Experience: To elevate the Franchise Mode, EA can add immersive elements to the draft, such as cutscenes, and treat free agency with the same excitement as the trade deadline.
Hall of Fame Feature: A Hall of Fame system showcasing retired players and their induction into the virtual Hall of Fame would add depth to the Franchise Mode.
↖ Be A Pro Wishlist
Continuous Updates: Fans expect more consistent updates to Be A Pro mode to keep it fresh and exciting with new storylines and cutscenes.
Improved Voiceovers and Cutscenes: Adding voiceovers for the player character and more varied cutscenes would heighten the immersive experience in Be A Pro.
Conclusion
As players eagerly await news about NHL 24, there's a growing list of features and improvements they hope to see in the game. From enhanced content in Hockey Ultimate Team to immersive experiences in Be A Pro and Franchise Mode, EA has the potential to deliver an unforgettable NHL gaming experience. With the community's wishlist in mind, the anticipation for NHL 24 continues to grow, and fans hope that EA Sports will make their dreams a reality.
Most Popular Posts
Popular Category Lists