What Changes and Essential Details You Need To Know Before Madden 24 Release?
As the impending release of Madden 24 draws near, avid gamers and football enthusiasts are gearing up for an exciting array of new features and improvements. From upgraded tackling mechanics and skill-based passing to improved AI and customization options, Madden 24 is poised to redefine virtual football experiences. In this concise guide, we'll unravel the key gameplay changes and essential details you need to know before diving into the latest iteration of this iconic sports franchise.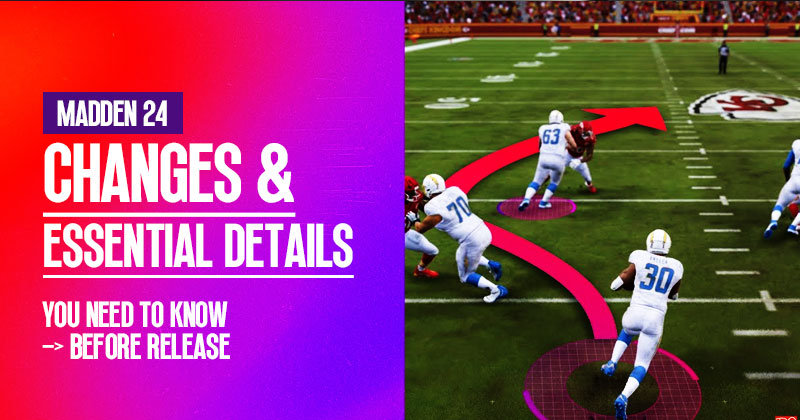 ↖ New GamePlay Changes and Improvements
So we'll dive into the details of the new features, including enhanced tackling mechanics, skill-based passing, catching improvements, Sapien technology, and much more.
↖Hit Everything 2.0 - Enhanced Tackling Mechanics
Madden NFL 24 introduces Hit Everything 2.0, an upgrade to the mid-air catch tackle system from the previous installment. This feature allows players to branch to swats, catch tackles, and hit sticks in all contested catch situations, not just jumping catches. Players now have more control to defend against various routes, resulting in more realistic outcomes and authentic interactions between receivers and defenders.
Tackling control and variety have been improved, giving players different tackle types based on defender size, strength, and matchups. The new Defender Advantage formula dynamically chooses tackles based on player ratings, size, speed, and momentum. This results in more realistic rap tackles and drive-back animations, creating a lifelike gameplay experience.
↖Skill-Based Passing 2.0 - Improved Quarterback Mechanics
Madden NFL 24 introduces an upgrade to the passing system, allowing players like Patrick Mahomes and Josh Allen to perform new jump and dive passes for improvisation. More no-look pass animations have been added, and the passing animation system has been improved for better visuals and targeting.
Wall rare dive passes can lead to exciting moments from top-tier stars like Patrick Mahomes. Players can attempt dive passes when rolling out to the sideline, creating thrilling opportunities for short or medium throws with defenders closely trailing.
↖Catching Improvements - Enhanced Receiving Gameplay
Madden NFL 24 features a revamped catching system designed to reduce the frequency of missed catches significantly. Players will now be able to hit receivers in stride more easily, maintaining speed and momentum when catching the ball. Hundreds of new catch animations have been added to the game, making catching feel better than ever. Dive catches are back in full force, allowing players to lay out for the ball when necessary.
↖Sapien Technology - Realistic Player Animations
Madden NFL 24 utilizes the Sapien skeleton to make player movements on the field look and feel as real as possible. The performance skeleton has been upgraded, delivering authenticity and ensuring true-to-life animations. The Sapien skeleton has been optimized to work for non-players, such as coaches, fans, and even female characters. This allowed EA to bring back the officiating crew on-field, adding to the overall immersion of the game.
↖Blocking - Hit Everything 2.0 and Field Synth System
The Hit Everything technology has been integrated into blocking, offering more versatility to blockers. They can now chip block, enter and exit double teams on the fly, seamlessly navigating through defenders and blocking interactions.
The stand-up tackle system has been extended to the offence, enabling blockers to engage in gang tackles and push the pile forward. The new AI system accounts for the number of defenders in the box, making it more difficult to manipulate blocking behaviour and exploit defensive setups.
↖Ball Carrier AI and Defensive AI Improvements
The Ball Carrier AI has been upgraded with Frostbite navigation grid capabilities, leading to a better assessment of the playing field and threats. Ball carriers will make smarter cutbacks, avoid the sideline, and run to open spaces more effectively. Defensive AI has been revamped to read and react to repeated offensive plays realistically.
The AI will start keying in on repetitive play calls and adjust its defence accordingly. Elite blockers will stand out more, making them more effective against certain defensive setups.
↖ 15 Essential Details
| Feature | Description |
| --- | --- |
| Parity Across Platforms | Madden NFL 24 ensures that PS5, Xbox Series X |
| Enhanced Fieldsense | Fieldsense receives iterative upgrades, providing more control and tackle variety on defense, fluid tackle interactions, and improved catching AI. |
| Revamped Catching System | Hundreds of new animations in the catching system maintain player speed and momentum, reducing dropped catches. Dive catches return for flexibility. |
| Tackling and Blocking Improvements | The new "Defender Advantage" formula improves tackling based on player ratings, size, speed, and momentum. Blocking is now more physical and versatile. |
| Sapient Technology Overhaul | Overhauled Sapient technology results in more authentic player movements, making the gameplay feel realistic. |
| AI Improvements | Small AI improvements make teammates more responsive, enhancing areas like quarterback awareness, defensive back awareness, blocking AI, and more. |
| Expanded Playbooks | Madden NFL 24 adds over 700 new formations and 500 new plays from all 32 NFL teams, providing greater tactical flexibility. |
| Overhauled Post-Play Engine | Improved presentation with an overhauled post-play engine, featuring thousands of new animations for more realistic player reactions between plays. |
| Superstar Modes | Superstar Mode returns with "Superstar The League" for career progression and "Superstar Showdown" for 3v3 matches against friends. |
| Franchise Mode Enhancements | Significant improvements to Franchise Mode, including new cities, logos, uniforms for team relocation, contract control, unique draft generators, etc. |
| Franchise Training Camp | Training camp makes a comeback, allowing players to run their team through varied training drills before each season. |
| Franchise Mode Customization | More tools for customizing franchise mode, like reordering depth chart, draft class strength, cooldowns, play call limits, and choosing snake drafts. |
| Ultimate Team Improvements | Ultimate Team receives new seasons of content throughout the year with challenges unlocking rewards. Cross-platform multiplayer is supported. |
| Cross-Platform Multiplayer | Madden NFL 24 features cross-platform multiplayer for PS5, Xbox Series X |
| PC Requirements | The game's minimum and recommended system requirements have been revealed, catering to a broader player base with various hardware capabilities. |
Conclusion:
With these 15 essential details in mind, you are now well-informed and ready to make an informed decision about purchasing Madden NFL 24. The game promises a host of improvements and refinements that will enhance your football simulation experience, regardless of your platform. Get ready to hit the gridiron and enjoy the exciting on-field action and modes Madden NFL 24 has to offer!
Most Popular Posts
Popular Category Lists