Madden 24 Full Ratings Officially Revealed: Who Surpassed Expectations?
EA Sports has officially released all the Madden 24 ratings, and fans are eager to delve into the details and discuss the player rankings. In this guide, we will take a closer look at some of the position groups, including quarterbacks, tight ends, cornerbacks, running backs, outside linebackers, middle linebackers, and safeties. There are some surprises and debates about the ratings, so let's analyze the key players and their rankings.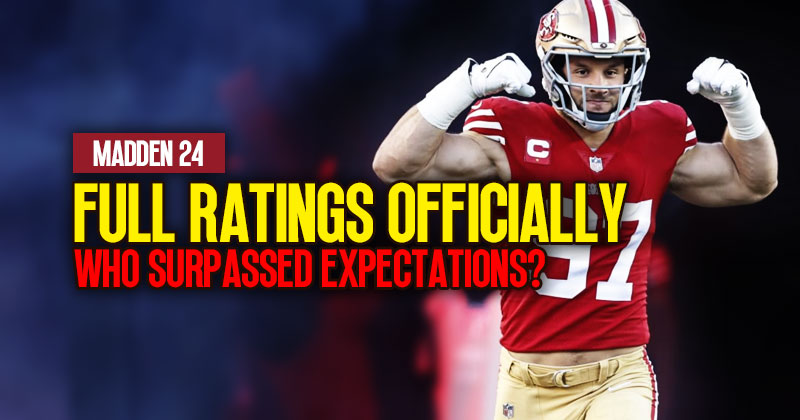 ↖ Quarterbacks
The top quarterbacks in Madden 24 have been given their ratings, with Patrick Mahomes leading the pack at 99 overall, which is unquestionably deserved. However, the next spots are up for discussion. Joe Burrow is rated 95, and Josh Allen, the cover athlete, is at 94. Some fans argue that Allen should be higher, possibly second, considering his impressive performance last season. Lamar Jackson is rated 91, a rating that surprises some, given his injuries. Jalen Hurts is at 88, but he should be higher, possibly around 90, considering his MVP-caliber performance last year.
↖ Tight Ends
The top-rated tight end in Madden 24 is Travis Kelce, also at 99 overall, which is widely agreed upon as deserved. George Kittle follows close behind at 96, with Mark Andrews at 95. The tight end rankings seem reasonable overall, but some fans are surprised to see Kyle Pitts at 87, given his performance last year. Tight end ratings are often a subject of debate, considering their role on the field and the diversity in playing styles.
↖ Cornerbacks
Jalen Ramsey remains the top cornerback with a rating of 97, but some fans feel that Patrick Surtain II should take the top spot, given his exceptional play. Surtain is rated 94, right behind Jaire Alexander, who holds a rating of 95. The cornerback ratings are extremely close, with many talented players clustered around the same overall score. Fans might debate the specific rankings, but it's clear that these cornerbacks are among the best in the league.
↖ Running Backs
Nick Chubb leads the running backs with a rating of 97, followed by Christian McCaffrey at 96. The running back rankings are relatively agreeable, with Josh Jacobs (95) and Derrick Henry (94) rounding out the top five. Saquon Barkley's rating at 93 might be a point of contention, considering his injuries in recent years, but the top five running backs are all highly skilled and capable players.
↖ Outside Linebackers
The outside linebacker position includes edge rushers and stand-up linebackers so that some ratings might be surprising due to different schemes. Aaron Donald tops the list with a 99 rating, while players like Von Miller (94) and Demarcus Lawrence (90) spark discussions about their positions. Maxx Crosby's rating at 94 is a pleasant surprise for fans, given his outstanding performance last season.
↖ Middle Linebackers
Fred Warner stands as the highest-rated middle linebacker with a 96 rating, which is widely agreed upon as deserved. Roquan Smith's 92 rating is a step up from previous years, and he is getting the recognition he deserves. The middle linebacker ratings are relatively satisfactory, with talented players like Bobby Wagner (89) and Lavonte David (91) still earning respect.
↖ Safeties
Darnell Savage Jr. leads the safeties with a 95 rating, followed closely by Minkah Fitzpatrick at 93. The top five safeties, which include players like Justin Simmons and Kevin Byard, are well-regarded and evenly ranked. However, there might be debates about specific placements, but all these safeties are known for their exceptional skills on the field.
Conclusion:
The Madden 24 ratings have sparked debates and discussions among fans, as there are several close calls and subjective opinions on player rankings. While some ratings are widely accepted, others might need further consideration based on recent performances and player capabilities. Regardless, Madden 24 is set to offer an exciting and competitive gameplay experience for all fans.
Most Popular Posts
Popular Category Lists