5 Significant Areas Get Huge Boost in Madden 24
As the release of Madden 24 draws near, players are eagerly anticipating the improvements and innovations it promises to bring to the table. After spending considerable time with the game in its early stages, we can confidently say that Madden 24 does several things better than its predecessor, Madden 23. In this guide, we'll explore 5 significant areas where Madden 24 shines, providing a sneak peek into the upcoming gaming experience.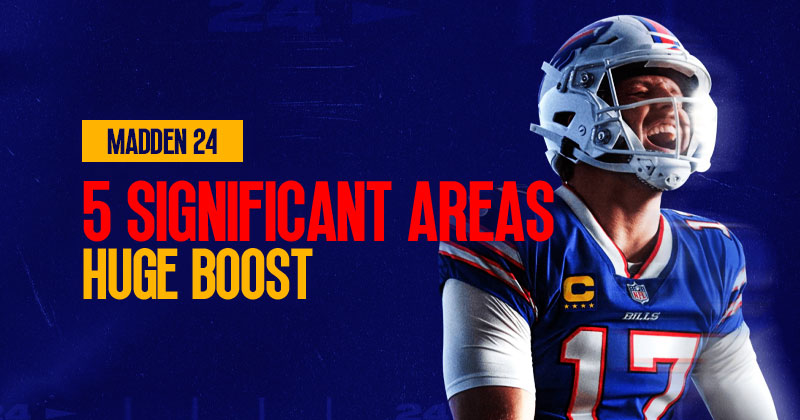 ↖ Area 1. Revamped Franchise Mode
The highlight and biggest update of Madden 24 lies in its franchise mode. Over the years, this mode has been neglected, leaving long-time fans yearning for a return to its glory days. Madden 24 takes a step in the right direction by addressing this concern. While it may not fully replicate the nostalgia of the PS2 era, it undoubtedly brings franchise mode closer to the Golden Age. Notable additions include the return of mini-camp, allowing players to train and progress their athletes during the off-season, and an array of mini-games for weekly focus training.
Moreover, trading has been enhanced with six trade slots, making it easier and more realistic to orchestrate creative deals. The game has also expanded relocation options with a variety of new cities and updated uniforms, offering players a greater sense of customization and immersion. Although it might not recapture the magic of the past entirely, Madden 24's franchise mode is undeniably an improvement over Madden 23's, catering to the desires of devoted fans.
↖ Area 2. Revitalized Career Mode
Career mode, once lacking in depth and substance, receives a significant overhaul in Madden 24. The return of the beloved Superstar mode, while not entirely replicating the PS2 version, brings forth a more authentic and enjoyable experience compared to the previous Face of the Franchise mode.
The inclusion of player grading and tiered abilities adds an additional layer of immersion and progression, making the career journey more rewarding. Additionally, the revamped combine, featuring new drills and on-field workouts, provides a fun and engaging experience during player development. While some may yearn for complete control over all positions, the gradual improvements suggest that future Madden games further refine and expand the Superstar mode, especially with the upcoming integration of NCAA football.
↖ Area 3. Enhanced Playbooks
The playbook system has seen its fair share of ups and downs in the Madden franchise, with previous iterations often needing more uniqueness and creativity. However, Madden 24 takes a step towards rectifying this issue by introducing numerous new formations and plays. Playbooks now include team-specific formations and plays, allowing fans of various teams to experience a more authentic gameplay style.
While there is room for further improvement in this aspect, Madden 24's playbooks offer a refreshing change compared to Madden 23, enticing players to experiment with different offensive strategies.
↖ Area 4. Balanced Mobile Quarterbacks
The use of mobile quarterbacks in Madden games has historically been a divisive topic. Previous games either made them overly powerful or rendered them ineffective. Madden 24 finds a more balanced approach, fine-tuning the mobile quarterback mechanics. The removal of the overpowered Escape Artist ability ensures that mobile quarterbacks remain a force to be reckoned with, but not to the extent of becoming unstoppable. Players controlling athletes like Lamar Jackson or Kyler Murray can now rely on their speed and agility to escape the pocket and make throws on the run. The new balance strikes a better representation of real-life gameplay and enhances the overall gaming experience.
↖ Area 5. Improved Blocking, Especially Run Blocking
Blocking has been a key aspect in Madden games, and Madden 24 has dedicated effort to enhancing this critical element, primarily focusing on run blocking. The improvements in run blocking, both in the offensive line and open field, make it easier for players to establish the ground game effectively. While pass blocking still requires attention for future iterations, the upgrades in run blocking significantly contribute to the fluidity and realism of gameplay, setting Madden 24 apart from its predecessor in this regard.
Conclusion:
Madden 24 sets out to improve and build upon its predecessor, aiming to address long-standing issues and bring joy to the franchise's dedicated fan base. From the comprehensive updates to franchise mode and the revitalized career mode to improved playbooks, balanced mobile quarterbacks, and better blocking, Madden 24 delivers on multiple fronts. As the game's release approaches, players can look forward to an enhanced and more engaging gaming experience that surpasses the accomplishments of Madden 23.
Most Popular Posts
Popular Category Lists