FC 24 Beta Guide: How to get code and what you need to know?
As the closed Beta for EA FC24 draws near, we understand that anticipation is high, and you're eager to secure your spot to be among the first to experience the game's new features and improvements. In this guide, we'll provide you with a roadmap of what to expect in this guide and how it can assist you in maximizing your chances of obtaining a coveted FC 24 beta code. We'll cover various crucial aspects, including eligibility requirements, steps to set up your EA account, the expected release date, and extra details about the Beta.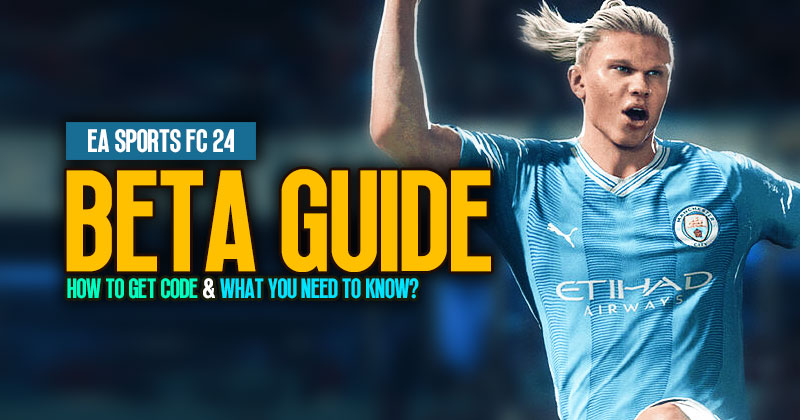 ↖ EA FC 24 Beta Code: How to Getting?
Invites for the Beta are sent through emails. If you're selected, you'll receive an email that looks similar to last year's invite. It will congratulate you on being selected and provide details about the game modes available for testing.
Sure, here's a step-by-step guide on how to get the EA Sports FC 24 Beta code:
Step 1: Access EA's Website - Open your web browser and go to EA's official website.
Step 2: Log In or Create an Account - If you already have an account, log in using your credentials. If not, create a new account.
Step 3: Navigate to Account Settings - Once you are logged in, click on your account settings. You can usually find this option in the top right-hand corner of the website.
Step 4: Check Email Preferences - In the account settings, find the "Email Preferences" section and click on it.
Step 5: Select All Options - Make sure to select all available options in the email preferences section. This includes opting in for newsletters, updates, and any relevant communication related to EA Sports FC 24 Beta.
Step 6: Verify and Update Your Email Address - Ensure that your email address is up to date and accessible, as EA will send the Beta code to this email address.
Step 7: Subscribe (If Available) - If there is an option to subscribe to any additional notifications or updates, make sure to subscribe to increase your chances.
Step 8: Wait for the Beta Code - After completing the above steps, keep an eye on your email inbox for the Beta code from EA.
Step 9: Redeem the Code - Once you receive the Beta code, go to your respective console's store (PlayStation Store, Xbox Store, etc) and find the "Redeem Code" option. Enter the code you received, and the Beta download should begin.
Step 10: Play the Beta - Enjoy playing the EA Sports FC 24 Beta on your console.
Please note that following these steps does not guarantee that you will get the Beta, but it increases your chances of receiving an invitation to participate in the closed Beta.
↖ Expected Release Date
While someone mentioned August 4th as the possible release date for the Beta, historically, EA releases the Beta around the second week of August. Invites are typically sent out a few days before the Beta starts to get more players on board initially. As the Beta progresses, more game modes are usually unlocked for testing.
↖ Eligibility Requirements
To be eligible for the Beta, you need to meet the following criteria:
Be a resident of the UK or USA (Sometimes EA includes other locations, but these two are the primary ones).
Be 18 years or older.
Have a stable internet connection.
Agree not to live stream or record gameplay during the Beta.
↖ Setting up Your EA Account
Make sure you have an EA account that is opted in for receiving emails. If you don't have one or haven't opted in, follow these steps:
Go to www.ea.com and click on the sign-in icon at the top right.
Enter your email and password to sign in.
Click on the account logo again, and go to Account Settings.
Ensure your basic information shows a date of birth over 18.
Check your Regional settings, and set it to the UK.
Set the language to English.
In the email preferences tab on the left, select Yes to receive emails about EA products, news, events, and promotions, and set the frequency to Anytime.
Under Preferred Games, add FIFA to your list.
Scroll down to Preferred Platforms and select the consoles you own (e.g., Xbox or PlayStation).
Click Update to save your preferences.
↖ Important Reminders for Beta Participants
Beta codes are strictly personal and cannot be transferred or shared with others.
Refrain from falling for scams on platforms like Twitter, where people may try to sell or trade beta codes. These codes will only work if they are tied to specific accounts.
↖ Additional Details about the Beta
Player ratings in the Beta will be the same as FIFA 23; they are not updated for the beta version.
Transfers and kits will not be up to date in the Beta.
Check your spam and junk folders during the beta period, as sometimes beta codes might end up there.
Note: The details provided in this guide are based on past experiences and should be used as a reference. Exact details for EA Sports FC 24 Beta may vary, so stay tuned to official announcements for the most accurate information.
Remember, the closed Beta is an exciting opportunity to get a first look at the upcoming EA Sports FC 24 game and provide feedback. Enjoy the experience, and help make the game even better for all players!
Most Popular Posts
Popular Category Lists