NBA 2K24 Ratings: Top 10 Best Players, Ranked
Welcome to our comprehensive breakdown of the highly anticipated NBA 2K24 player ratings! As the premier source for all things basketball and gaming, we are excited to bring you the most detailed insights into the top 10 player ratings in NBA 2K24. From legendary superstars to rising talents, this article will cover everything you need to know about these virtual athletes.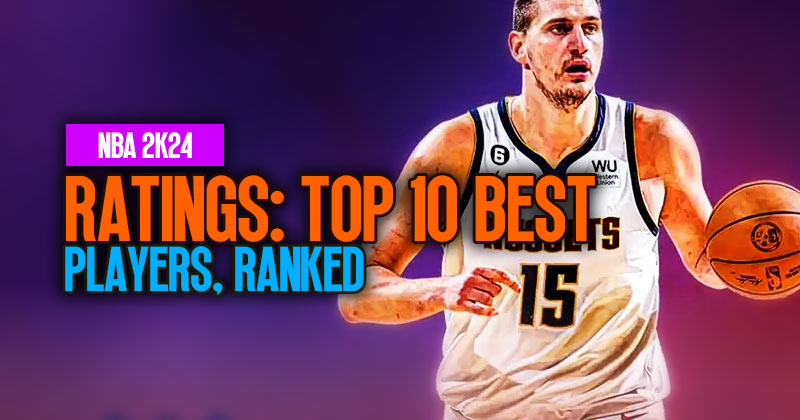 ↖ Player Ratings Introduction
Ratings are numerical representations of a player's skills and abilities on the basketball court. These ratings play a significant role in determining a player's performance in the virtual world. The ratings are meticulously calculated by 2K Sports, taking into account various real-life performance metrics, such as shooting accuracy, dribbling skills, defense, athleticism, and basketball IQ.
↖ Player Ratings Importance
Player ratings play a pivotal role in NBA 2K24, as they determine the performance of players on the virtual court. These ratings are assigned to each player based on various attributes, such as shooting, defense, dribbling, and athleticism. The higher the rating, the more effective and dominant the player will be during gameplay.
↖ What are the factors influencing player ratings in NBA 2K24?
The player ratings in NBA 2K24 are not arbitrary; instead, they are the result of a meticulous evaluation process. Several key factors contribute to the determination of player ratings:
| | |
| --- | --- |
| Performance in Real-Life NBA | The in-game ratings are heavily influenced by a player's real-life performance in the NBA. Statistical achievements, such as points per game, assists, rebounds, and steals, are taken into account to assess a player's value in the virtual realm. |
| Player Position and Role | The position a player plays in the NBA significantly impacts their rating. Point guards, shooting guards, small forwards, power forwards, and centers each have unique attributes, and their in-game ratings reflect these distinctions. |
| Skills and Abilities | Players are evaluated based on their skill set and abilities on the court. Shooting accuracy, dribbling skills, defensive prowess, and physical attributes all play a role in determining player ratings. |
| Player Potential and Consistency | Younger players with immense potential may have higher growth potential, while consistent performers may receive higher ratings based on their reliability. |
| Community and Fan Feedback | NBA 2K developers actively listen to the community's feedback and factor it into updates, which can impact player ratings. |
↖ Top 10 Player Ratings
As gaming enthusiasts eagerly await the latest instalment of the NBA 2K series - NBA 2K24, these leaked player ratings have sparked excitement and debate among fans worldwide. We'll provide an in-depth analysis of the players who made it to the Top 10 and the implications these ratings may have on gameplay and virtual team compositions.
Top 1. Nikola Jokic

Nikola Jokic, the talented big man, secures the first spot in the rankings. With his exceptional passing and playmaking abilities as a center, Jokic's virtual representation offers gamers a unique chance to orchestrate the offense from the post position, setting up teammates for open shots and alley-oop dunks.
Top 2. Giannis Antetokounmpo
Giannis Antetokounmpo takes the second position on the list, captivating fans with his extraordinary athleticism and versatility. The "Greek Freak" is a nightmare for opponents in the paint and on the fast break, and his virtual representation ensures that gamers can experience the thrill of dunking and blocking shots just like the real-life MVP.
Top 3. Luka Dončić
Luka Dončić's incredible skills and basketball I.Q. land him the third spot on the list. As one of the youngest players in the Top 10, Dončić's virtual avatar promises to dazzle gamers with his impressive ball-handling and court vision, making him an exciting choice for those seeking to dominate the virtual hardwood.
Top 4. Joel Embiid
Rounding up the Top 10 player ratings in NBA 2K24 is Joel Embiid, the dominant center. With his imposing size and scoring ability in the post, Embiid's virtual representation brings a formidable inside presence to any virtual team, making him a valuable asset for gamers who prioritize dominating the paint.
Top 5. LeBron James
At the summit of the NBA 2K24, player ratings stand for none other than LeBron James. The four-time NBA champion and all-time great player continues to dominate both the real and virtual basketball world. With his unparalleled skills, versatility, and basketball I.Q., LeBron secures the highest rating, ensuring he remains a force to be reckoned with on the virtual court.
Top 6. Kevin Durant
Coming in at the sixth spot is Kevin Durant, the offensive juggernaut. Known for his exceptional scoring abilities and lethal shooting, Durant's high rating solidifies him as one of the most formidable players in NBA 2K24. Gamers can expect to witness his signature moves and silky-smooth jump shot replicate real-life performances, making him a popular choice among competitive players.
Top 7. Stephen Curry
Stephen Curry incredible shooting prowess propels him to the seventh spot on the NBA 2K24 player ratings. As one half of the renowned "Splash Brothers," Curry's ability to drain three-pointers from seemingly impossible distances adds a new dimension to the virtual game. Expect gamers to exploit his shooting skills to score from anywhere on the court.
Top 8. Jayson Tatum
Jayson Tatum, the rising star of the Boston Celtics, is a name that haunts Sixers and Lakers fans. Drafted in 2017, his consistent performances fuel the team's success. The Celtics reached the Conference Finals four times and the Finals in 2022 with Tatum's help. While a championship is pending, Tatum's impact is undeniable.
Top 9. Damian Lillard
Damian Lillard, the sharp-shooting point guard, lands at the ninth spot in the rankings. With his ability to perform under pressure and hit clutch shots, Lillard's virtual presence will undoubtedly elevate the gaming experience for those who relish taking the last shot with the game on the line.
Top 10. Shai Gilgeous
Shai GilgeousAlexander, formerly with the L.A. Clippers, now plays for OKC Thunder. While the trade aimed to build a championship team, neither team has won the NBA finals. Gilgeous-Alexander's progress stands out, earning All-Rookie Second Team and achieving All-Star and First-Team honors in 2023. Thunder can build around him, while the Clippers face challenges with aging stars George and Leonard.
↖ How do Player Ratings Affect Gameplay in NBA 2K24?
In NBA 2K24, player ratings heavily influence the outcome of every match. Having players with higher ratings in your team can give you a competitive edge, making it more likely to succeed in various game modes, including MyCareer, MyTeam, and online play. Understanding the highest-rated players can help you strategize better and build formidable teams.
↖ How to Improve Your Own Gameplay in NBA 2K24?
Playing NBA 2K24 at a competitive level requires skill, strategy, and a deep understanding of the game mechanics. Here are some tips to help you elevate your gameplay:
Master the Controls: Familiarize yourself with the controls to execute advanced moves effectively.
Study Player Attributes: Understand the strengths and weaknesses of your favourite players to utilize them optimally.
Practice Regularly: Like any skill, practice is crucial to improving your gameplay.
Analyze Strategies: Study real-life NBA strategies and adapt them to your in-game tactics.
Conclusion:
NBA 2K24 promises to be an exciting and immersive gaming experience, especially with these top 10 player ratings. Whether you're a fan of LeBron James' all-around brilliance, Kevin Durant's scoring prowess, or Giannis Antetokounmpo's unique skill set, there's a player to suit every gaming style. With this in-depth article covering the top 10 player ratings, we aim to provide gamers with valuable insights and help them build the ultimate dream team in NBA 2K24.
Most Popular Posts
Popular Category Lists