FC 24 New Penalty System Guide: Safe Zones, Run Ups, Avatars, Free Kick and Lob Pass
Welcome to the thrilling world of EAFC 24! In this gameplay guide, we dive into the exciting changes to the penalty system. With increased save zones for goalkeepers, unique penalty run-ups, and the introduction of Penalty Kick Avatars, penalties have never been more challenging and exhilarating. We explore expert tips on scoring and saving penalties, unleashing the full potential of your skills in this immersive and realistic gaming experience.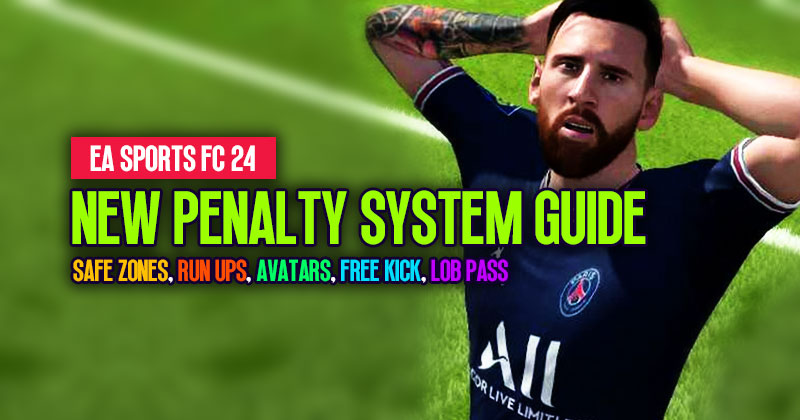 ↖ Increased Safe Zones for Goalkeepers
In previous FIFA games, goalkeepers had three zones to save penalties (left, center, and right). However, in EAFC 24, goalkeepers will now have five zones to choose from top left, bottom left, center, top right, and bottom right. This change requires more authentic decision-making from goalkeepers, making it harder to predict where the shot will go.
Tip: As a penalty taker, try to vary your shot placement to keep the goalkeeper guessing. This will increase your chances of scoring.
↖ Unique Penalty Run-Ups
EAFC 24 introduces a new high-definition motion capture technology that replicates real players' movements and running styles. Players will now have their own unique penalty run-ups, just like in real life.
Tip: Familiarize yourself with the penalty run-ups of your favorite players. This will not only add authenticity to the game but may also give you an advantage when taking penalties with skilled players.
↖ Penalty Kick Avatars
In Player Career Clubs and Volta modes, you'll have the option to employ penalty kick avatars. These avatars come with different running styles, such as "Turtle the Norse King," "Goal Scorer Freight Train," "Professor Ranger," and "Short and Sweet."
Tip: Experiment with different penalty kick avatars to find one that suits your playstyle best. Each avatar may have unique advantages, so use them to your advantage.
↖ Free Kick Improvements
EAFC 24 also brings some changes to free kicks. The power, curve, and dip of free kicks have been increased to provide more options when crossing the ball from deep.
Tip: Practice free kicks regularly to get used to the aiming system. With increased power, curve, and dip, you can now attempt more ambitious shots from different ranges.
↖ Outside of the Foot's Lob Pass
A new addition to the free kick system is the ability to perform outside of the foot's lob pass. This adds another dimension to your set-piece strategies.
Tip: Use the outside of the foot's lob pass to surprise the opposition's defense and create goal-scoring opportunities from free kicks.
Conclusion:
With the knowledge and strategies from this guide, you're now equipped to conquer the revamped penalty system in EAFC 24. Whether you're a confident penalty taker or a vigilant virtual goalkeeper, embrace the challenge, practice, and elevate your gameplay to new heights of excellence. May your penalty moments be filled with excitement and success! Enjoy the immersive world of EAFC 24, and make every penalty count!
Most Popular Posts
Popular Category Lists