FFXIV Patch 7.0 Latest Features: New Glamour Customization | Fantest 2023
Discover the latest Patch 7.0 features unveiled at Fanfest 2023, from the game-changing enhanced dye system to the freedom of fashion accessories in combat. Unleash your creativity and immerse yourself in the world of glamour and customization like never before! Get ready for an exciting adventure that will redefine your FFXIV experience. Let the magic unfold as you explore the possibilities of character customization and housing decoration in this epic expansion!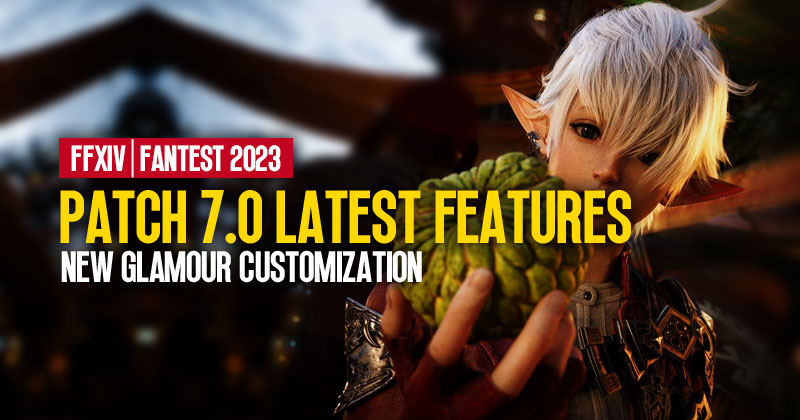 ↖ Glamour Customization: The Art of Individuality
Glamour is a significant aspect of Final Fantasy XIV, as it allows players to customize their characters' appearance and bring them to life. While the game offers a limited number of face options and hairstyles, glamour helps players stand out by combining items and colouring them as per their preferences. In Patch 7.0, there are exciting changes coming to the glamour system that will revolutionize the way players personalize their gear.
↖ Enhanced Dye System: Unleash Your Creativity
One of the major announcements at Fanfest 2023 is the significant update to the dye system. Currently, players can only dye a piece of gear or housing item in a single colour, often resulting in some parts needing to be more consistent and limiting creative expression. With Patch 7.0, this limitation is being lifted, and players will now have the option to apply two different dyes to a single gear piece.
For instance, if you have a beautiful chest piece adorned with phoenixes and Suzaku, you will now be able to change the colour of both the fabric and the decorative elements, providing much more freedom in customization. This exciting enhancement applies to the majority of items, with 7.0 items getting priority and older items gradually receiving the update.
↖ Fashion Accessories: Keep Your Style Everywhere
Fashion accessories, such as eyeglasses, have become increasingly popular in FFXIV. However, a significant downside has been that these accessories disappear when players enter duties or instances outside of the open world. This limitation is being addressed in Patch 7.0.
The developers have introduced a new slot for eyeglasses that will function similarly to the glamour plate system. Players can wear their favourite eyeglasses during combat, dungeons, and raids, allowing them to maintain their chosen look and style even in the most intense battles.
↖ Increased Housing Item Placement
For housing enthusiasts and interior decorators, Patch 7.0 brings good news. The limit on the number of items that can be placed indoors and outdoors is being expanded. Players will now have the freedom to place up to 400 items indoors, making it easier to furnish and decorate their homes creatively. This change particularly benefits larger housing plots, where the upstairs space could have been more utilized due to the limited item placement capacity.
With the increased placement options, players can create more immersive and visually stunning living spaces, showcasing their creativity and personal touch.
↖ Final Thoughts: The Future of Customization in FFXIV
The announcements made at Fanfest 2023 for FFXIV Patch 7.0 promise an exciting future for character customization and housing decoration. The enhanced dye system with two dye slots per gear piece opens up a wealth of possibilities for creating unique and personalized outfits. Coupled with the ability to wear fashion accessories during duties, players can now maintain their distinct style even in combat situations.
Furthermore, the increased item placement options for housing will allow decorators to fully utilize the available space and bring their visions to life. Whether you're a glamour enthusiast, a housing decorator, or both, the features introduced in Patch 7.0 will undoubtedly elevate your FFXIV experience and make the game even more immersive and enjoyable.
So, please mark your calendars and prepare for the release of Patch 7.0 in the next expansion, bringing with it an incredible array of new features and opportunities for self-expression. Get ready to embrace the world of glamour and customization in Final Fantasy XIV like never before!
Most Popular Posts
Popular Category Lists