Madden 24 Offensive and Defensive Line Ratings: Top 10 Players, Best Abilities and X-Factors
Welcome to the world of Madden NFL 24 Guide, where the game is elevated by the prowess of the top 10 offensive linemen and the dominance of the best defensive linemen. Discover the key players like Zack Martin and Aaron Donald, their abilities, and X-Factors that can turn the tide of the game. In this guide, we'll explore the crucial roles offensive linemen play in protecting the quarterback and creating running opportunities. On the other side, we'll delve into the impact of defensive linemen in pressuring the quarterback and stopping the run.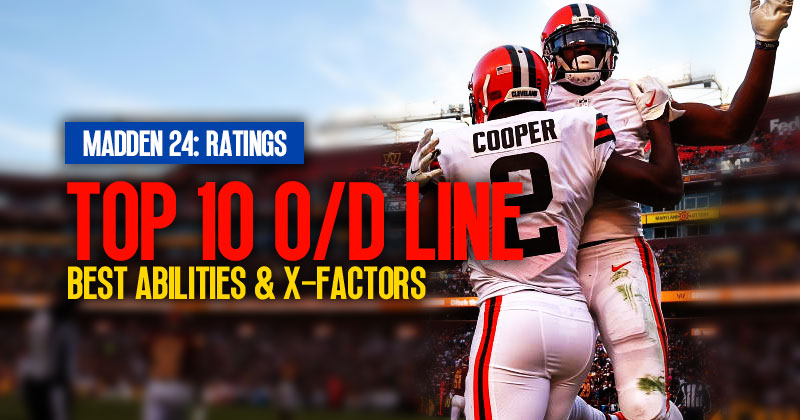 ↖ Madden 24: Top10 Best Offensive Linemen
Having a strong offensive line is crucial to protect your quarterback and open up running lanes for your backs. Offensive linemen may be less noticed by the public, but professional teams and gamers know their importance. Here's a guide to the top 10 offensive linemen in Madden 24:
| Player | Position | OVR | Description |
| --- | --- | --- | --- |
| Zack Martin | RG | 99 | A dominant force in the league, considered the best guard and overall offensive lineman. It provides excellent blocking, making it easier for running backs and protecting the quarterback. |
| Lane Johnson | RT | 98 | The highest-rated right tackle, brings experience and skill to the offensive line. Instrumental in the Eagles' Super Bowl run, sets a record for not allowing a sack in 26 consecutive games. A reliable protector for the quarterback's blind side. |
| Trent Williams | LT | 98 | A perennial Pro Bowler and the top-rated left tackle. Excels at shutting down elite pass rushers and provides stability for the team. A standout performer even in challenging situations, essential for protecting the quarterback's blind side. |
| Laremy Tunsil | LT | 95 | Despite playing for the struggling Texans, Tunsil shines as a three-time Pro Bowler and a franchise-caliber blind side tackle. His presence provides stability and protection for the quarterback. |
| Chris Lindstrom | RG | 93 | A rising star with consistent improvement, earned his first Pro Bowl selection. Excels at giving quarterbacks breathing room up the middle and greatly assists in the running game. An excellent choice for teams relying on a strong ground attack. |
| Andrew Thomas | LT | 92 | Rebounded from injury and had an impressive 2022 season. Fearless against top defensive players, sets up running lanes for backs and provides adequate time for quarterbacks to find their targets. A cornerstone for the Giants' offensive line. |
| Jason Kelce | C | 92 | Renowned as the best center in the league, with multiple Pro Bowl appearances. His intelligence and ability to read blitzes make him invaluable in keeping the quarterback safe. An anchor for the offensive line, a key asset for a successful running game. |
| Joel Bitonio | LG | 92 | The highest-ranked left guard on this list, with five consecutive Pro Bowl appearances. Blocks for Nick Chubb, creating gaps in the defense for running backs. With improvement in the Browns' team performance, his rating could rise even higher. |
| Quenton Nelson | LG | 92 | A Pro Bowler in every year of his five-year career. Despite team ups and downs, Nelson's consistent performance makes him an elite left guard. With a solid quarterback situation, his rating could improve further, providing stability to the offensive line. |
| Tristan Wirfs | LT | 92 | A Super Bowl winner with the Buccaneers in his rookie season. Two consecutive Pro Bowl appearances. A reliable cornerstone of the offensive line, essential for protecting the quarterback and establishing the team's foundation for success. |
↖ Madden 24: Best Offensive Line Abilities
Improve your offense in Madden 24 with these top offensive line abilities. A strong offensive line is crucial for success. Use these abilities to enhance your line's performance:
Screen Protector: Guards and Centers win impact blocks on screen plays.
Post Up: Dominates double-team blocks against tough defenders.
Puller Elite: Guards effectively execute pull blocks for outside runs.
All Day: Provides better protection against frequent shed attempts.
Edge Protector: Stronger protection against elite edge rushers.
↖ Madden 24: 10 Best Defensive Line
Defensive lines may not always get the flashy statistics that linebackers do, but they play a crucial role in helping the entire defense perform at its best. These linemen, including defensive tackles and ends, often face double coverage against some of the best offensive linemen, allowing them to demand the full attention of the opposing team and create opportunities for their teammates to excel. Here's a guide to some of the top 10 defensive linemen in Madden NFL 24:
| Player | Position | OVR | Description |
| --- | --- | --- | --- |
| Jonathan Allen | DT | 92 | Jonathan Allen's back-to-back Pro Bowl appearances make him a standout in Washington. Not just getting sacks, he's also adding interceptions and forced fumbles to his game. If he maintains this level of play, Washington's offense will benefit from more turnovers. |
| Quinnen Williams | DT | 93 | Quinnen Williams achieved career highs in tackles and sacks, earning him a Pro Bowl spot. His rapid development prompted the Jets to pursue a Super Bowl opportunity, indicating that if the rest of the team performs like Williams, New York's decision could be justified. |
| Cameron Heyward | RE | 93 | Cameron Heyward is a dominant force for the Steelers, making six straight Pro Bowls. While T.J. Watt receives attention, it's Heyward's presence that creates better matchups for him. Handling Heyward often requires a two-man effort. Despite a struggling offense, the defense led by stars like Heyward deserves more. With a complete offensive roster, this team is poised for a deep playoff run. |
| Von Miller | RE | 94 | Despite not playing a full season since 2018, Von Miller remains one of the league's top defensive players. With two Super Bowl titles and eight Pro Bowl entries, his career is already legendary. If he has one more strong year, Miller and the Bills could boast one of the best defenses ever. Buffalo's two outstanding safeties put them in a prime position to compete for a championship, provided they have some luck with player health. |
| Dexter Lawrence II | DT | 94 | In 2022, Dexter Lawrence II had a remarkable Pro Bowl debut, delighting Giants fans. He contributed to crucial game-changing moments, leading the team to wins and a rare playoff appearance. With his career-best performance, Lawrence has the potential to become the top defensive tackle in the league. As Madden NFL 24 is released, fans envision him dominating the field and securing a championship by shutting down runs up the middle. |
| Chris Jones | DT | 96 | Two-time Super Bowl champ Chris Jones reached a career-high in sacks last season. As the top-rated defensive tackle, it's frightening to realize he's still in his prime despite four consecutive Pro Bowls. Jones stands out as a potential cover athlete candidate, outperforming others in his position with unmatched strength. |
| Micah Parsons | RE | 98 | Micah Parsons, in just two years in the league, has been sensational. He earned the Defensive Rookie of the Year title in 2021 and surpassed expectations in 2022, securing Pro Bowl honors in both seasons. Teams are actively avoiding his side of the field, recognizing his impact as a game-changer for the Cowboys. Madden is considering skipping a year, but the league hopes Parsons doesn't continue his outstanding performance forever. |
| Nick Bosa | RE | 98 | Last year's Defensive Player of the Year, Nick Bosa, dominated with 18.5 sacks, leading the league. Before that, he topped in tackles for loss. With such impressive stats, a 98+ rating for Bosa is completely fair. Despite some quarterback injuries, San Francisco narrowly missed the Super Bowl last year. 49ers fans are optimistic about Bosa's performance and the quarterback's health, making them championship contenders if both align this year. |
| Myles Garrett | RE | 98 | In the past two seasons, Myles Garrett achieved an incredible 16 sacks each, an outstanding feat for a defensive end. Not only that, he also reached a new career-high in tackles, earning his fourth Pro Bowl selection. Garrett is a defensive force for Cleveland, alongside their top wide receiver. With strong quarterback performance, the Browns have a real shot at making it to the Super Bowl. |
| Aaron Donald | RE | 99 | In 2022, Aaron Donald had a slightly down year, playing only 11 out of 17 games. Yet, he still maintained a 99 rating in gamer predictions. Despite limited games, he achieved 5 sacks, an impressive feat even for a linebacker, showing his unmatched performance as a defensive end. As a three-time Defensive Player of the Year, he's considered one of the best defensive players of all time. The rest of the league should be terrified, as he shows no signs of slowing down. |
↖ Madden 24: Best Defensive Line (DL) X-Factors
The Defensive Line plays a crucial role in pressuring the quarterback and stopping the run. With the introduction of Superstar X-Factors, you can enhance the effectiveness of your team's defensive tackles and ends. Here are the 5 best Defensive Line X-Factors along with tips on how to use them effectively in Madden 24:
Unstoppable Force
X-Factor Effect: Increases a defender's pass rush win rate in one-on-one situations.
Best Player Type: Ideal for both defensive tackles and ends.
How to Trigger: Achieve two defensive line sacks.
How to Use: Assign this X-Factor to a player lined up against the weak side of the offensive line. It leads to quicker block shedding and allows penetration of the pocket, pressuring the opponent's quarterback. Be careful, as allowing ten offensive yards will deactivate this X-Factor.
Blitz
X-Factor Effect: Completely wipes out resistance bars for all on-field blockers.
Best Player Type: Well-suited for dominant defensive players who require extra attention.
How to Trigger: Achieve two defensive line sacks.
How to Use: Activate this X-Factor during critical downs when you need to disrupt the opponent's offensive line. It nullifies resistance bars, making it easier for your defense to penetrate and create pressure on the quarterback. Remember, it lasts only one down, so use it strategically.
Fearmonger
X-Factor Effect: Increases the chance of applying pressure to the quarterback while engaged with a blocker.
Best Player Type: Ideal for defensive ends since they can push the quarterback towards the outside of the pocket.
How to Trigger: Get two defensive line sacks.
How to Use: Assign Fearmonger to your defensive ends to make the quarterback feel pressured and increase the likelihood of inaccurate throws. This X-Factor is deactivated once you allow 20 offensive yards, so make the most of it while it's active.
Momentum Shift
X-Factor Effect: Wipes out the on-field opponent's zone progress, even if they are in the zone.
Best Player Type: Suitable for both defensive tackles and ends, especially when facing strong opponents in the zone.
How to Trigger: Achieve two defensive line sacks.
How to Use: Deploy this X-Factor against opponents who have activated their X-Factor abilities, particularly when they are dominating your defense. It helps disrupt their game plan and gives your team a chance to gain momentum. Keep in mind that it lasts only one down.
Relentless
X-Factor Effect: Pass rush moves will no longer cost points while in the zone.
Best Player Type: Recommended for players skilled in finesse and swim moves in addition to strength.
How to Trigger: Achieve two defensive line sacks.
How to Use: User-control the player with the Relentless X-Factor and unleash pass rush moves without worrying about losing pass rush points. This allows you to maintain relentless pressure on the offensive line until you allow the opponent to accumulate 20 yards and deactivate the X-Factor.
Assign X-Factor abilities based on the position and talent level of each player. Defensive ends are usually more athletic, making them good candidates for certain X-Factors like Fearmonger. Defensive tackles can benefit from abilities like Unstoppable Force, which help them penetrate the pocket more effectively. Use these X-Factors strategically to gain an advantage at the line of scrimmage, disrupt the opposing offense, and dominate the game in Madden 24.
Conclusion:
Madden 24 offers an immersive experience, highlighting the significance of offensive and defensive linemen in football. Master the abilities and X-Factors, and lead your team to victory on the virtual gridiron. Get ready for an exhilarating and strategic gaming adventure!
Most Popular Posts
Popular Category Lists