NBA 2K24 MyTEAM Guide: New Features,Gameplay and MT Coins-Making Methods
NBA 2K24 is the highly anticipated sports game of 2023. One of the main attractions of this edition is the beloved MyTEAM mode, which is set to undergo some exciting changes. With the introduction of a new game mode and improvements to existing ones, players can expect an enhanced gaming experience and fresh entertainment options. Let's delve into all the details, gameplay and coins making methods for the MyTEAM game mode in NBA 2K24.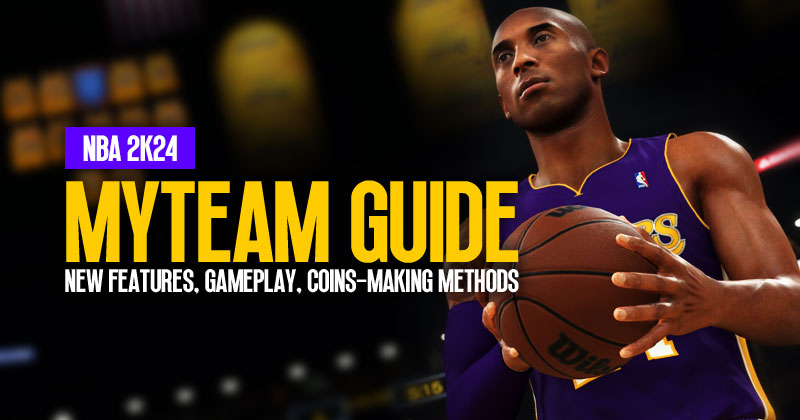 ↖ MyTEAM: A Fan Favorite
As many of you know, MyTEAM is a fan-favourite game mode that allows players to create their dream basketball team and compete against other users. Throughout the year, new player cards are introduced, giving gamers the chance to upgrade their squads and build lineups featuring both legendary and current superstars. Playing with a dream team that includes players like LeBron James and Bill Russell has never been easier.
MyTEAM offers a variety of game modes, including both multiplayer and single-player options, each providing a unique and rewarding playing experience. Generous rewards, such as packs, tokens, and player cards, can be earned through these modes, enabling players to improve their lineups and upgrade player attributes.
↖ Different Strokes for Different Folks
MyTEAM caters to a diverse range of players, with some aiming to dominate the competitive leaderboard by building the most formidable squad possible. Others prefer a more laid-back and casual experience, focusing on offline gameplay. While NBA 2K24 follows the tradition of previous editions with some aspects of MyTEAM, it also introduces a highly anticipated new game mode. Let's explore all the game modes slated to arrive in MyTEAM.
↖ New Game Mode: Salary Cap Mode
A fresh addition to NBA 2K24's MyTEAM is the Salary Cap Mode, which was revealed through information found in the PlayStation Store. While official details remain scarce, the mode is expected to limit players to using cards with a certain overall rating or tier. This levelling of the playing field ensures that all players have equal opportunities, eliminating the disadvantage of facing full Dark Matter lineups with a less powerful Diamond squad. The Salary Cap Mode is likely to challenge players to be more strategic in their lineup choices, leading to intense and competitive gameplay.
↖ Existing Game Modes in NBA 2K24 MyTEAM
| Modes | Description |
| --- | --- |
| Triple Threat | A time-honoured favourite, Triple Threat is a 3v3 game mode where players select three squad members and compete against either an opponent or the CPU. The objective is to score 21 points first, and successful gameplay grants players access to a wealth of rewards, including shoe cards, packs, and MT (MyTEAM points). It's a fast-paced mode that allows players to test their skills and earn valuable rewards. |
| Unlimited | This highly competitive mode features a classic 5v5 format, pitting players against some of the best NBA 2K gamers globally. Victories earn points, while losses deduct them, determining a player's rank on the leaderboard. The mode's rewards, which include packs and exclusive players, provide significant boosts to improve your squad. Unlimited is the perfect mode for those seeking a challenging and rewarding multiplayer experience. |
| Clutch Time | Similar to Unlimited, Clutch Time is a 5v5 game mode with unique rules such as a five-minute quarter, sudden death overtime, a 14-second shot clock, a four-point line, and limited timeouts. Players can enjoy this mode both online and offline, reaping numerous rewards to strengthen their teams and players. Clutch Time adds an exciting twist to traditional gameplay and offers thrilling moments for players. |
| Limited | In Limited, players must adhere to specific lineup rules that change weekly, challenging them to think strategically while forming their teams. This mode's 5v5 gameplay offers opportunities to earn championship rings, and claiming one each week for six consecutive weeks unlocks an incredible choice pack. Additionally, players have a chance to open the MyTEAM vault and win a variety of rewards. Limited is perfect for those who enjoy adapting their strategies each week and competing for unique rewards. |
| Draft | This mode allows players to draft two players from each position using the latest promo pack, forming their team for a classic 5v5 game. After each victory, players can access the "draft-ascension board" to earn enticing rewards like tokens, MT, and packs. The ultimate goal is to ascend to the top of the board and claim the featured special card. Draft is an engaging and skill-testing mode that allows players to showcase their team-building abilities. |
↖ 10 MT Coins-Making Methods in NBA 2K24 MyTEAM
| Methods | Description | Benefits |
| --- | --- | --- |
| Snipe the Auction House | Constantly search for undervalued rare items or player cards and resell them at higher prices. | Significant profit through smart trading. |
| Capitalize on New Releases | Buy popular cards at low prices when new packs release and sell them at higher prices later. | Exploit market trends and make profits. |
| Complete Season Agendas | Focus on completing MyTeam Season Agendas to earn MT rewards by accomplishing various tasks. | Steady flow of resources through achievements. |
| Dominate in Challenges | Engage in MyTeam challenges to earn MT and unlock valuable items that strengthen your squad. | MT rewards and valuable items for success. |
| Utilize Team Affinities | Earn MT rewards and unlock players/items by completing tasks associated with specific teams. | Strengthen squad and gain additional resources. |
| Participate in Limited Events | Join time-limited events to earn special goodies, including MT, by planning your squad carefully. | Unique opportunities to win MT and rewards. |
| Utilize the Quick Sell Feature | Convert duplicate or unused items into MT quickly using the Quick Sell option. | Fast way to sell assets and make some MT. |
| Engage in MyTeam Community | Participate in community-driven events and challenges to earn MT and connect with other players. | MT rewards and social interaction benefits. |
| Master Auction House Flips | Smartly trade cards with bid and buyout price differences to quickly gain MT through reselling. | Profit from market trends and price fluctuations. |
| Utilize Dynamic Duos | Pair player cards to gain stat bonuses and increase your chances of winning games and earning MT. | Strategic advantage and more MT from victories. |
Please note that success in these strategies may vary based on the current market conditions, player skills, and overall activity in the game. It's important to adapt your approach as the game evolves and new updates are released.
Conclusion:
With these diverse and engaging game modes, NBA 2K24's MyTEAM promises an immersive and thrilling experience for players of all preferences and skill levels. Whether you're a hardcore competitor or a casual gamer, get ready to embark on an exciting basketball journey like never before when NBA 2K24 hits the shelves!
Most Popular Posts
Popular Category Lists