FC 24 Manager Career Mode Guide: New Features, Gameplay, Tips and Tricks
In this guide, we will explore the exciting new features, gameplay enhancements, tips and tricks coming to FC 24 Manager Career Mode. From the Total Management System to Tactical Vision and Dynamic Moments, we'll cover everything you need to know to take charge of your dream team and lead them to glory. Whether you're a seasoned manager or a newcomer to the game, these improvements will surely fuel your passion for football management.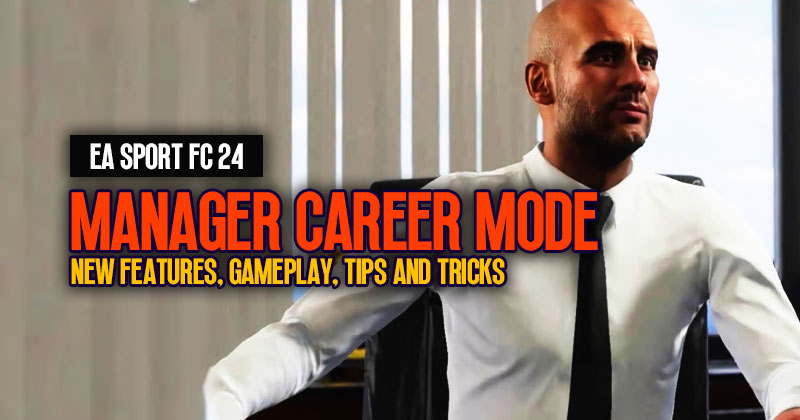 ↖ Total Management System
The Total Management System allows managers to be fully involved in all major club decisions. You can implement changes yourself or delegate tasks to your staff. This system aims to give you complete control over your team's identity, on and off the pitch.
↖ Tactical Vision
Tactical Vision is a key element of Manager Career Mode this year. You can select from seven different tactical philosophies, such as Standard, Wing Play, Tiki-Taka, Counter-Attack, and more. Each Vision offers a unique style of play, enabling you to put your stamp on the game and guide your team to success.
↖ Manager Scouting and Coaching Staff
The revamped scouting system helps you find players that fit your tactical system perfectly. You can recruit players based on their tactical fit, overall condition, and playstyles, ensuring your squad complements your chosen Vision.
Coaching staff play a crucial role in player development. Coaches' tactical knowledge and player development skills influence the attributes of players in their department. Assigning coaches strategically and investing in their growth can significantly impact your team's performance.
↖ Training Plans and Pre-Match Preparations
Training Plans have been enhanced to allow managers to focus on performance or energy regeneration for each player in the squad. The choice of training plan affects the player's performance on the pitch, allowing you to fine-tune your team for upcoming matches.
Pre-Match Reports provide key insights into the opponent's likely playing style, formation, and key threats. You can make informed decisions and tailor your tactics accordingly.
↖ Tactical View
Managers now have the option to spectate matches in Tactical View. This feature allows you to watch the game from different angles, monitor specific players, and make quick tactical changes without pausing the game. Tactical View is a great tool for managers who prefer to focus on strategy rather than direct control during matches.
↖ Dynamic Moments
Dynamic Moments bring the excitement of success to life in Manager Career Mode. Celebrate your player's achievements as they receive the prestigious Ballon d'Or award, lead your team in an open-top bus trophy parade after winning a trophy, and attend extravagant Galas to witness the Manager of the Year and Player of the Season awards.
↖ Starting Your FC 24 Manager Career
Create Your Manager: Play as a real manager or customize your own with a unique name, nationality, appearance, and outfits.
Choose Your Club: Select an existing team or create a new one, customizing its name, league, rival, kit, badge, and stadium.
Set Career Settings: Opt for standard settings or use Financial Takeover for more transfer budget.
↖ FC 24 Manager Career Transfers Tips
Set Clear Transfer Goals: Define your team's objectives and prioritize player searches accordingly.
Utilize Scouting: Find hidden gems and young talents with potential.
Negotiate Smartly: Research player values, wages, and contracts before making offers.
Balance Budget: Sign stars wisely and consider free agents or loans to maintain financial stability.
Develop Youth Academy: Invest in nurturing young talent for a sustainable source of skilled players.
↖ FC 24 Manager Career Training Sessions Tips
Customize Training Program: Focus on areas needing improvement and adapt to your team's strengths and weaknesses.
Monitor Player Progress: Track individual development and adjust training accordingly.
Provide Adequate Rest: Manage players' fitness levels and prevent injuries with proper rest.
↖ Player's Morale and Personality
Playing Time: Provide consistent playing time to keep morale high and rotate the squad.
Praise and Communication: Boost morale with positive feedback in press conferences and messages.
Contract Negotiations: Happy players may be more willing to stay or accept reasonable contract offers.
↖ Earning Money in FC 24 Manager Career
Winning Trophies and Matches: Success on the pitch brings in a handsome income in FC 24 Coins.
Transfer List and Youth Academy: Sell players not in long-term plans and promote young talents from the academy to save on transfer fees and potentially make a profit.
Conclusion:
FC 24 Manager Career Mode is set to deliver an immersive and engaging experience for football enthusiasts. The new Total Management System, Tactical Vision, Coaching Staff, Training Plans, Pre-Match Preparations, Tactical View, and Dynamic Moments promise to offer players more control and depth in their managerial journey. Prepare yourself for an unforgettable experience as you take your team to the top of the football world!
Most Popular Posts
Popular Category Lists