Madden 24 Superstar X-Factor: Best Players For Each Position
One of the most anticipated aspects of each new Madden release is the reveal of the Superstar X-Factor players - those elite athletes who possess special abilities that can turn the tide of a game. While EA Sports has been tight-lipped about this year's X-Factor roster, reliable sources have given us a sneak peek. We'll delve into what is believed to be the top Superstar X-Factor players at each position for Madden 24.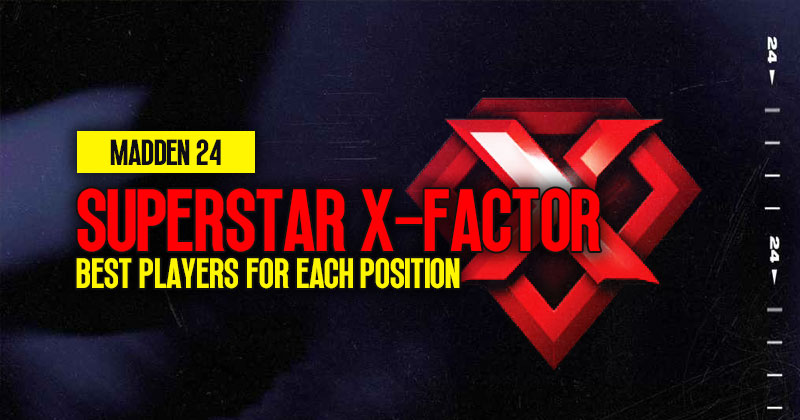 ↖ Quarterbacks: The Arm Mastery and Precision Leaders
The quarterback position takes center stage as we examine the first set of X-Factor players. Josh Allen and Patrick Mahomes boast the Bazooka ability, allowing them to throw longer and more precise passes. Lamar Jackson showcases his trust ability, improving his accuracy and decision-making. Joe Burrow and Jalen Hurts come equipped with the Run and Gun ability, offering versatility and agility. Notably, Jalen Hurts upgrade to X-Factor status is sure to ignite excitement among Eagles fans.
↖ Running Backs: The Powerhouses on the Ground
Derrick Henry unstoppable freight train ability headlines the running back category, while Christian McCaffrey showcases his elusive ankle-breaking moves. Nick Chubb, Josh Jacobs, and Austin Ekeler bring the wrecking ball ability to the field, bulldozing through defenders. Saquon Barkley demonstrates the first free ability, making him a true force to be reckoned with.
↖ Wide Receivers: The Catching Kings
Wide receivers dominate with their double me ability, including Justin Jefferson, Devonte Adams, Jamar Chase, Mike Evans, and DK Metcalf. Tyreek Hill, Stefon Diggs, and Cooper Kupp bring the Rack 'Em Up ability, enhancing their potential for explosive plays. AJ Brown Max Security ensures reliable receptions, while Keenan Allen agility leads to ankle-breaking moves. Debo Samuel excels in yards after the catch, rounding out this impressive list.
↖ Tight Ends: The Versatile Playmakers
Travis Kelce double me ability continues to define his impact, joined by George Kittle and Mark Andrews with the Yak 'Em Up ability. While Madden School indicates that Kyle Pitts is listed as an X-Factor, there's speculation that Dalvin Cook or DeAndre Hopkins could claim the spot. The tight-end category remains consistent, showcasing the elite playmakers in the league.
↖ Defensive Stars: Disruptive Forces on the Field
Defensive players shine as Aaron Donald and Dexter Lawrence exhibit their blitzing prowess. Edge rushers like Nick Bosa and Maxx Crosby demonstrate relentlessness, while Miles Garrett and TJ Watt wreak havoc with their unstoppable force ability. Micah Parsons inclusion showcases his potential, while Jalen Ramsey bottleneck ability solidifies his role as a shutdown corner. The list extends to versatile linebackers like Fred Warner, Demario Davis, and Roquan Smith, each bringing unique abilities to bolster their team's defense.
↖ Safety and Cornerbacks: Locking Down the Field
In the secondary, Darwin James reinforces his team with the reinforcement ability. Jaire Alexander, Patrick Surtain II, Darius Slay, and Tre'Davious White maintain the shutdown ability, though some debate surrounds the latter's inclusion. Notable exclusions from the safety position include Minkah Fitzpatrick, Tyron Mathieu, and Kevin Byard, leaving room for potential updates as the season progresses.
↖ Conclusion: A Dynamic Roster of X-Factor Players
While the final roster of Superstar X-Factor players for Madden 24 is yet to be officially confirmed, Madden School's track record suggests a reliable source of information. With an array of game-changing abilities in the hands of these elite players, Madden 24 promises to be a dynamic and exhilarating experience for gamers and football enthusiasts alike. As the season unfolds, keep an eye out for updates and adjustments to the X-Factor player list, ensuring that the virtual gridiron remains as competitive as ever.
Most Popular Posts
Popular Category Lists