Madden 24 Franchise Mode: Tips and Strategies For Beginner
If you're a Madden enthusiast looking to dominate in franchise mode, you've come to the right place. In this guide, we'll walk you through essential tips and strategies for making the most out of your franchise experience in Madden 24. Whether you're new to the mode or a seasoned player, these insights will help you set up Madden 24 franchise, navigate scouting, and excel in free agency.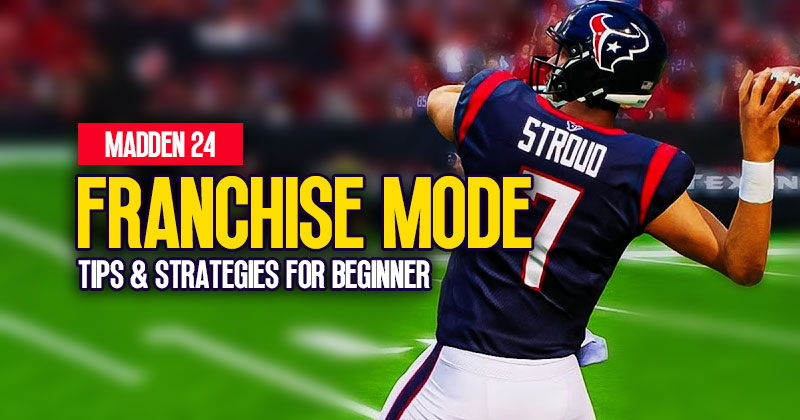 ↖ Setting Up Your Franchise
The foundation of a successful franchise mode starts with proper setup. After all, a well-structured franchise lays the groundwork for a rewarding gaming experience. When beginning your Madden 23 franchise, there are several key decisions to make:
| | |
| --- | --- |
| Online vs. Offline Franchise | Decide whether you want to play an online or offline franchise. Online franchises offer faster simulating times, but personal preference should guide your choice. |
| Choosing Your Team | Pick the team you'll lead to victory. Keep in mind that different teams have varying starting points, strengths, and challenges. |
| Customization | Customize your franchise by selecting your role. You can be a head coach, player, owner, or even control a single player's career. |
| League Settings | Adjust league settings according to your preferred difficulty level, game style, and other factors. Remember that these settings will influence the overall experience of your franchise. |
↖ Scouting for Success
Scouting is an integral part of franchise mode, as it allows you to identify and draft the best players for your team's needs. Follow these steps to maximize your scouting efforts:
| | |
| --- | --- |
| Hiring Scouts | Choose scouts with expertise that complements the strengths of the draft class. Assign scouts to different regions based on their expertise and the draft class' strengths. |
| Focus Scouting | Set your focus scouting for specific positions within each region. Align your scouts' expertise with these positions to gather more detailed information. |
| National Focus | Designate a national focus position for your top scout. This position should be the most crucial need for your team in the upcoming draft. |
| Weekly Strategy and Staff Management | Regularly manage your staff, formation subs, and auto subs to optimize your team's performance. |
| Skill Trees | Prioritize upgrades in the skill trees to improve your team's development and overall performance. Focus on key areas that directly impact player growth. |
↖ Dominating Free Agency
Madden 24 introduces a revamped free agency system that adds a new layer of strategy. Here's how to make the most of it:
| | |
| --- | --- |
| Understanding Player Interest and Motivations | Pay attention to a player's interests and motivations, which influence their willingness to sign with your team. Offer contracts that align with their motivations to increase your chances. |
| Negotiation Strategies | When offering contracts, choose between team-friendly, neutral, and player-friendly options. Adjust the contract values based on the player's interests and motivations. |
| Evaluation Periods | Utilize the evaluation periods during each stage of free agency to gauge player interest. This provides opportunities for negotiation and securing top talent. |
| Improving Motivations | As your team's success grows, player motivations and interests will change. Building a contender and adding mentors to your positions can attract higher-calibre free agents. |
Conclusion:
Mastering franchise mode in Madden 24 involves a blend of strategic decision-making, skilful scouting, and effective free agency management. By following these tips, you'll be better equipped to craft a successful and exciting franchise experience. Remember that each choice you make contributes to the trajectory of your team's journey. So, go ahead, build your dream team, and guide them to championship glory in Madden 24 franchise mode!
Most Popular Posts
Popular Category Lists