What important features were removed in NBA 2K24?
Are you excited about the upcoming release of NBA 2K24? The latest edition of the beloved basketball simulation game is almost here, and there are some significant changes that you should be aware of. In this article, we'll cover 5 key features that have been removed from NBA 2K24, giving you a comprehensive overview of what to expect when you dive into the game. These changes are significant and could impact your gameplay experience, so read on to get informed.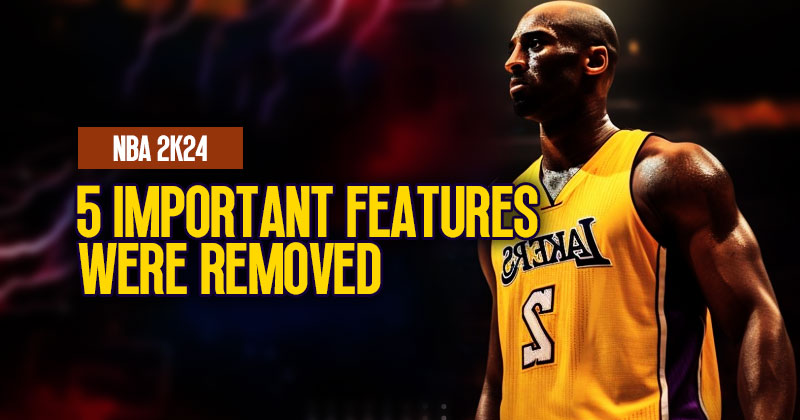 ↖ No More Mandatory My Career:
One of the most noticeable changes in NBA 2K24 is the removal of mandatory My Career gameplay. In previous versions, players were often bogged down by non-skippable cutscenes that interrupted their experience. However, in NBA 2K24, you won't be forced to play My Career mode anymore. This means you can dive straight into the action, upgrading your player and hitting the court without being slowed down by lengthy storylines. It's a welcome change for those who want to focus solely on the game.
↖ Farewell to Quick Drops Off One Dunk Package
The removal of the quick drops off one dunk package is a game-changer. This move eliminates an overpowered dunk move that dominated the gameplay for the past couple of years. While some players may miss the strategy, this change levels the playing field and encourages a more diverse and strategic approach to dunking and scoring.
↖ Unified Console Play
Goodbye to separate console play! NBA 2K24 introduces cross-play between PlayStation and Xbox consoles. This major shift unifies the player base, allowing everyone to play together in the same lobbies, MyTeam, and other game modes. This is a groundbreaking move that fosters a larger and more interconnected community of players. This change has been widely anticipated and is expected to breathe new life into the game.
↖ Cruise Ships Are Out, and Coastal Paradise Is In
In previous versions, players enjoyed playing on cruise ships, but this time around, the ships have set sail. NBA 2K24 is taking players to a new coastal paradise setting, rich with breathtaking views and basketball action. This change not only provides a fresh aesthetic but also brings a revamped player experience, allowing you to create a custom player suited to your skill set in a stunning tropical backdrop.
↖ Farewell Jordan Challenge, Hello Mamba Moments
The iconic Jordan Challenge is being replaced with Mamba Moments, a tribute to the late Kobe Bryant. While the specific rewards are yet to be fully unveiled, this shift is expected to offer more relevant and impactful rewards that could impact gameplay. Imagine unlocking unique badges or moves that are only accessible through completing Mamba Moments challenges. This change pays homage to one of basketball's greatest players and adds a new layer of excitement to the game.
Conclusion:
NBA 2K24 is gearing up to deliver an exciting experience with these significant changes. Whether you're thrilled about the removal of mandatory My Career, intrigued by the coastal paradise setting or excited to take on the Mamba Moments challenges, the game is set to deliver a fresh and engaging gameplay experience for fans both old and new. Get ready to hit the court and showcase your skills in this eagerly awaited instalment of the NBA 2K series.
Most Popular Posts
Popular Category Lists