EA SOIRTS FC 24 Controls Complete Guide: PlayStation, Xbox and PC
In EA SPORTS FC 24, mastering the controls holds the utmost importance in effectively leading your players on the field. So Are you looking for FC 24 Controls For PS4, PS5, Xbox One, Xbox Series X|S and PC platform Complete Guide? Then this guide is just what you need. Regardless of whether you're using gamepad controllers or a keyboard, grasping these commands is fundamental to attaining success.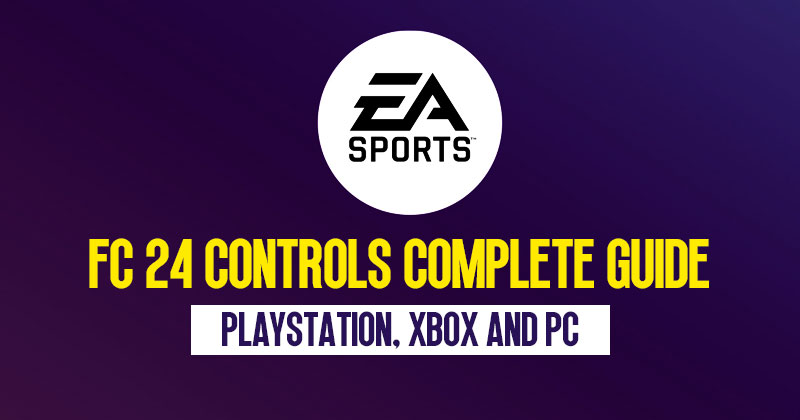 It's noteworthy that the provided commands are rooted in the Classic configuration within the game settings. Should players decide to modify their preset configuration, the commands will naturally adjust to fit the new arrangement. This empowers players with the flexibility to personalize their control setup in alignment with their preferences.
For those seeking access to the complete control list while in-game, the process is straightforward. By navigating to the "Settings" section from the main FC 24 screen, players can opt for "Basic Controls". From there, they can employ the R2/RT and L2/LT buttons to navigate through the available submenus. This in-game resource furnishes a swift and convenient method to revisit control nuances or acquire new ones.
↖FC 24 Controls: PS4 & PS5
↖ Simplified Controls
| Action | Inputs |
| --- | --- |
| Move Player | L |
| Ground Pass/Header | X |
| Driven Ground Pass | R1 + X |
| Shoot / Volley / Header | ◯ |
| Finesse Shot | R1 + ◯ |
| Lob Pass / Cross/Header | ▢ |
| Through Pass | △ |
| Lobbed Through Pass | L1 + △ |
| Change Player | L1 |
| Protect Ball | L2 |
| Shield/Jockey | L2 Hold Down + Direction |
| Sprint | R2 Hold Down + Direction |
↖ Movement Controls
| Action | Inputs |
| --- | --- |
| Move Player | L |
| Sprint | R2 Hold Down + Direction |
| Shield/Jockey | L2 Hold Down + Direction |
| First Touch / Knock-On | R2 + R + Direction |
| Stop and Face Goal | L + no direction + L1 |
| Strafe Dribble | L1 + L |
| Agile Dribble | R1 + L |
| Stop Ball | R2 + no direction |
| Jostle (Ball In Air) | L2 |
| Skill Moves | R |
| Slow Dribble (11v11 Only) | L2 + R2 + L + Direction |
| Special Powers (VOLTA Only) | R1 |
| Simple Skill Moves (VOLTA) | L2 + R2 + L + Direction |
| Simple Flicks (VOLTA) | R3 + L + Direction |
| Taunts (VOLTA) | L + no direction + R2 Hold Down |
↖ Simple Attacking Controls
| Action | Inputs |
| --- | --- |
| Ground Pass / Header | X |
| Lob Pass / Cross / Header | ▢ |
| Through Pass | △ |
| Shoot / Volley / Header | ◯ |
| Time Your Shot | ◯ + ◯ (Timed) |
| Power Shot | L1 + R1 + ◯ |
| Chip Shot | L1 + ◯ |
| Finesse Shot | R1 + ◯ |
| Fake Shot | ◯ then X + Direction |
| Fake Pass | ▢ then X + Direction |
| Driven Through Pass | R1 + △ |
| Rewind and Try Again (Kick-Off Only) | L2 + R2 Option |
↖ Advabced Attacking Controls
| Action | Inputs |
| --- | --- |
| Protect Ball | L2 |
| Driven Ground Pass | R1 + X |
| Lofted Ground Pass | X + X |
| Lofted Through Pass | △ + △ |
| Lobbed Through Pass | L1 + △ |
| Driven Lobbed Through Pass | L1 + R1 + △ |
| Driven Lob Pass / Driven Cross | R1 + ▢ |
| High Lob / High Cross | L1 + ▢ |
| Ground Cross | ▢ + ▢ |
| Whipped Cross | L1 + R1 + ▢ |
| Driven Ground Cross | R1 + ▢ + ▢ |
| Trigger Run | L1 |
| Call for Support | R1 |
| Double Teammate Support | R1 + R1 |
| Dummy a Pass | L + no direction + R1 Hold |
| Flair Pass | L2 + X |
| Flair Shot | L2 + ◯ |
| Flair Lob | L2 + ▢ |
| Flair Through Pass | L2 + △ |
| Let Ball Run | R1 Hold + L (Away From Ball) |
| Flick Up For Volley | R3 |
| Disguised First Touch | R1 Hold + L (Towards Ball) |
| Set Up Touch | R1 + R + Direction (Hold) |
| Pass and Go | L1 + X |
| Pass and Move | X + R + Direction (Hold) |
| Directional Runs | Tap L1 + R (Flick in any Dir) |
| Player Lock | L + R |
| Switching (Player Lock) | L (Flick in any Direction) |
| Hard Super Cancel | L1 + R1 + L2 + R2 |
| Cancel Foul Advantage | L2 + R2 |
↖ Tactics Controls
| Action | Inputs |
| --- | --- |
| Display Attacking Tactics | D-Pad: UP |
| Get In The Box | D-Pad: UP then UP |
| Attacking Full Backs | D-Pad: UP then RIGHT |
| Hug Sideline | D-Pad: UP then LEFT |
| Extra Striker | D-Pad: UP then DOWN |
| Display Defending Tactics | D-Pad: DOWN |
| Striker Drop Back | D-Pad: DOWN then UP |
| Team Press | D-Pad: DOWN then RIGHT |
| Overload Ball Side | D-Pad: DOWN then LEFT |
| Offside Trap | D-Pad: DOWN then DOWN |
| Change Game Plan | D-Pad: RIGHT or LEFT |
| Quick Substitutes | R2 |
| Change Mentality (VOLTA only) | D-Pad: RIGHT or LEFT |
↖ Defending Controls
| Action | Inputs |
| --- | --- |
| Change Player | L1 |
| Change Player (Manual) | R + Direction |
| Icon Switching | R |
| Tackle / Push or Pull (chasing) | ◯ |
| Hard Tackle | ◯ Press and Hold |
| Instant Hard Tackle | R1 + ◯ |
| Sliding Tackle | ▢ |
| Hard/Clearance Slide Tackle | R1 + ▢ |
| Hard Tackle (VOLTA FOOTBALL only) | ▢ |
| Clearance | ◯ |
| Technical Clearance | R1 + ◯ |
| Shoulder Challenge / Sealout | ◯ |
| Contain | X Press and Hold |
| Teammate Contain | R1 Press and Hold |
| Running Jockey | L2 + R2 Hold Down |
| Pull and Hold (chasing) | ◯ Press and Hold |
| Quick Get Up (after slide tackle) | ▢ |
| Engage Shielding Opponent | L2 + L Towards Shielding Dribbler |
| Rush Goalkeeper Out | △ Press and Hold |
| Goalkeeper Cross Intercept | △ + △ Press and Hold |
↖ Goalkeeper Controls
| Action | Inputs |
| --- | --- |
| Drop Kick | ◯ or ▢ |
| Throw / Pass | X |
| Drop Ball | △ |
| Pick Up Ball | R1 |
| Driven Throw | R1 + X |
| Driven Kick | R1 + ▢ |
| Move Goalkeeper | R3 Press and Hold + R |
| GK Cover Far Post | R3 Press and Hold |
| Switch Camera (GK) | Press Touchpad |
↖ Set Pieces Free Kicks Controls
| Action | Inputs |
| --- | --- |
| Aim | L |
| Move Kick Taker | R |
| Time Your Shot | ◯ + ◯ (Timed) |
| Ground Pass | X |
| Lob Pass / Cross | ▢ |
| Wall Jump | △ |
| Wall Charge | X |
| Move Wall | L2 or R2 |
| Select Kick Taker | R2 |
| Add Kick Taker | R1 or L2 |
| Move Goalkeeper | ▢ or ◯ |
↖ Advanced Set Pieces Free Kicks Controls
| Action | Inputs |
| --- | --- |
| Call 2nd Kick Taker | L2 |
| 2nd Kick Taker Curled Shot | L2 + Circle (◯) |
| 2nd Kick Taker Layoff Pass | L2 + X |
| 2nd Kick Taker Layoff Chip | L2 + Square (▢) |
| 2nd Kick Taker Run Over Ball | L2 + Circle (◯), then X |
| Call 3rd Kick Taker | R1 |
| 3rd Kick Taker Curled Shot | R1 + Circle (◯) |
| 3rd Kick Taker Run Over Ball | R1 + Circle (◯), then X |
| Co-Op change Set Piece user | L + R |
↖ Set Pieces Corners and Throw Ins Controls
| Action | Inputs |
| --- | --- |
| Corners – Lob Cross | ▢ |
| Corners – Pass | X |
| Aim Kick | L |
| Display Corner Tactics | D-Pad: DOWN |
| Run Far Post | D-Pad: UP then DOWN |
| Edge Of Box Run | D-Pad: DOWN then LEFT |
| Crowd the Goalkeeper | D-Pad: DOWN then LEFT |
| Run Near Post | D-Pad: DOWN then DOWN |
| Move Along Live (Throw In) | L |
| Short Throw In | X |
| Short Throw In (Manual) | △ |
| Long Throw In | ▢ Or X Press and Hold |
| Fake Throw | ▢ + X Or X + ▢ |
↖ Set Pieces Penalties Controls
| Action | Inputs |
| --- | --- |
| Aim | L |
| Shoot | ◯ |
| Finesse Shot | R1 + ◯ |
| Chip Shot | L1 + ◯ |
| Select Kick Taker | R2 |
| Goalkeeper Move Side to Side | L + Direction |
| Goalkeeper Dive | R + Direction |
| Goalkeeper Gestures | X Or ◯ Or ▢ Or △ |
↖ Be a Pro: Player (Attacking off the Ball) Controls
| Action | Inputs |
| --- | --- |
| Call for Pass | X |
| Call for or suggest Through Pass | △ |
| Suggest Shot | ◯ |
| Call for Driven Ground Pass | R1 + X |
| Call for Threaded Through Pass | R1 + △ |
| Call for Lobbed Through Pass | L1 + △ |
| Call for Far Lobbed Through Pass | L1 + R1 + △ |
| Call for Cross | ▢ |
| Call for Ground Cross | R1 + ▢ |
| Call for High Cross | L1 + ▢ |
↖ Be a Pro: Goalkeeper (Attacking off the Ball) Controls
| Action | Inputs |
| --- | --- |
| Call for or suggest Pass | X |
| Suggest Through Pass | △ |
| Suggest Shot | ◯ |
| Suggest Cross | ▢ |
| Toggle Camera Target | Press Touchpad |
↖ Be a Pro: Goalkeeper (Defending Own Box)Controls
| Action | Inputs |
| --- | --- |
| Dive | R + Direction (Hold) |
| Autopositioning | L1 Press and Hold |
| 2nd Defender Contain | R1 Press and Hold |
| Toggle Camera Target | Press Touchpad |
↖FC 24 Controls: Xbox One & Xbox Series X|S
↖ Simplified Controls
| Action | Inputs |
| --- | --- |
| Move Player | L |
| Ground Pass/Header | A |
| Driven Ground Pass | RB + A |
| Shoot / Volley / Header | B |
| Finesse Shot | RB + B |
| Lob Pass / Cross/Header | X |
| Through Pass | Y |
| Lobbed Through Pass | LB + Y |
| Change Player | LB |
| Protect Ball | LT |
| Shield/Jockey | LT Hold Down + Direction |
| Sprint | RT Hold Down + Direction |
↖ Movement Controls
| Action | Inputs |
| --- | --- |
| Move Player | L |
| Sprint | RT Hold Down + Direction |
| Shield/Jockey | LT Hold Down + Direction |
| First Touch / Knock-On | RT + R + Direction |
| Stop and Face Goal | L + no direction + LB |
| Strafe Dribble | LB + L |
| Agile Dribble | RB + L |
| Stop Ball | RT + no direction |
| Jostle (Ball In Air) | LT |
| Skill Moves | R |
| Slow Dribble (11v11 Only) | LT + RT + L + Direction |
| Special Powers (VOLTA Only) | RB |
| Simple Skill Moves (VOLTA) | LT + RT + L + Direction |
| Simple Flicks (VOLTA) | R3 + L + Direction |
| Taunts (VOLTA) | L + no direction + R2 Hold Down |
↖ Simple Attacking Controls
| Action | Inputs |
| --- | --- |
| Ground Pass / Header | A |
| Lob Pass / Cross / Header | X |
| Through Pass | Y |
| Shoot / Volley / Header | B |
| Time Your Shot | B + B (Timed) |
| Power Shot | LB + RB + B |
| Chip Shot | LB + B |
| Finesse Shot | RB + B |
| Fake Shot | B then A + Direction |
| Fake Pass | X then A + Direction |
| Driven Through Pass | RB + Y |
| Rewind and Try Again (Kick-Off Only) | LT + R2 Start |
↖ Advabced Attacking Controls
| Action | Inputs |
| --- | --- |
| Protect Ball | LT |
| Driven Ground Pass | RB + A |
| Lofted Ground Pass | A + A |
| Lofted Through Pass | Y + Y |
| Lobbed Through Pass | LB + Y |
| Driven Lobbed Through Pass | LB + RB + Y |
| Driven Lob Pass / Driven Cross | RB + X |
| High Lob / High Cross | LB + X |
| Ground Cross | X + X |
| Whipped Cross | LB + RB + X |
| Driven Ground Cross | RB + X + X |
| Trigger Run | LB |
| Call for Support | RB |
| Double Teammate Support | RB + RB |
| Dummy a Pass | L + no direction + RB Hold |
| Flair Pass | LT + A |
| Flair Shot | LT + B |
| Flair Lob | LT + X |
| Flair Through Pass | LT + Y |
| Let Ball Run | RB Hold + L (Away From Ball) |
| Flick Up For Volley | RS |
| Disguised First Touch | RB Hold + L (Towards Ball) |
| Set Up Touch | RB + RS + Direction (Hold) |
| Pass and Go | LB + A |
| Pass and Move | A + RS + Direction (Hold) |
| Directional Runs | Tap LB + RS (Flick in any Dir) |
| Player Lock | L + R |
| Switching (Player Lock) | L (Flick in any Direction) |
| Hard Super Cancel | LB + RB + LT + RT |
| Cancel Foul Advantage | LT + RT |
↖ Tactics Controls
| Action | Inputs |
| --- | --- |
| Display Attacking Tactics | D-Pad: UP |
| Get In The Box | D-Pad: UP then UP |
| Attacking Full Backs | D-Pad: UP then RIGHT |
| Hug Sideline | D-Pad: UP then LEFT |
| Extra Striker | D-Pad: UP then DOWN |
| Display Defending Tactics | D-Pad: DOWN |
| Striker Drop Back | D-Pad: DOWN then UP |
| Team Press | D-Pad: DOWN then RIGHT |
| Overload Ball Side | D-Pad: DOWN then LEFT |
| Offside Trap | D-Pad: DOWN then DOWN |
| Change Game Plan | D-Pad: RIGHT or LEFT |
| Quick Substitutes | RT |
| Change Mentality (VOLTA only) | D-Pad: RIGHT or LEFT |
↖ Defending Controls
| Action | Inputs |
| --- | --- |
| Change Player | LB |
| Change Player (Manual) | R + Direction |
| Icon Switching | R |
| Tackle / Push or Pull (chasing) | B |
| Hard Tackle | B Press and Hold |
| Instant Hard Tackle | RB + ◯ |
| Sliding Tackle | X |
| Hard/Clearance Slide Tackle | RB + X |
| Hard Tackle (VOLTA FOOTBALL only) | X |
| Clearance | B |
| Technical Clearance | R1 + B |
| Shoulder Challenge / Sealout | ◯ |
| Contain | A Press and Hold |
| Teammate Contain | RB Press and Hold |
| Running Jockey | LT + RT Hold Down |
| Pull and Hold (chasing) | B Press and Hold |
| Quick Get Up (after slide tackle) | X |
| Engage Shielding Opponent | LT + L Towards Shielding Dribbler |
| Rush Goalkeeper Out | Y Press and Hold |
| Goalkeeper Cross Intercept | Y + Y Press and Hold |
↖ Goalkeeper Controls
| Action | Inputs |
| --- | --- |
| Drop Kick | B or X |
| Throw / Pass | A |
| Drop Ball | Y |
| Pick Up Ball | RB |
| Driven Throw | RB + A |
| Driven Kick | RB + X |
| Move Goalkeeper | R3 Press and Hold + R |
| GK Cover Far Post | R3 Press and Hold |
| Switch Camera (GK) | Press Touchpad |
↖ Set Pieces Free Kicks Controls
| Action | Inputs |
| --- | --- |
| Aim | L |
| Move Kick Taker | R |
| Time Your Shot | B + B (Timed) |
| Ground Pass | A |
| Lob Pass / Cross | X |
| Wall Jump | Y |
| Wall Charge | A |
| Move Wall | LT or RT |
| Select Kick Taker | RT |
| Add Kick Taker | RB or LT |
| Move Goalkeeper | X or B |
↖ Advanced Set Pieces Free Kicks Controls
| Action | Inputs |
| --- | --- |
| Call 2nd Kick Taker | LT |
| 2nd Kick Taker Curled Shot | LT + B |
| 2nd Kick Taker Layoff Pass | LT + A |
| 2nd Kick Taker Layoff Chip | LT + X |
| 2nd Kick Taker Run Over Ball | LT + B, then A |
| Call 3rd Kick Taker | RB |
| 3rd Kick Taker Curled Shot | RB + B |
| 3rd Kick Taker Run Over Ball | RB + B, then A |
| Co-Op change Set Piece user | L + R |
↖ Set Pieces Corners and Throw Ins Controls
| Action | Inputs |
| --- | --- |
| Corners – Lob Cross | X |
| Corners – Pass | A |
| Aim Kick | L |
| Display Corner Tactics | D-Pad: DOWN |
| Run Far Post | D-Pad: UP then DOWN |
| Edge Of Box Run | D-Pad: DOWN then LEFT |
| Crowd the Goalkeeper | D-Pad: DOWN then LEFT |
| Run Near Post | D-Pad: DOWN then DOWN |
| Move Along Live (Throw In) | L |
| Short Throw In | A |
| Short Throw In (Manual) | Y |
| Long Throw In | X Or A Press and Hold |
| Fake Throw | A + X |
↖ Set Pieces Penalties Controls
| Action | Inputs |
| --- | --- |
| Aim | L |
| Shoot | B |
| Finesse Shot | RB + B |
| Chip Shot | LB + B |
| Select Kick Taker | RT |
| Goalkeeper Move Side to Side | L + Direction |
| Goalkeeper Dive | R + Direction |
| Goalkeeper Gestures | A Or B Or X Or Y |
↖ Be a Pro: Player (Attacking off the Ball) Controls
| Action | Inputs |
| --- | --- |
| Call for Pass | A |
| Call for or suggest Through Pass | Y |
| Suggest Shot | B |
| Call for Driven Ground Pass | RB + A |
| Call for Threaded Through Pass | RB + Y |
| Call for Lobbed Through Pass | LB + Y |
| Call for Far Lobbed Through Pass | LB + RB + Y |
| Call for Cross | X |
| Call for Ground Cross | RB + ▢ |
| Call for High Cross | LB + ▢ |
↖ Be a Pro: Goalkeeper (Attacking off the Ball) Controls
| Action | Inputs |
| --- | --- |
| Call for or suggest Pass | A |
| Suggest Through Pass | Y |
| Suggest Shot | B |
| Suggest Cross | X |
| Toggle Camera Target | Press Select |
↖ Be a Pro: Goalkeeper (Defending Own Box) Controls
| Action | Inputs |
| --- | --- |
| Dive | R + Direction (Hold) |
| Autopositioning | LB Press and Hold |
| 2nd Defender Contain | RB Press and Hold |
| Toggle Camera Target | Press Select |
↖FC 24 Controls: PC
↖ Simplified Controls
| Action | Inputs |
| --- | --- |
| Ground Pass / Header | Right Mouse Button |
| Driven Ground Pass | D + Right Mouse Button |
| Shoot / Volley / Header | [Play Video] + Left Mouse Button |
| Finesse Shot | D + Left Mouse Button |
| Lob Pass / Cross | S |
| Through Pass | A |
| Lobbed Through Pass | LSHIFT + A |
| Change Player | LSHIFT |
| Protect Ball | W |
| Shield / Jockey | W (Hold) + Direction |
| Sprint | LCTRL (Hold) + Direction |
↖ Movement Controls
| Action | Inputs |
| --- | --- |
| Move Player | Mouse Movement |
| Sprint | LCTRL (hold) + Direction |
| Shield / Jockey | W (hold) + Direction |
| First Touch / Knock-On | LCTRL + Mouse Movement + Direction |
| Stop and Face Goal | LSHIFT + No Direction |
| Strafe Dribble | LSHIFT + No Direction |
| Agile Dribble | D + Mouse Movement |
| Skill Moves | Middle Mouse Button + Direction |
| Stop Ball | LCTRL + No Direction |
| Jostle | W |
| Slow Dribble | W + LCTRL + Mouse Movement |
| Special Powers | D |
↖ Volta Football Controls
| Action | Inputs |
| --- | --- |
| Skill Moves | W + LCTRL + Mouse |
| Change Mentality | Left/Right Arrows |
| Hard Tackle | S |
↖ Tactics Controls
| Attacking Tactics | Inputs |
| --- | --- |
| Display | ↑ |
| Get In the Box | ↑ ↑ |
| Attacking Full Backs | ↑ → |
| Hug Sideline | ↑ ← |
| Extra Striker | ↑ ↓ |
| Defending Tactics | Inputs |
| --- | --- |
| Display | ↓ |
| Striker Drop Back | ↓ ↑ |
| Team Press | ↓ → |
| Overload Ball Side | ↓ ↓ |
| Offside Trap | ↓ ↓ |
| Change Game Plan | ↓ or → |
| Quick Substitutes | LCTRL |
↖ Free Kicks Controls
| Action | Inputs |
| --- | --- |
| Aim | Mouse Movement |
| Move Kick Tracker | Middle Mouse Button + Mouse Movement |
| Time Your Shot | Left Mouse Button (timed) |
| Ground Pass | Right Mouse Button |
| Lob Pass / Cross | S |
| Wall Jump | A |
| Wall Charge | Right Mouse Button |
| Move Wall | W or LCTRL |
| Select Kick Taker | LCTRL |
| Add Kick Taker | D or W |
| Call 2nd Kick Taker | W |
| 2nd Kick Taker Curled Shot | W + Left Mouse Button |
| 2nd Kick Taker Layoff Pass | W + Right Mouse Button |
| 2nd Kick Taker Layoff Chip | W + S |
| 2nd Kick Taker Run Over Ball | W + Left Mouse Button, then Right Mouse Button |
| Call 3rd Kick Taker | D |
| 3rd Kick Taker Curled Shot | D + Left Mouse Button |
| 3rd Kick Taker Run Over Ball | D + Left Mouse Button, then Right Mouse Button |
| Co-Op change Set Piece user | Middle Mouse Button + Mouse Movement |
↖ Attacking Controls
| Action | Input |
| --- | --- |
| Ground Pass / Header | RMB |
| Lob Pass / Cross / Header | S (tap) |
| Through Pass | A |
| Shoot / Volley / Header | LMB |
| Time Your Shot | LMB + LMB (timed) |
| Low Shot | LMB (tap) |
| Chip Shot | LSHIFT + LMB |
| Finesse Shot | D + LMB |
| Power Shot | LSHIFT + D + LMB |
| Fake Shot | LMB, then RMB + Direction |
| Fake Pass | S, then RMB + Direction |
| Driven Through Pass | D + A |
| Rewind and Try Again | W + LCTRL |
| Protect Ball | W (hold) |
| Driven Ground Pass | D + RMB |
| Lofted Ground Pass | RMB + RMB (tap) |
| Lofted Through Pass | LSHIFT + A |
| Driven Lobbed Through Pass | LSHIFT + A |
| Driven Lob Pass / Cross | D + S |
| High Lob / High Cross | LSHIFT + S |
| Ground Pass | S + S (tap) |
| Whipped Cross | LSHIFT + D + S |
| Driven Ground Cross | D + S + S (tap) |
| Trigger Run | LSHIFT |
| Call for Support | D |
| Dummy a Pass | D (hold) + No Direction |
| Flair Pass | W + RMB |
| Flair Shot | W + LMB |
| Flair Lob | W + S |
| Flair Through Pass | W + A |
| Teammate Run | R + Mouse Movement |
| Let Ball Run | D + Mouse Movement |
| Flick Up for Volley | T |
| Set Up Touch | D (hold) + Mouse Movement |
| Pass and Go | LSHIFT + RMB |
| Pass and Move | RMB + Mouse Movement |
| Directional Runs | LSHIFT (tap) + Mouse Movement |
↖ Corners and Throw Ins Controls
| Action | Inputs |
| --- | --- |
| Corner Lob Cross | S |
| Corner Pass | Right Mouse Button |
| Aim Kick | Mouse Movement |
| Apply Kick Power | S |
| Display Corner Tactics | Down Arrow |
| Run Far Post | Down Arrow, Up Arrow |
| Edge of Box Run | Down Arrow, Right Arrow |
| Crowd the Goalkeeper | Down Arrow, Left Arrow |
| Run Near Post | Down Arrow, Down Arrow |
| Move Along Line (Throw In) | Mouse Movement |
| Short Throw In | Right Mouse Button |
| Short Throw In (Manual) | A |
| Long Throw In | S or Right Mouse Button (hold) |
| Fake Throw | S + Right Mouse Button |
| | or Right Mouse Button + S |
↖ Penalties Controls
| Action | Inputs |
| --- | --- |
| Aim | Mouse Movement |
| Shoot | Left Mouse Button |
| Move Kick Taker | Middle Mouse Button + Mouse Movement |
| Finesse Shot | D + Left Mouse Button |
| Chip Shot | LSHIFT + Left Mouse Button |
| Select Kick Taker | LCTRL |
| Goalkeeper Move Side-Side | Mouse Movement |
| Goalkeeper Dive | Middle Mouse Button + Direction |
| Goalkeeper Gestures | RMB or LMB or S or A |
↖ Defending Controls
| Action | Inputs |
| --- | --- |
| Change Player | LSHIFT |
| Icon Switching | LSHIFT |
| Tackle | Left Mouse Button (LMB) |
| Push/Pull (chasing) | LMB |
| Hard Tackle | LMB (hold) |
| Sliding Tackle | S |
| Hard Slide Tackle | D + S |
| Clearance | LMB |
| Technical Clearance | D + B |
| Contain | Right Mouse Button (RMB) |
| Teammate Contain | D (hold) |
| Running Jockey | W |
| Pull and Hold (chasing) | LMB (hold) |
| Quick Get Up (slide) | S |
| Rush Goalkeeper Out | A (hold) |
| GK Cross Intercept | A + A (hold) |
↖ Be a Pro: Players Controls
| Action | Inputs |
| --- | --- |
| Call for Pass | RMB |
| Call/Suggest Through Pass | A |
| Suggest Shot | LMB |
| Call for Driven Ground Pass | D + RMB |
| Call for Threaded Through Pass | D + A |
| Call for Lobbed Through Pass | LSHIFT + A |
| Call for Lobbed Threaded Pass | LSHIFT + D + A |
| Call for Cross | S |
| Call for Ground Cross | D + S |
| Call for High Cross | LSHIFT + S |
↖ Goalkeeper Controls
| Action | Inputs |
| --- | --- |
| Drop Kick | LMB or S |
| Throw / Pass | RMB |
| Drop Ball | A |
| Pick Up Ball | D |
| Driven Throw | D + RMB |
| Driven Kick | D + S |
| Cover Far Post | T (press and hold) |
| Switch Camera | F |
↖ Be a Pro: Goalkeepers Controls
| Action | Inputs |
| --- | --- |
| Suggest Pass | RMB |
| Suggest Through Pass | A |
| Suggest Cross | S |
| Suggest Shot | LMB |
| Toggle Camera Target | F |
| Auto Positioning | LSHIFT |
| 2nd Defender Contain | D |
Most Popular Posts
Popular Category Lists