Madden 24 Beginner Guide: Everything You Need To Know Is Here
Welcome to the gridiron battleground of Madden NFL 24! Whether you're a newcomer seeking a victorious debut or a seasoned player aiming for mastery, this guide is your ultimate companion. From perfecting catching techniques to strategic ball handling, from defensive manoeuvres to navigating Franchise mode intricacies, We've put together all the basics you need about Madden 24. Get ready to unravel the secrets of success and dominate the field with confidence.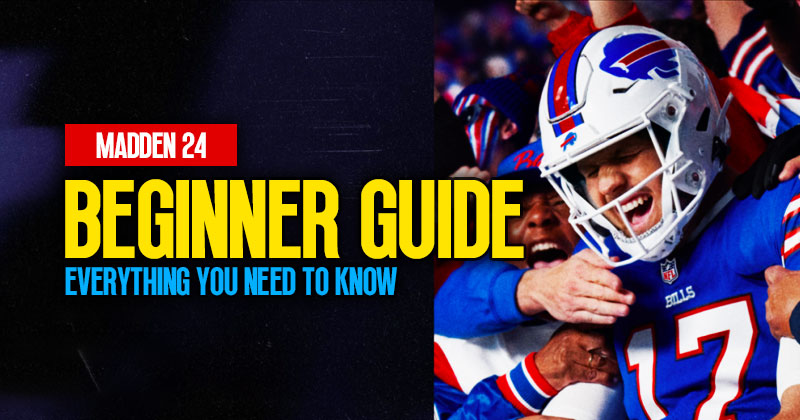 ↖ How to Catching The Ball?
| Actions | Inputs |
| --- | --- |
| Aggressive Catch | Hold Y/Triangle to make an aggressive catch against tight defenses. |
| RAC Catch | Hold X/Square for a running catch after the catch. |
| Possession Catch | Hold A/X to secure the catch by falling to the ground. |
| Auto Catch | Press nothing for automatic catching. |
↖ How to Diving?
Dive Tackle (Defense): Press X/Square to perform a diving tackle on defense.
Dive as Ball Carrier: Hold X/Square to dive while carrying the ball.
Give Up/Slide: Tap X/Square to slide as the ball carrier.
Diving Catch: Contextual on Y/Triangle & A/X buttons.
↖ How to QB Slide and Covering The Ball?
QB Slide: Tap X (Xbox) or Square (PlayStation) to gain yards while protecting the ball.
Cover Ball: Tap RB (Xbox) or R1 (PlayStation) to reduce fumble chances.
↖ How to Hot Route and Audible?
Pre-Snap Hot Route: Press Y/Triangle, then select a receiver's route using the Right Stick (RS).
Route Selection: Use LS or RS to choose a route direction.
Standard Audible: Press X/Square before the snap, then use D-Pad Left/Right to choose an audible.
Quick Audible: Press X/Square before the snap and flick RS for quick audibles.
Playmaker Flip: Flick RS left/right to change the running play direction.
↖ How to Pass Rush?
Flick RS in any direction for pass-rush moves during the engagement.
Speed Rush: Hold R2/RT, and spin using the right stick.
Pass Rush Move Attempts: Shown on the widget above the player's head.
↖ How to Use Ball Carrier Moves?
| Move | Input |
| --- | --- |
| Acceleration Boost | Hold RT/R2 |
| Celebration Run/Swag | Hold L2 |
| Juke | Flick RS left/right |
| Deadleg/Hesi | Flick RS down + steer with LS |
| Hurdle | Press Y/Triangle |
| Truck | Push the right stick up |
| Spin | B/Circle or rotate the right stick |
| Stiff Arm | Hold X/Square |
| Cover Ball | Hold RB/R1 |
| Change Ball Hand | Tap RB/R1 |
| Pitch Ball | Press LB/L1 or R2/R1 (specific plays) |
| Combo Moves | Rapidly execute mechanics for combos |
| Precision Moves | Perform without holding acceleration boost |
↖ How to Pump Fake and Scramble?
Pump Fake: Double-tap the passing icon to cancel a throw. One press for the throw.
Scramble: Hold R2/RT and aim with LS to elude defenders.
↖ Defensive Tips
Intercept: Hold Y/Triangle to intercept as the defender.
Swat: Hold X/Square to swat, and Hold A/X to play the receiver.
Tackling/Hit-Stick: A/X for conservative tackle, X/Square for aggressive tackle, flick RS up for hit-stick, down for cut stick.
QB Contain: Press RB/R1 twice for edge rushers' QB containment.
↖ QB Option Play & Zone Drops Adjustment
Option Defense: At play call, press R3 (RS Click) for Coaching Adjustments and switch to Conservative.
Zone Drops: At play call, press R3 (RS Click) for Coaching Adjustments, and adjust drop depths for zones.
↖ Franchise Mode
Fantasy Draft: Start Franchise, choose "Starting Point," and select "Fantasy Draft."
Trade: In Franchise Hub, go to "Manage Roster" > "Trade Center" for trading (before Week 8 deadline).
Custom Playbooks: Create an outside Franchise, and select Team Select.
Custom Roster: Load the active roster in Madden menu, and choose Franchise setup.
Invite to Online Franchise: Options > Members > Invite User.
Signing Free Agents: Use Free Agency Hub in Offseason, and submit deals.
Related: NBA 2K24 Controls Guide!
Now you're armed with the knowledge to take control of the gridiron in Madden NFL 23. Master these skills, dominate your opponents, and experience the thrill of victory!
Most Popular Posts
Popular Category Lists